The New York Yankees sent 19 injured players to the IL this season, but for the first time all year, they have a too many players on the roster and had to send outfielder Clint Frazier down to the minors to play for AAA Scranton/Wilkes-Barre.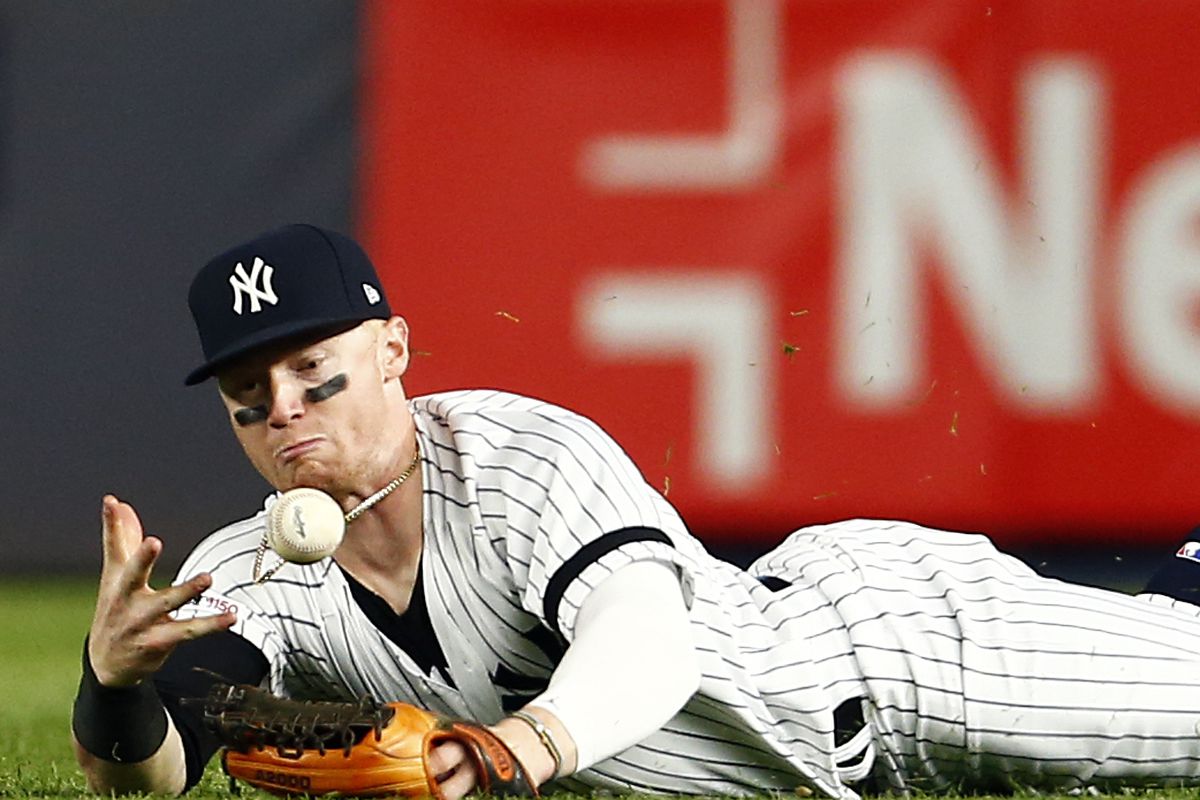 Frazier, 24, struggled with his defense in the outfield, but he excelled at the plate. Frazier hit 11 home runs with 34 RBI with a .284/.330/.513 slash line in 53 games since the Yankees called him up on April 1 to replace Aaron Judge. In the last couple of weeks, Frazier settled into a DH role.
The Yankees traded for DH Edwin Encarnacion over the weekend. When the AL home run leader joins the team on Monday, he will be taking Frazier's spot on the 25-man roster.
"It's a tough pill to swallow, yeah," Frazier told reporters moments after he got word of his demotion. "It's never fun, especially with how much I felt like I've contributed to this team this year."
On Tuesday, slugger Giancarlo Stanton returns to the Yankees as well.
Frazier expected he'd get shipped out when Aaron Judge and Giancarlo Stanton returned to the lineup, but not before.
"With a guy like Clint we want him playing all the time," said Yankees manager Aaron Boone. "He's got a chance to be a great player in this league, and he's already shown that."
Instead of platooning between the outfield and DH, the organization wanted to get him at-bats every day
It's a Game, But Also Big Business
Frazier got lost in the shuffle of "baseball business".
Frazier played much better than Brett Gardner (.230 average) and Cameron Maybin (.279 average and 3 HR). However, Frazier had a minor league option left while Maybin had none.
"He's played a big role on a winning team," said manager Aaron Boone. "It doesn't necessarily stop now, but this is where we're at from a roster situation. Obviously, tough news to deliver, but hopefully he can make the most of it and continue to get better at his craft and know that he's gonna play a role for us again."
Frazier also had a spat with the local media. You might be able to get away with blowing off the press after a bad game in like 25 other cities in MLB, but when you play in New York City for the Yankees, you cannot have a combative relationship with the press. The media beast will eat them alive.
Frazier also has a beef with Yankees play-by-play announcer Michael Kay from the YES network. In the past, Kay criticized Frazier for not returning to the line up fast enough after a concussion injury last season. Even impartial viewers get a legitimate sense that Kay doesn't like Frazier.
77 Trade Bait?
Frazier is one of the biggest bargaining chips the Yankees have right now in trying to pursue a starting pitcher. After Domingo German went on the IL with a hip flexor, the Yanks need an arm or two if they want to make a run in October.
Yankees GM Briand Cashman has been eying Madison Bumgarner. The SF Giants could use an everyday leftfielder, while the Yanks need a crafty lefty who can soak up innings. The first-place Minnesota Twins are trying to become one of the first teams in the AL to win 50 games. They are also interested in Bumgarner as well.
The Yankees also have their eye on Washington Nationals ace Max Scherzer. The Yankees would have to pay a premium for Scherzer, but he's the type of big-time pitcher that could tip the scales in the favor of the Yanks. If the Nationals decide to head into rebuild mode, then they'll look to dump Scherzer to the highest bidder.