WWE's Oct. 6 Hell in a Cell Main Event wasn't just a letdown, it was illogical. But WWE's nightmare could be a dream come true for its newest competitor, All Elite Wrestling (AEW).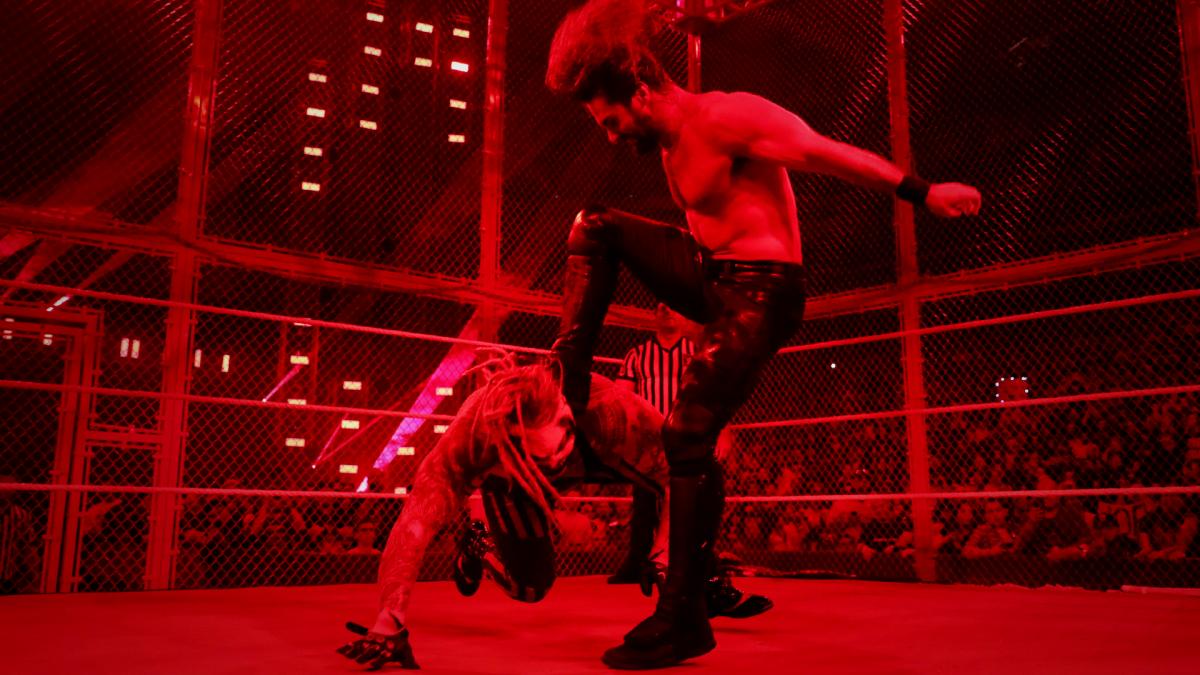 It would be improbable for a Hell in a Cell match to end in a "no-contest." But that's exactly how the main event match between The Fiend (aka Bray Wyatt) and Seth Rollins officially ended.
Although basically a no-holds-barred cage match, WWE's Hell in a Cell format does have a few rules. Disqualifications, outside interference, count-outs, and escapes are not allowed. A wrestler wins only by pinfall or submission. Basically, Hell in a Cell is structured to produce a winner. Yet for the second year in a row, the main event ended in a no-contest. And the fans were not pleased.
At the end of the match, fans in attendance booed amid chants of "refunds" and "AEW," WWE's fledgling rival. On Twitter, the hashtags #cancelWWE and #cancelWWENetwork trended.
PPV ended, lights came on and people are still here booing. @WWE should be ashamed of themselves. #HIAC #HellInACell pic.twitter.com/H28j0H70l4

— seth park (@rashid_fatema) October 7, 2019
Things were shaky for WWE's pay-per-view event from the get-go. The day before the event, only four matches had been scheduled. By the time the event kicked off at Sacramento's Golden 1 Center, however, the event did have an acceptable nine-match card. But whatever the WWE was able to finally pull together, unraveled during the Universal Championship.
WWE's Hell in a Cell Miscalculation
Bray Wyatt's latest wrestling persona, The Fiend, has been carefully nurtured by WWE this year. Teased as far back as April, The Fiend officially debuted on Raw in July. The setup for the Oct. 6 showdown with Rollins started as far back as Aug. 27, via a tweet from the Golden 1 Center, and built from there.
It offered a decent story line. Fans wondered how Rollins could lose the Universal Championship after just winning back the title in August. But if he were to lose it, who better to lose it to than The Fiend. After all, what was Wyatt's re-branding all about if not to usurp the two-time champion?
But even the best story lines can end badly. Think of Lost's series finale.
The Rollins v. The Fiend match was officially stopped after Rollins ignored the referee's warning not to use a sledgehammer. This initially appeared to be a disqualification. But since there can't be a DQ in Hell in a Cell, it morphed into a no-contest decision.
Whether the script was phoned in at the last minute, or whether it was a calculated risk by WWE to tease out the story line longer, WWE's fans felt used.
Meanwhile, the timing couldn't be worse for WWE. Last week, WWE and its newest rival AEW started competing for the same Wednesday night cable audience. Even before the Hell in a Cell debacle, AEW had WWE in a hammerlock.
AEW Defeats WWE in First Cable Face-Off
On Oct. 2, the two professional wrestling entertainment companies went head-to-head. AEW was the clear winner. According to The Hollywood Reporter, All Elite Wrestling: Dynamite averaged 1.41 million viewers on TNT with a 0.68 rating with adults aged 18 – 49. WWE NXT only brought in 891,000 viewers on USA with a 0.32 rating for the same demographic.
Luckily for WWE, it has other media products. WWE pulled out all the stops for its Fox network premiere of Friday Night SmackDown on Oct. 5. Smackdown has been a cable staple for nine years. Featuring a guest appearance by Dwayne "The Rock" Johnson, the show was ratings gold. SmackDown had 3.9 million viewers for a 1.4 rating in the 18-49 age demographic. It's uncertain if its success can continue absent its star-powered guest.
In entertainment, they say there's no such thing as bad publicity. WWE's fan base has proven to be loya, and one controversial PPV may not change that. In the end, though, AEW was probably the only one happy with Hell in a Cell's no-contest decision.