Despite some tense moments, neither Magnus Carlsen nor Ian Nepomniachtchi has been able to find a breakthrough in the World Chess Championship thus far, and the match remains tied at 1.5-1.5 heading into Monday's first rest day.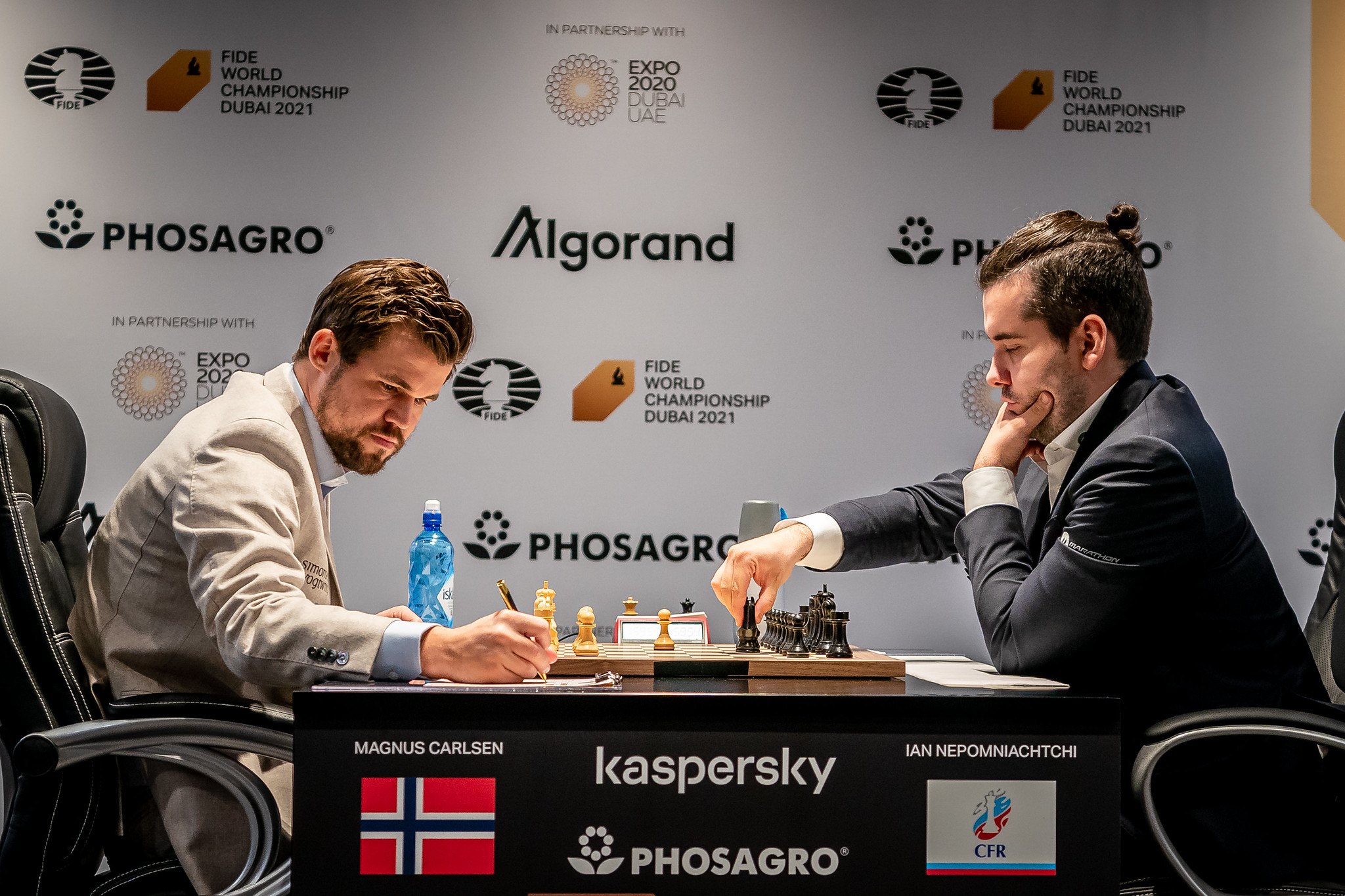 The two men will return to the board on Tuesday when Carlsen takes the white pieces in Game 4.
Tense Game 2 fight leads to quiet Game 3
Nepomniachtchi started the match with White in Game 1. While the challenger won a pawn early and seemed to hold a slight advantage, Carlsen came back, wrecking Nepomniachtchi's pawn structure to take the only winning chances into the endgame. But the Russian played accurately to easily hold a draw to open the match.
"I was very slightly optimistic during the whole game," Nepomniachtchi said afterwards. "This is quite a curious line for Black with very thin compensation."
Game 2 featured the most drama of any game in the first three days. Carlsen opened with 1. d4 and the players worked their way into a well-known line of the Catalan. While both players made some small errors, they reached a fairly even endgame, with Carlsen having a pawn and compensation for an exchange.
That created a dynamic position, and time trouble aided hopes that someone would err. Ultimately, the two traded down into a theoretical draw, keeping the match balanced.
After a draining Game 2, the players opted for a calmer position on Sunday. In Game 3, Nepomniachtchi went for the same Ruy Lopez setup as he did in Game 1, this time opting for 8. a4 rather than 8. h3 in order to deviate from the first game. Both sides played rather accurately, and neither side seemed close to winning at any point.
"I was obviously making some fairly ugly moves, but it seemed all to work out reasonably well," Carlsen said after the third straight draw. "At least, I couldn't see any concrete way to pose serious problems. I think it was a reasonable game."
Carlsen remains World Chess Championship favorite
So far, Nepomniachtchi hasn't shown the ability to get much of an edge out of the opening, with Carlsen getting the only significant chances for either side in Game 2. But, the challenger says he plans to stick with his current game plan.
"Whatever I am going to do, the trend will remain the same," Nepomniachtchi told reporters. "It's not about my preparation, it's about current theory."
---
World Chess Championship Odds – Game 3 (via Unibet)
Magnus Carlsen: +280
Draw: -286
Ian Nepomniachtchi: +1300
---
While the first three draws sparked concerns of another lifeless match – Carlsen and Caruana played 12 straight draws in 2018 before heading to tiebreakers – there are still 11 classical games to play and plenty of time for either side to score some full points to press the action.
Online sportsbook Unibet has odds up for each of the next two games. In Game 4, Carlsen rates as a +280 pick to win with White, with Nepomniachtchi at +1300 to upset the champion with Black. Game 5 is more balanced, with Nepomniachtchi +600 to win with the white pieces, and Carlsen at +700 to score with Black.
Overall, Carlsen rates as the -560 favorite to retain his title over Nepomniachtchi (+350).