With the New York Racing Association's decision to suspend live racing at Aqueduct Racetrack through at least April 5 because of the coronavirus, another Kentucky Derby prep race went on the shelf. The latest postponed marquee race is the Grade 2 $750,000 Wood Memorial.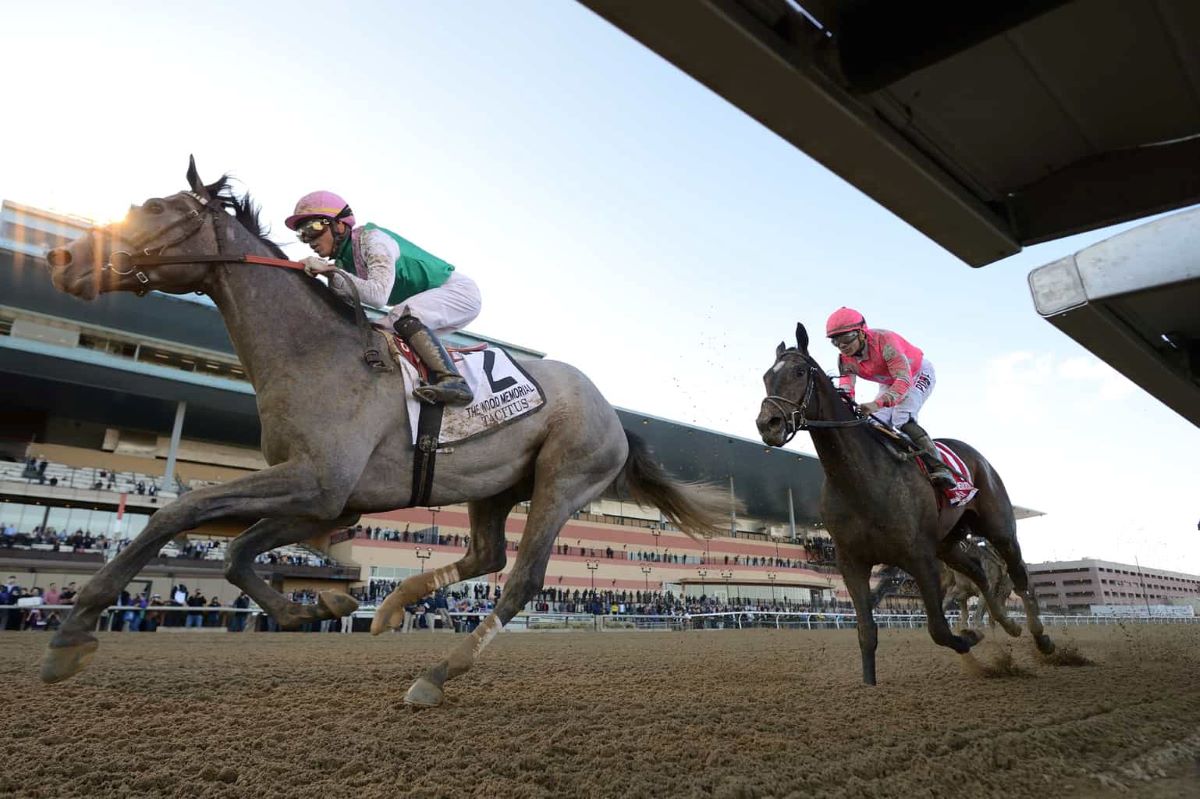 Previously set for April 4, the Wood Memorial has been postponed to an as-yet-undetermined date. The Wood Memorial is New York's premier Derby prep, and its postponement and future doubt leaves only three Derby preps on the immediate horizon. Those would be Saturday's Florida Derby at Gulfstream Park, the April 4 Santa Anita Derby, and the May 2 Arkansas Derby at Oaklawn, which was moved from April 11 to May 2.
Earlier this week, Churchill Downs officials announced the Kentucky Derby's move to Sept. 5. As a result, those officials are figuring out what summer races they want to add to the Derby Trail.
Along with the Wood Memorial, four other graded stakes races previously on the April 4 card await new dates. Those are the Grade 1 $400,000 Carter Handicap, the Grade 2 $300,000 Gazelle, the Grade 3 $250,000 Bay Shore, and the Grade 3 $150,000 Excelsior.
Aqueduct's Closing An Ominous Sign
The postponement and uncertainty surrounding the Wood Memorial became real on March 19 when the NYRA immediately suspended live racing at Aqueduct following the confirmation that a backstretch worker who lived and worked at Belmont Park tested positive for the coronavirus.
NYRA spokesman Pat McKenna told drf.com that, as of Tuesday, there are six confirmed cases of coronavirus among backstretch workers at Belmont. Four of those workers are in quarantine and isolated at Belmont Park, according to McKenna.
"While this decision is necessary, NYRA is working hard to determine when we can return to racing while prioritizing the health and welfare of everyone involved in our operations," NYRA CEO and President Dave O'Rourke said in a statement. "I would like to thank the trainers and backstretch community who are caring for the horses stabled at Belmont Park during this period of great uncertainty."
Belmont, Aqueduct's sister track in the Greater New York area, is home to 585 backstretch workers. Those workers handle the daily care and feeding of more than 1,300 thoroughbreds stabled on the property.
Pletcher Sends His Stable South
There are fewer of those horses to care for now. Earlier this week, Hall of Fame trainer Todd Pletcher moved the 19 horses he had training at Belmont Park south. He sent them to his father's farm in Ocala, Florida, Palm Beach Downs in Florida, or WinStar Farm in Kentucky. He also temporarily shut down his New York base.
"For the safety of our employees and to make sure horses are getting the proper care, we've decided to temporarily shut down our barn until this thing is over," Pletcher told drf.com.
Amid all that, the NYRA imposed its own safety rules on the Belmont backstretch. Those include the posting of coronavirus-related signage in English and Spanish outlining social distancing, handwashing techniques, and providing a hotline for workers feeling any coronavirus-related symptoms.
They also include restricted access that mandates all non-backstretch residents undergo a standard health assessment, including temperature check. Belmont is closed to horses shipped from outside the facility, except in "extenuating circumstances," and closed to all but licensed horsemen and essential track employees. The track also closed numerous common, such as the recreation area, restaurants, and cafes.