Teen phenom Coco Gauff met her match in top seed Naomi Osaka in the third round of the US Open. But Coco and partner Caty McNally — collectively known as "McCoco"– remain undefeated in women's doubles.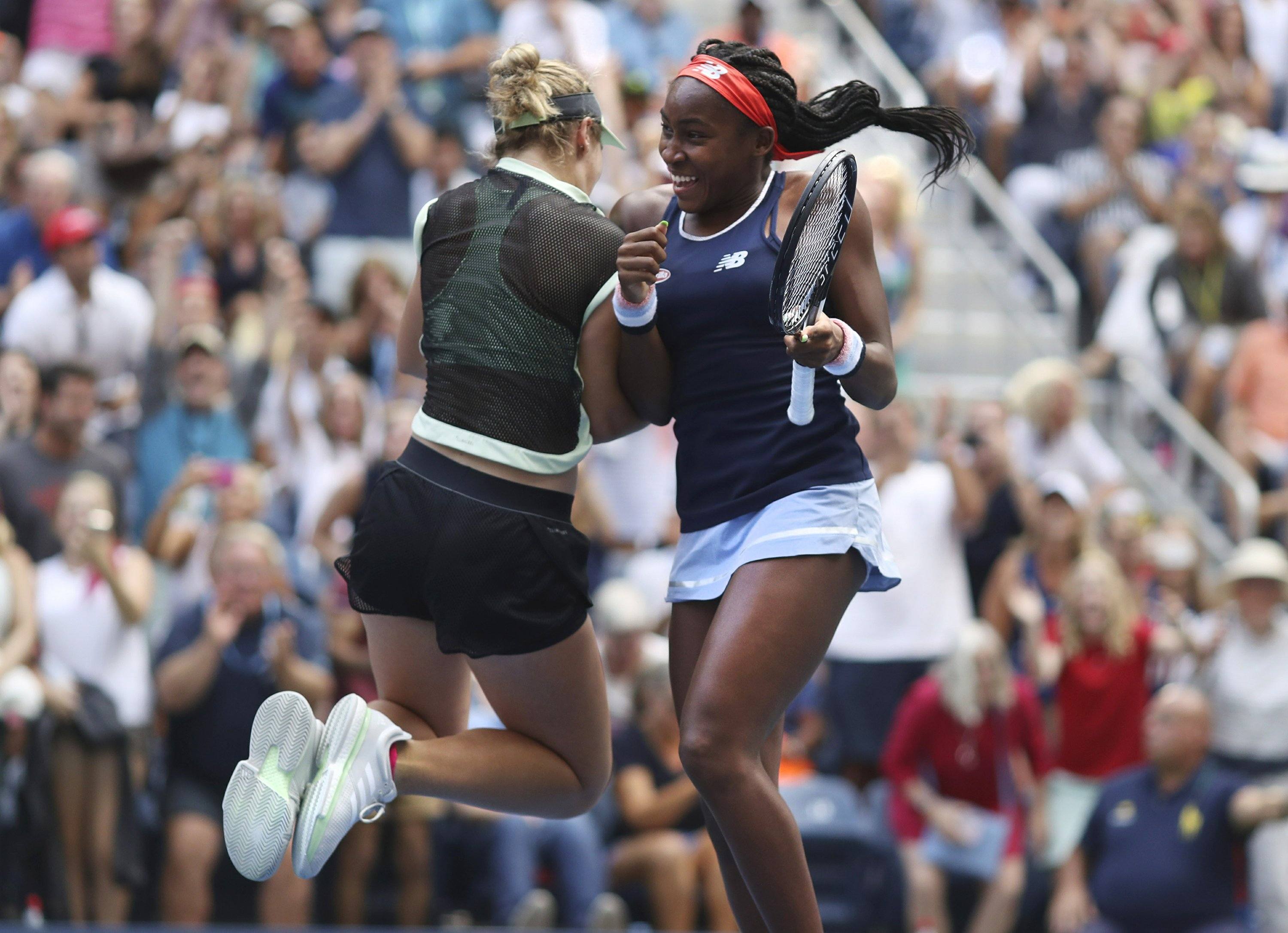 It's been a week of upsets in the US Open Women's Singles. US qualifier Taylor Townsend defeated No. 4 seed Simona Halep in the second round. Second seed Ashleigh Barty and third seed Karolina Pliskova were both eliminated in the Round of 16. The latest upset was top seed Naomi Osaka, losing in straight sets to Belinda Bencic.
Coco Gauff's US Open Loss, Stunning Post-Match Interview
There was one high-profile match, however, that went as expected. Prior to her quarter-final upset, Naomi Osaka handily defeated the crowd favorite Coco Gauff 6-4, 6-0. But while the third-round match result was predictable, the post-match interview was nothing short of breathtaking.
People all over social media were moved by Osaka's support, candor and poise. But if there is anyone who understands Coco in this moment, it is Osaka.
Coco Gauff gained prominence when she upset Venus Williams earlier this year at Wimbledon. Naomi Osaka became a sensation at 16 years-old, when she upset former US Open Champion Samantha Stosur at the 2014 Stanford Classic. But it took Osaka two more years to break into the top 50 of the WTA rankings. And it took until last year for Osaka to win her first Grand Slam title.
So Osaka knows what it means for an up-and-comer to lose in the limelight, She also knows what it means to have support from a veteran along the way. When Osaka beat Serena Williams in last year's contentious US Open final, Osaka was struck by Williams' post-match support.
On the The Ellen Show, Osaka said of Williams,
"She said that she was proud of me and that I should know that the crowd wasn't booing at me, so I was really happy that she said that. At the time, I did think that they were booing at me. I couldn't tell what was going on, because it was just so loud in there. It was a little bit stressful."
Doubles Team McCoco Hasn't Lost a Set
Meanwhile, the US Open will get to see more of Coco Gauff. She and teammate Caty McNally navigated a second round win against ninth seed Kveta Peschke and Nicole Melichar 6-3, 7-6.
Gauff and McNally have played 22 doubles sets together and haven't lost one yet. Team McCoco will see if they can extend that record when they play the No. 8 seed team, Ashleigh Barty and Victoria Azarenka, on Monday, Sept. 2.
Select Women's US Open Betting Odds

Serena Williams (-527)
Qiang Wang (+360)

Gauff/McNally (+165)
Azarenko/Barty (-228)

source: bwin