The Connecticut Sun will battle the Las Vegas Aces in a decisive Game 5 of their WNBA semifinal series, with the winner moving on to face the Seattle Storm.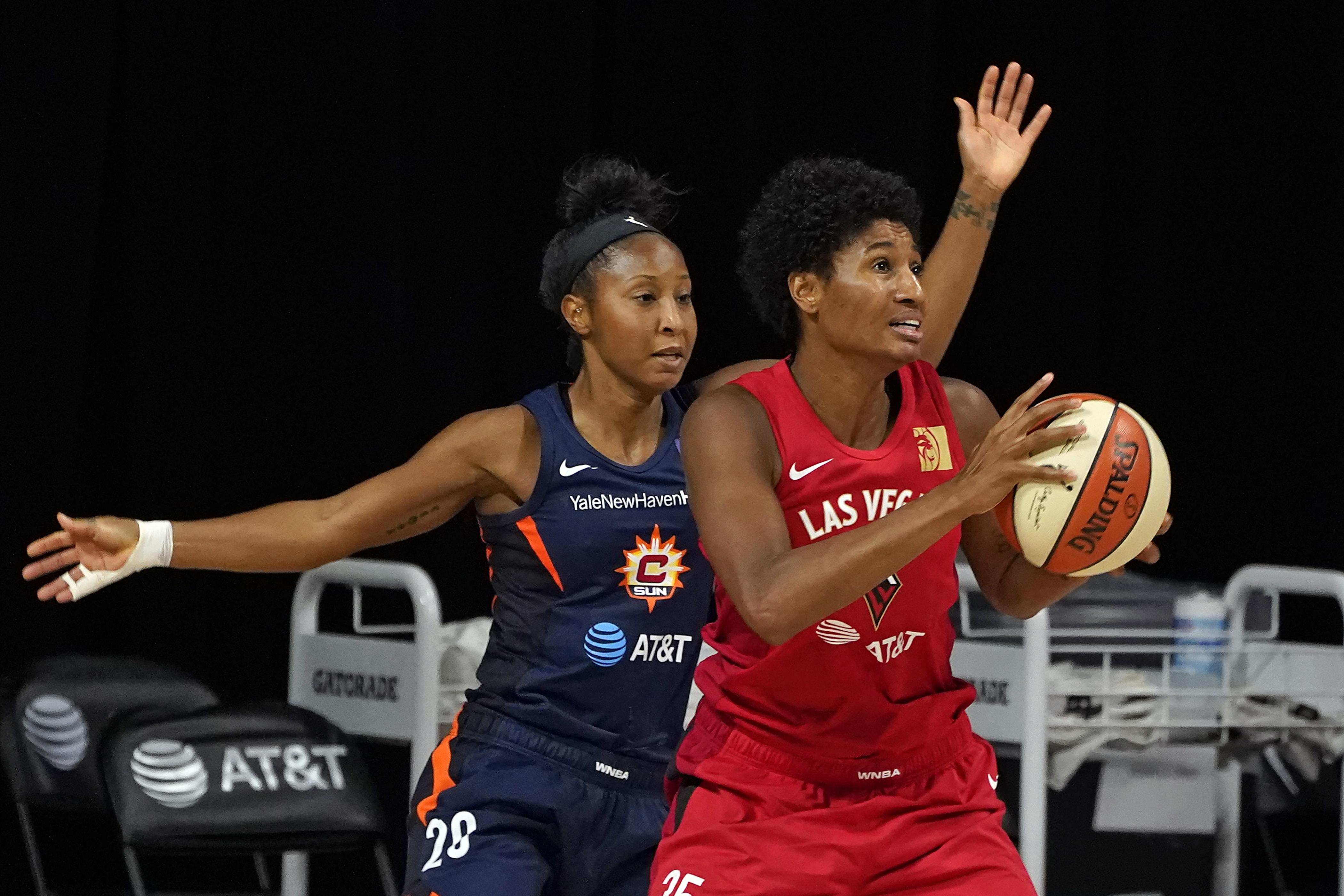 Seattle swept the Minnesota Lynx to reach the WNBA Finals, finishing off the series with a 92-71 blowout on Sunday.
Storm Sweep Lynx Away
Breanna Stewart led the way for Seattle, scoring a career playoff-high 31 points in Game 3 to end Minnesota's season.
While the Storm won the WNBA championship in 2018, an injury kept Stewart out for the entirety of the 2019 campaign. Now, Seattle appears to be in prime position to get a second title in three years, though Stewart isn't making any guarantees.
"This is a new season, we're here in the bubble, there's a lot of things that are different," Stewart said after Sunday's win. "We're happy to be back in the Finals."
In Sunday's other matchup, Angel McCoughtry kept the Aces alive by scoring 29 points to lead Las Vegas to an 84-75 win over Connecticut. The Sun and the Aces have traded wins throughout the series, setting up a winner-take-all Game 5 on Tuesday.
"Angel wasn't ready to go home. That was fun to watch," Aces coach Bill Laimbeer said after the game. "Angel played that third quarter and it was a spectacular performance to get us the lead. We maintained the lead the rest of the way."
Aces Hold Slight Edge in Game 5
Normally, Las Vegas – the No. 1 seed in the WNBA playoffs – would enjoy home-court advantage for a Game 5. But the league moved to a bubble format in Bradenton, Florida this season, removing most of the edge that typically comes with earning a high seed. Laimbeer still thinks his team will rise to the occasion on Tuesday.
"It's playoff basketball," Laimbeer said, via the Las Vegas Review-Journal. "You just deal with it. You just go play. That's how you win. You go do your thing, be confident, and play well."
The Aces will go into Game 5 as a 3.5-point favorite, according to FanDuel Sportsbook. Las Vegas will play without Dearica Hamby, however, who is expected to miss the rest of the playoffs due to a knee injury. Hamby won the WNBA Sixth Woman of the Year award in each of the past two seasons.
Hamby injured her right knee early in Game 3, though she gutted it out to play 23 minutes on the night.
"All the heart in the world, she played with it the rest of the way and played really hard," Laimbeer said after Game 3. "But it's clear that she's unable to play."
No matter which team wins on Tuesday, they will enter the WNBA Finals as an underdog to Seattle. FanDuel currently lists the Storm as the -380 favorite to win the championship, ahead of Las Vegas (+400) and Connecticut (+1100).