The Connecticut Sun earned their first trip to the WNBA finals since 2005 by defeating the Los Angeles Sparks in Game 3 of their semifinal series on Sunday to finish off a 3-0 sweep.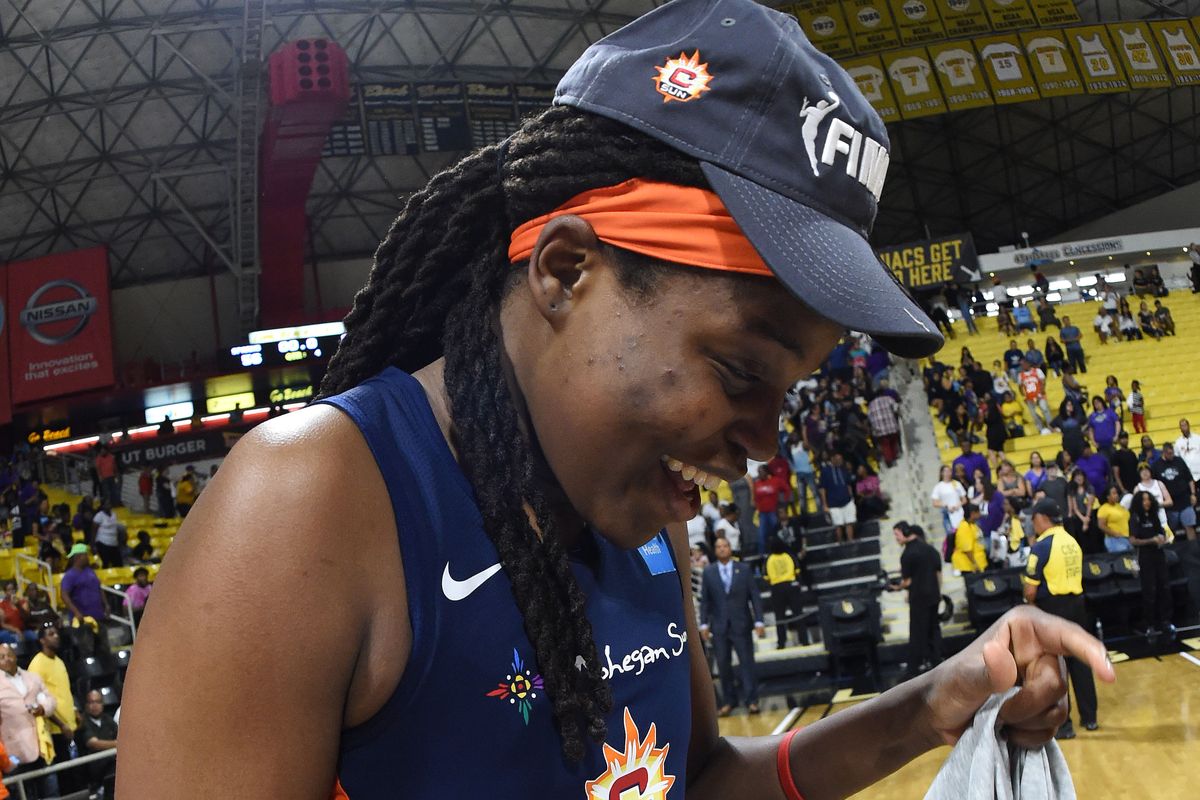 Connecticut jumped out to an early lead, and went on to win 78-56 at the Walter Pyramid in Long Beach to eliminate Los Angeles from the WNBA playoffs.
Deep Sparks Rotation No Match for Sun
Jasmine Thomas scored a career playoff-high 29 points, while Courtney Williams contributed 17 points and 13 rebounds for the Sun.
"It feels really good, you play all season for this moment here," Thomas told reporters. "To know all we've been through and we're still going to the finals. This group has been together so long, and we deserve to be here."
The Sparks were led by Nneka Ogwumike, who scored 17 points. Los Angeles coach Derek Fisher went deep into his rotation in an attempt to find an answer after the Sun jumped out to an early lead, ultimately playing 11 players at some point in the first half.
Surprisingly, that left little time for star forward Candace Parker, who played just 11 minutes and finished with four points. That came on the heels of Game 2, in which Parker scored just three points, marking an unexpected lack of production – and, on Sunday, playing time – for the two-time WNBA MVP.
"We talked before the game. It wasn't an injury or anything specific like 'this is why I'm not going to play Candace,'" Fisher told reporters. "But just trying to find energy, find spark, find physicality and things we were continuing to try to search for throughout the course of the game. We've had an issue sustaining energy for 40 minutes again this team in this series."
Aces Contain Meesseman, Stay Alive vs. Mystics
Meanwhile, the other WNBA semifinal series will continue, as the Las Vegas Aces broke through to grab a 92-75 home victory against the top-seeded Washington Mystics. In a battle of high-scoring superstars, Aces center Liz Cambage shined the brightest, scoring 28 points to lead all scorers.
"It's a series. A playoff series. And that's the beauty of it," said Cambage, via the Las Vegas Review-Journal. "All the mistakes we made in the first couple games, we really focused on fixing them and getting the job done tonight."
WNBA MVP Elena Della Donne scored 22 points to pace the Mystics, but the Aces effectively controlled Washington forward Emma Meesseman, who scored just six points after averaging 28.5 points during the first two games of the series.
"We definitely felt a little stagnant," Della Donne said after the game. "I think we need to move [the ball], move it and then attack. We've been great all season long because we've been fast and we've shared the ball. We've got to get to that."
Las Vegas will have an opportunity to tie the series at two games apiece on Tuesday, when they host Game 4 of the series. If necessary, a Game 5 will be played back in Washington on Thursday.
Despite the setback, Washington remains the favorite to win the WNBA title. FanDuel Sportsbook gives the Mystics -210 odds of winning their first WNBA championship – something all three remaining teams are chasing – with the Sun listed at +180 and the Aces a +1800 longshot.