There is no Maximum Security or Improbable to trouble Midcourt this time. This time, being Saturday's Native Diver Stakes at Del Mar, where Midcourt is the trouble.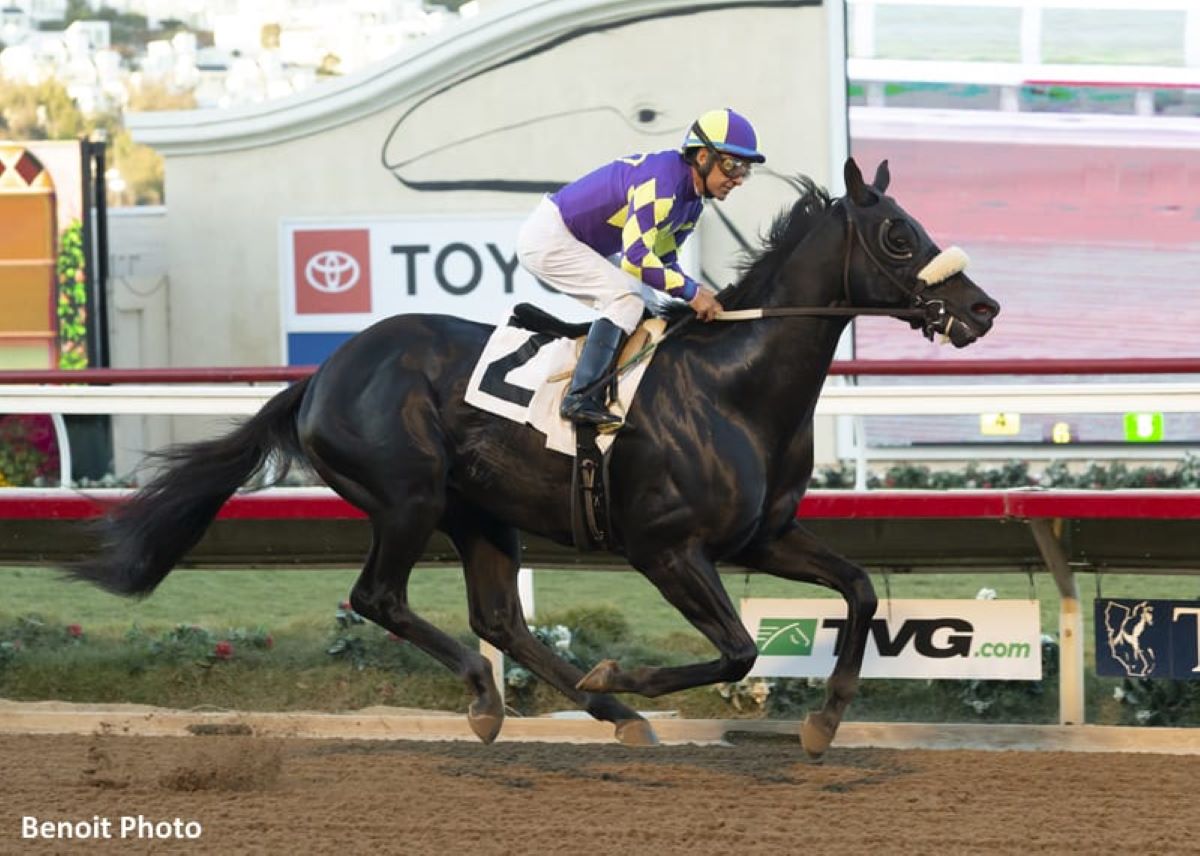 Midcourt is the one to beat in the $100,000 Grade 3 Native Diver Stakes. The 1-1/8-mile jaunt for older horses sends a condensed field of five out as an early featured race at Del Mar. It's the second race on Saturday's nine-race card.
The Native Diver gets its name from the first California-bred horse to win $1 million. Even in the 1960s, if you ran an astounding 81 times between 1961 and 1967, you could rack up $1 million. Win 37 times, like the nearly jet-black Native Diver did in that remarkable career, and it's more understandable. Native Diver won 34 stakes races, including the Hollywood Gold Cup and San Diego Handicap three times each.
He was ranked 60th on Bloodhorse's Top 100 US Racehorses of the 20th Century. When Native Diver died of colic at 8 in 1967, he was buried in Hollywood Park's infield. When Hollywood Park closed in 2013, Native Diver's remains were exhumed and transferred to Del Mar. They now reside in the track's infield.
Midcourt Should Feast on Class Drop
With five victories in 14 career starts and $546,695 in earnings, Midcourt isn't going to be mistaken for Native Diver. But the 5-year-old gelding is the race's defending champion, capturing the 2019 Native Diver by 5-¾ lengths with a career-best 112 Equibase Speed Figure. That partially explains his 4/5 morning line odds, based more on the class drop than recent form.
Midcourt is your favorite here because running against Combatant, Stellar Sounds, Royal Hope, and Extra Hope in a Grade 3 is a heck of a lot easier than running against the now-retired Maximum Security and Improbable in some of the West Coast's most demanding Grade 1 races.
Not that Midcourt hasn't been competitive in those races. He finished second by a nose to Maximum Security in July's San Diego Handicap, third to him a month later in the Pacific Handicap, and third to Improbable and Maximum Security in September's Awesome Again Stakes.
No Middling Speed Figures for Midcourt
Midcourt didn't embarrass himself in any of those races. He racked up triple-digit Equibases each time. In fact, Midcourt clocked triple-digit Equibases in nine of his last 10 races – all but two of those graded stakes. His only clunker since winning an allowance optional claimer in August 2019 was his fifth in June's Hollywood Gold Cup at Santa Anita. His 84 Equibase was his lowest figure since a 61 in October 2017 – a maiden special weight at Santa Anita in his second career race.
That said, Midcourt is 1-for-6 in 2020. His lone win came in February's Grade 2 San Pasqual Stakes: a 3-½-length win over Two Thirty Five. Combatant finished 6-¾ lengths back in third. He would avenge that loss a month later in the Santa Anita Handicap, beating Midcourt by less than a length.
The San Pasqual summed up Midcourt's main issue – other than his now-retired, exalted company. He has a tendency to break slowly at times. He broke horribly in the Hollywood Gold Cup, mandating jockey Victor Espinoza take him four wide into the stretch, where he ran out of gas. He got a clean break in the San Diego Handicap and pushed Maximum Security to the wire. He broke slowly in the Pacific Classic, before rallying for third.
Can He Catch a Break This Time?
Midcourt isn't a true closer, but his never-quit attitude makes him run like one; he pushed Maximum Security in his last three races. Because he's a classic speed horse, Midcourt's break is everything. It saves him from a wide, ground-expending trip while allowing him to run down inferior or tired horses.
This field should offer Midcourt both of those – along with the end of his five-race losing streak. Again, all the trouble starts with him this time.