The Rice Owls (0-9) lost 20-7 to the Marshall Thundering Herd (6-3) to stay winless and remain in last place in the West Division of Conference USA. With the loss, Rice continued their leading bid as the worst team in college football.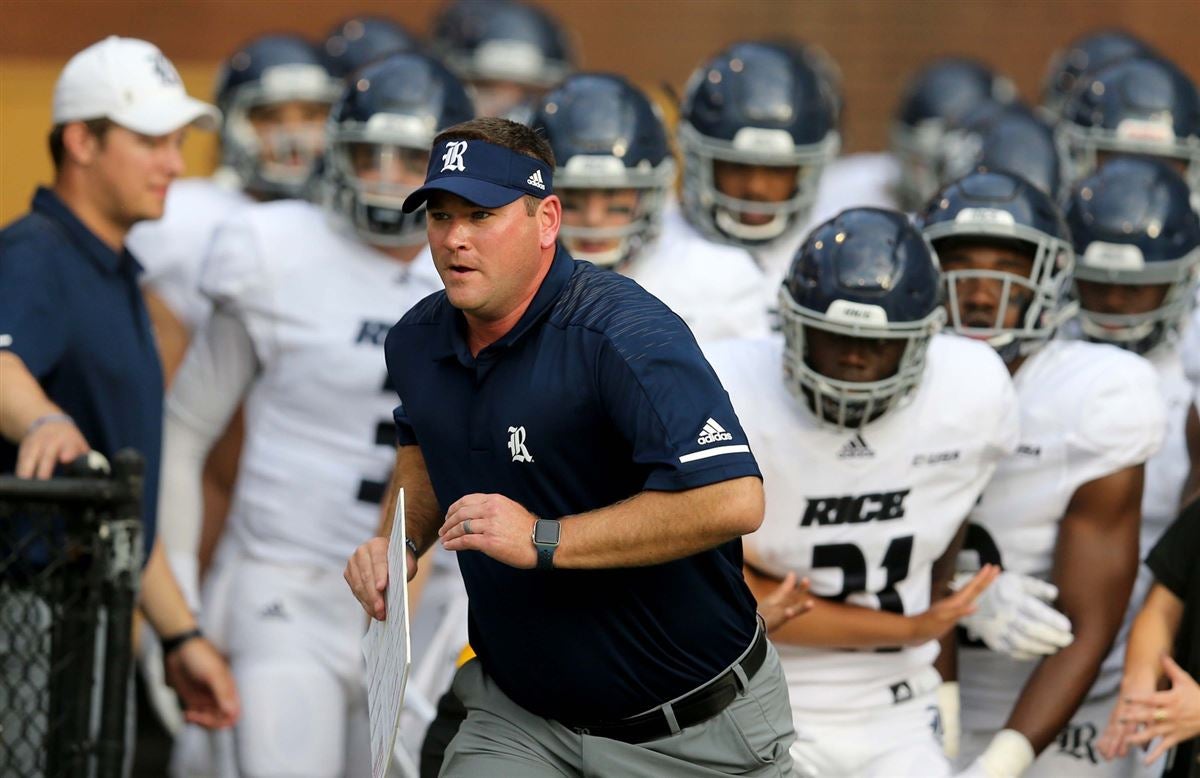 Dating back to 2017, Rice is 3-31 with a 2-19 record in Conference USA. The Owls haven't fielded a winning team since 2014.
As one of the worst teams in college football over the last five seasons, Rice can barely compete with Conference USA schools in the recruiting game, let alone beat out the premier programs in Texas. Top recruits from high schools all over Texas shun Rice for other in-state schools such as Texas, Texas A&M, Baylor, TCU, Houston, and Texas Tech.
Rice struggles to score offense, which reflects upon the lack of depth in their talent pool.
"It's so up and down right now, so we just have to find a way to bring it together and be more balanced and consistent with our play," said offensive coordinator Jerry Mack. "We're consistently inconsistent."
"We have to start winning at some point," said head coach Mike Bloomgren.
That might not happen until the end of the month. Rice visits El Paso (1-7, 0-5) to play UTEP in the final game of the season.
Heisman, Rice, and the Golden Era
John Heisman is a legendary football coach and the Godfather of football in the South and Texas. Heisman ended his career in the late 1920s with the Rice Owls.
The NCAA named the Heisman Trophy after Coach Heisman, which is awarded to college football's top player every year.
Rice's heyday occurred shortly before and shortly after World War II. Rice won six Southwestern Conference titles between 1934 and 1957. During that golden era of college football, Rice developed a lasting rivalry with the University of Texas in Austin.
Rice currently plays in the 14-team Conference USA, where they've become the doormat for CUSA West division. In a conference with multiple bad teams, Rice is the worst of the worst. Rice holds down the basement with an 0-5 conference record.
Rice History of Bad Football
In the 1970s, Rice went 29-77-3 for a .281 winning percentage. In the 1980s, Rice went 22-87-1, and won just 20 percent of their games.
In the 1990s, Rice migrated from the Southwest Conference to the WAC. They finished the millennium with a .472 winning percentage and a 52-57-1 record.
In 2007, Rice moved conferences once again, and joined Conference USA. Rice finally turned things around in 2008 with a 10-2 record under coach David Bailiff. For the first time in more than 50 years, Rice had a team that could compete with Texas, much to the delight of the alumni.
Rice's Record (Since 1970):
1970-79: 28-77-3 .281
1980-89: 22-87-1 .200
1990-99: 52-58-1 .472
2000-09: 46-72 .390
2010-19: 44-79 .357
Between 2008-14, Bailiff led to Rice to four winning seasons, including a pair of 10-win seasons. Rice's resurgence peaked in 2013 with 10 wins. In 2014, they went 8-5 and won the 2014 Hawaii Bowl. It's been all downhill since.
Dating back to early last season, Rice is 1-20. Rice won only six games since 2016, with a 6-40 clip.
Rice started the season 0-4 with tough, non-conference games against Army, Wake Forest, Texas, and Baylor. Since Conference USA's season began, the Owls dropped five straight conference games to sink to 0-9 on the season.
At a high time for Texas-based schools like the Baylor Bears and SMU Mustangs, who both started the season 8-0, Rice sits at the opposite end of the spectrum, and is considered one of the worst college football teams in the nation.