The fifth NASCAR race in 12 days takes place Sunday when the flag drops at the Supermarket Heroes 500 at Bristol Motor Speedway in Tennessee. With the rain-delayed Alsco Uniforms 500 being pushed from Wednesday to Thursday, an already short week got even shorter for both teams and drivers.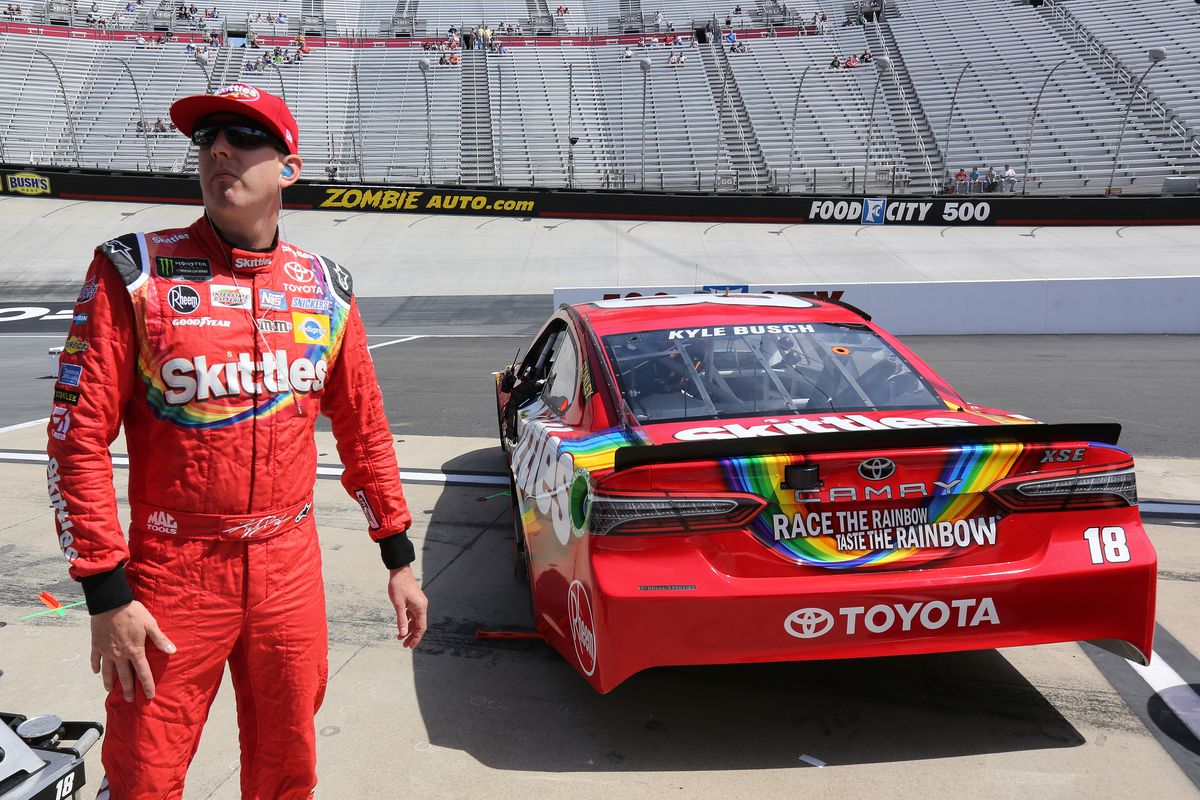 The Supermarket Heroes 500 will be another race run without qualifying, and Brad Keselowski won the pole on a random draw. There will be no practice for the race either. That would appear to favor those who have a strong history with this racetrack. Toyota has won four of the last five races at Bristol, and Kyle Busch is the defending champion and current 7/2 favorite. Chase Elliott, who won Thursday night at the Alsco Uniforms 500 at Charlotte Motor Speedway, is next at 6/1.
Supermarket Heroes 500 Odds

Kyle Busch 7/2
Chase Elliott 6/1
Joe Logano 8/1
Denny Hamlin 8/1
Kevin Harvick 9/1
Martin Truex Jr. 11/1
Brad Keselowski 11/1
Ryan Blaney 14/1
Kurt Busch 16/1
Alex Bowman 20/1
Jimmie Johnson 20/1
Clint Bowyer 25/1
William Byron 30/1
Aric Almirola 35/1
Matt DiBenedetto 40/1
Ricky Stenhouse Jr. 40/1
Christopher Bell 65/1
Ryan Newman 65/1
Cole Custer 80/1
Austin Dillon 80/1
Tyler Reddick 80/1

Source: BetMGM
Here are some drivers who gamblers might want to back at Sunday's Supermarket Heroes 500, and drivers they should probably stay away from at Bristol Motor Speedway.
Drivers to Consider
Kyle Busch 7/2
Besides being the defending champion of the Supermarket Heroes 500, Busch has two other victories at Bristol, and has led an impressive 374 laps on the track.
He's struggled to find the lead this year, however. The only race he's led was at the Daytona 500. Still, Busch does have four top-5 finishes this year.
Busch also has Bristol figured out. He told reporters drivers have to pay attention to the track's nuances.
"Bristol is kind of a finicky place," Busch said. "You're used to running on asphalt every week, and so the concrete can throw you for a little bit of a loop. But that place ages and the track changes, there are some little nuances that change with the racing surface and the line, they're always changing something."
Chase Elliott 6/1
Elliott was snake bitten in two of his last four races, suffering bad breaks that kept him from the winner's circle. He broke that bad streak with a victory Thursday at the Alsco Uniforms 500 at Charlotte.
That win could be the start of more positive momentum. He has an 11th-place average at Bristol, and despite his low odds, he should be a driver worth consideration.
Kurt Busch 16/1
Kurt Busch might be the best long shot for Sunday. Kyle's older brother has won at Bristol six times and has 12 top-5 finishes. He also has five finishes in the top 10 this season.
Drivers to Avoid
Kevin Harvick 9/1
No driver has been stronger this season than Harvick, but we don't see him finishing first here. Placing in the top 10, however, is a definite possibility. He hasn't finished worse than 10th this entire year. That includes five results in the top 5. A better wager might be +250 for Harvick to finish in the top 3 on Sunday.
Clint Bowyer 25/1
Bowyer loves Bristol. The only problem is, the feeling isn't mutual. He's never won there in 28 attempts, though he does have 15 finishes in the top 10. Still, this might be a good week to take a pass on him.