Think of the Queen's Plate as Canada's Kentucky Derby. It's got the century-and-a-half pedigree, the same 1 ¼-mile distance, and the same historical entrée and bragging rights for the 3-year-old who wins the $1 million race at Woodbine. For Canadian-breds, this is the race everyone wants on their resume.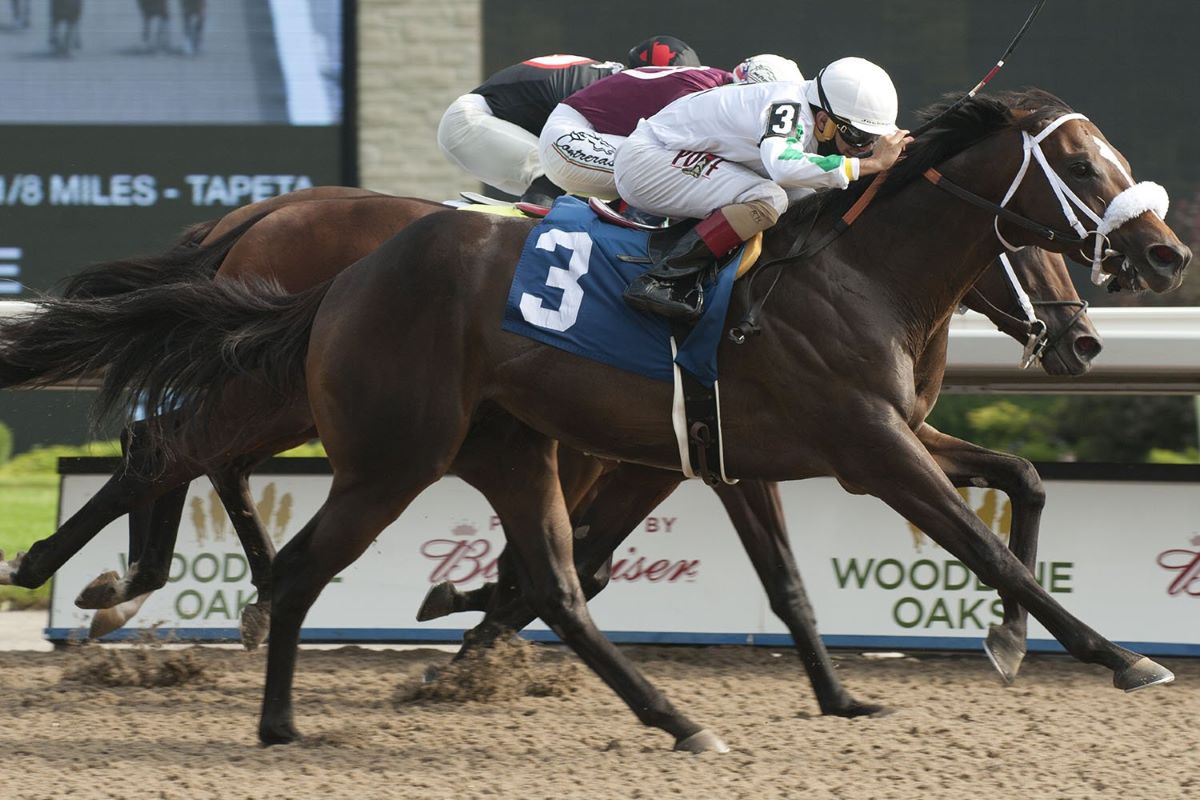 Even in 2020, the Queen's Plate keeps up with its southern counterpart. It was delayed for more than two months due to the coronavirus. As a result, no American jockeys are in the irons. It opens Canada's three-surface Triple Crown series, preceding the Prince of Wales Stakes on Fort Erie's dirt, and the Breeders Stakes on Woodbine's turf.
Now, understand the differences. The Queen's Plate has 15 years on the Derby, opening its gates for the first time in 1860. That makes it the oldest continuously run horse race in North America. It's run on Woodbine's synthetic Tapeta surface instead of dirt, and it features a capacity field of 14 – large, to be sure, but not the free-for-all found in the typical Derby.
---
161st Queen's Plate
Morning Line (Jockey)
Sweeping Hard, 50/1 (Leo Salles)
Merveilleux, 10/1 (Kazushi Kimura)
Belichick, 30/1 (Slade Callahan)
Truebelieve, 30/1 (Keveh Nicholls)
Holyfield, 30/1 (Darryll Holland)
Halo Again, 5/1 (Luis Contreras)
Glorious Tribute, 30/1 (David Moran)
Olliemyboy, 30/1 (Steven Bahen)
Dotted Line, 8/1 (Justin Stein)
Curlin's Voyage, 5/2 (Patrick Husbands)
F F Rocket, 50/1 (Sahin Civaci)
Clayton, 2/1 (Rafael Hernandez)
Mighty Heart, 20/1 (Daisuke Fukumoto)
Tecumseh's War, 12/1 (Emma-Jayne Wilson)
---
Speaking of the field, here's something else the Queen's Plate has in common with this year's version of its American counterpart – a preponderance of closers or stalker-closers. This race shapes up as one with 14 horses all waiting for someone to make the first move. Even putting aside the usual lack of pace that comes from going 10 furlongs on a synthetic surface, don't expect a speed duel.
Clayton Won't Lead Early, but Watch Out Late
So what should you expect? Start with Clayton, your 2/1 morning-line favorite. Along with Tecumseh's War and Halo Again, Clayton should be somewhere near the front early on. This was where he was at the quarter pole en route to his victory as the 3/5 favorite in the Plate Trial Stakes – the Queen's Plate prep. Neither he, nor Halo Again, led early there, but the pair and Dotted Line rolled to the finish line together.
Clayton prevailed by a half-length, giving him his third victory in four starts. The son of 2012 Kentucky Derby runner-up Bodemeister, Clayton has one of the best pedigrees in the field and should find no issue running 10 furlongs as he goes for his third consecutive two-turn victory at Woodbine.
Should Clayton's expected depressed price depress you, both Halo Again (5/1) and Dotted Line (8/1) could perk you up. The Steve Asmussen-trained Halo Again made cameos on the Kentucky Derby Trail, but couldn't match his juvenile success. After Halo Again finished eighth at the Lecomte Stakes and a weak fourth in the Jeff Ruby Steaks on Turfway Park's synthetic track, Asmussen sent him back to Canada.
Halo Again Found His Wings North of the Border
That, apparently, cured whatever ailed Halo Again. The son of noted sprinter Speightstown won the Queenston Stakes at Woodbine, then finished a half-length behind Clayton in the Plate Trial Stakes. His stalking style should serve him well here.
As for Dotted Line, his pedigree indicates he probably doesn't have the stamina to go this distance. With a fifth in the Queenston, a third in the Marine Stakes (won by Shirl's Speight) and a third to Clayton in the Plate Trial, Dotted Line figures to be the True North's version of Max Player or Ny Traffic. That is, a gritty, game horse with decent pure speed and good tactical speed, but not quite enough of it.
That brings us to the fillies. There are two of them worth noting in an event very kind to fillies. Five fillies captured the Queen's Plate this century, including Dancethruthedawn (2001), Inglorius (2011), Lexie Lou (2014), Holy Helena (2017), and Wonder Gadot (2018).
What's a Queen's Plate Without the Fillies?
Curlin's Voyage (5/2) and Merveilleux (10/1) actually outran the boys in the Woodbine Oaks, which ran the same day as the Plate Trial Stakes. Curlin's Voyage covered the 1 1/8 miles more than a half-second faster (1:50.04) than Clayton did (1:50.61). That said, the Woodbine Oaks pace was a 180-degree flip from the Plate Trial pace: plenty of early speed, and hang on at the end.
It was no matter for Curlin's Voyage. Daughter of two-time Horse of the Year Curlin, Curlin's Voyage won her own hardware as the Canadian Champion 2-Year-Old Filly last year. She won two stakes races as a juvenile and comes into the Queen's Plate off two consecutive stakes wins on Woodbine's Tapeta track. Those represent four of her five career victories in nine starts. Stamina isn't an issue, but the pace of this race could be.
While Curlin's Voyage should be used in all exotics, intrepid horseplayers should look to Merveilleux as perhaps the filly to follow. That third to Curlin's Voyage in the Oaks was deceptive. Merveilleux got caught in traffic, yet found a path to a solid finish, only 2 1/4 lengths behind. Beyond that, her gallop-out blew her by Curlin's Voyage just past the wire. Merveilleux's pedigree and development is there. The only thing missing is that breakout win.
The pick: Clayton. A tepid one, to be sure, since the price and maturity (only five career races) is lacking. But little else is, including Woodbine comfort and sheer talent. Key him in your exotics with Halo Again, Curlin's Voyage, and Merveilleux, then throw in long shots Olliemyboy and Belichick underneath.