With Deontay Wilder's odds so heavily in his favor, Wilder-Ortiz II prop bets are finding favor with gamblers. The champion, Wilder is currently at -715 at some sportsbooks, and -700 at the site of Saturday's fight, the MGM Garden Arena.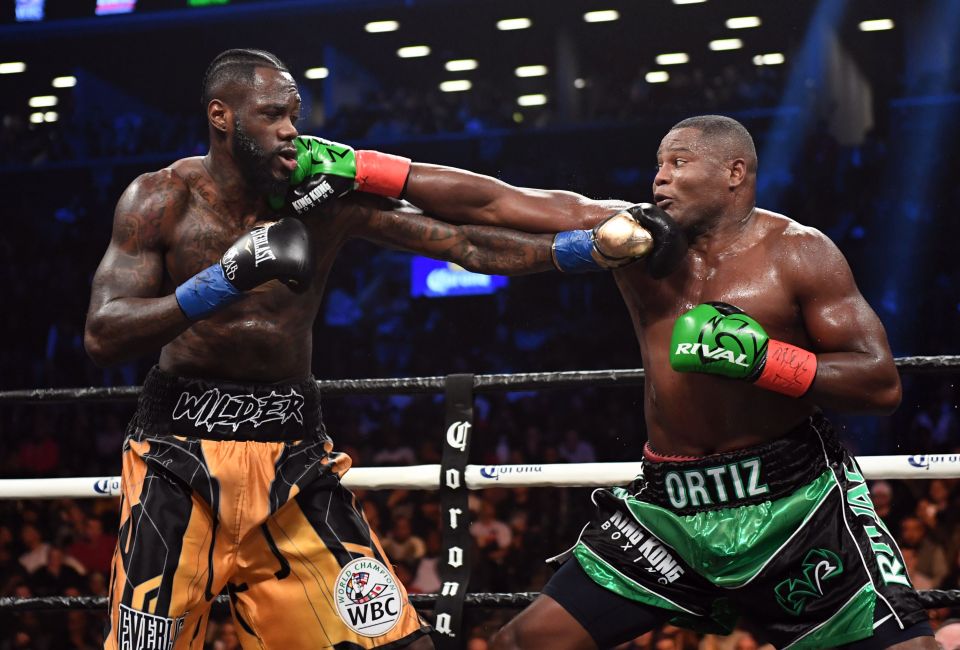 Luis Ortiz, who lost to Wilder on March 3, 2018, is an even bigger underdog in the rematch. The Cuban is +475 at the MGM, and +450 at other facilities, such as the Westgate Las Vegas SuperBook.
Tale of the Tape

Deontay Wilder                         Fighter                    Luis Ortiz

The Bronze Bomber                 Nickname                 King Kong

34                                             Age                           40

Tuscaloosa, Alabama              Hometown                 Camaguey, Cuba

6'7"                                           Height                        6'4"

84"                                            Reach                        84"

Orthodox                                   Stance                      Southpaw

42                                              Wins                         31

0                                                Losses                      1

41                                              Knock Outs               26

1                                                Draws                        0
While those odds might not appeal to some, there are several tantalizing Wilder-Ortiz II prop bets that might be worth a look.
Knockout Favorite Wilder-Ortiz II Prop Bet
Both fighters have impressive knockout records, and one fighter falling at Wilder-Ortiz II might be a good prop bet. There are several offerings for a knockout prop bet. It also includes an unlikely disqualification.
The first, which has long odds is an exact knockout in a round by one fighter. The highest odds for this category is 80/1 for Ortiz to score a knockout in Rounds 10, 11 or 12. It goes down to 75/1 for Rounds 1 or 2. It drops to 60/1 for Rounds 3 or 4, as well as for Rounds 6, 7, 8, or 9.
The odds are a lot less for the champion. Wilder has won 41 of his 42 fights by either knockout or technical knockout. He stopped Ortiz in their first fight by TKO in the 10th round.
The highest odds for a Wilder knockout is in the 12th and final round. Those odds are set at 25/1. The next best odds are 18/1 in Round 11. It drops to 15/1 in either Rounds 1 or 10, 10/1 in Rounds 2 or 9. The lowest odds are 8/1 in Rounds 3, 4, 5, 6, 7 or 8.
Ortiz and Wilder have both promised a knockout, and in the first fight, Ortiz almost knocked out the champion in the seventh round. He promised to do so on Saturday in Wilder-Ortiz II.
"Like I said before, and Deontay said too, this is not going 12 rounds," Ortiz said. "One of us is getting knocked out. I wish there were no bells between rounds so we could just keep going."
Round, Decision Props
Wilder backers might want to avoid the -700 straight bet odds, but instead go with Wilder by knockout in any round. The knockout odds are -300. A much better line, but with obvious risk, is Wilder by decision at 5/1.
The odds for Ortiz scoring a knockout are 6/1, and winning by decision at 18/1. A draw is returning 25/1.
Winning in a round has some long odds as well. If Ortiz wins the fight in Rounds 10-12, the return is 35/1. If he manages to knockout the champion in Rounds 1-3 it is 22/1, and Rounds 7-9, 20/1. The lowest odds for Ortiz are Rounds 4-6 at 15/1.
The odds are understandably much lower for Wilder. Rounds 4-9 are 12/5, and Rounds 1-3 are 17/5. He is getting 5/1 for Rounds 10-12.
Wilder is making no confusion who will win Wilder-Ortiz II.
"I'm the best in the world, and I say it with confidence. With that being said, I have to give the fans what they're hungry for. That's exciting fights. The heavyweight division was in a dark place, but now it's on fire and I must keep it going.