Florida football coach Dan Mullen was sullen at the microphone discussing his No. 7 Gators' thrashing at the hands of No. 6 Oklahoma Wednesday night at the Cotton Bowl. There was someplace he'd have rather been, the same place most of his star players already were: home.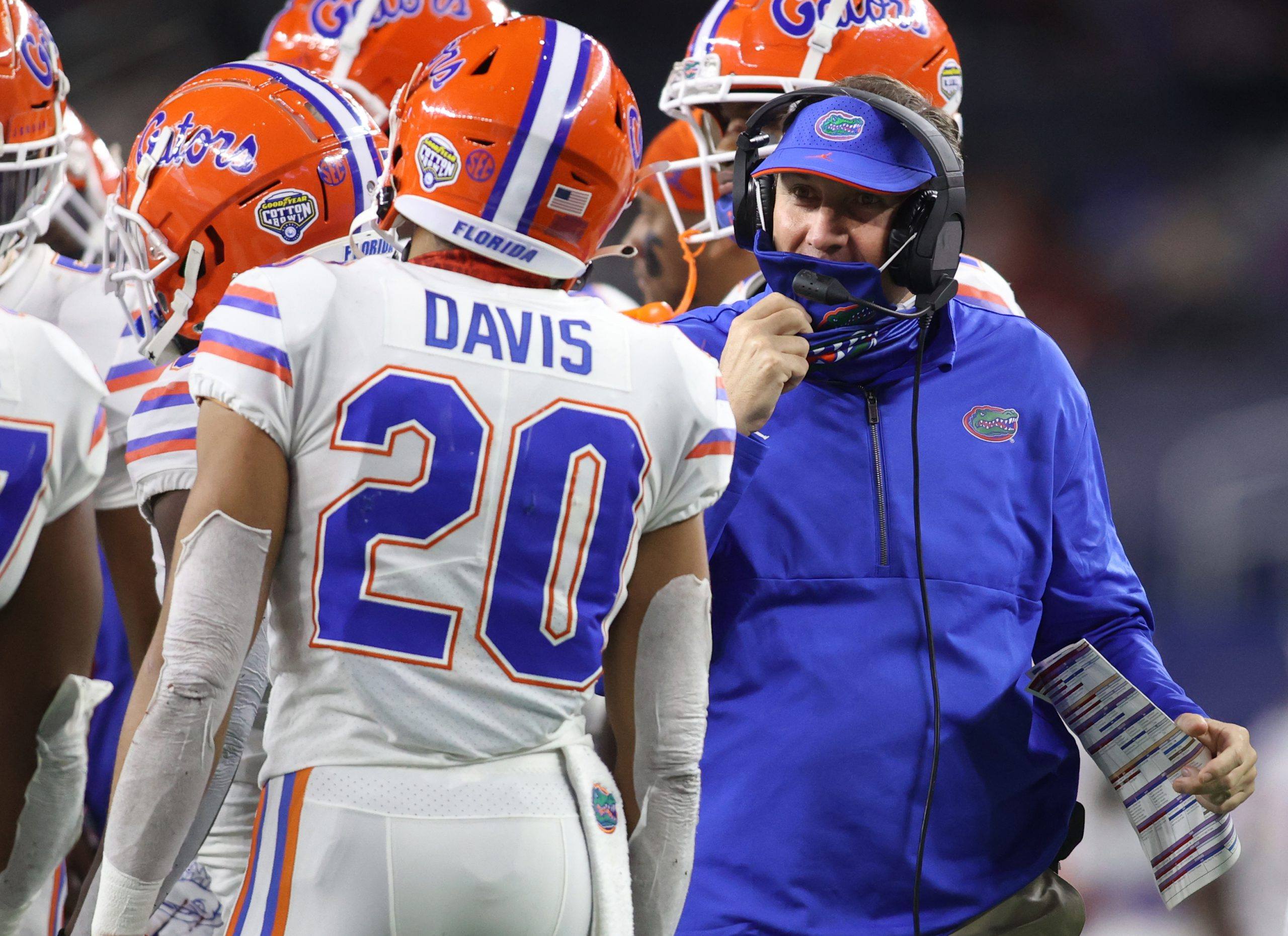 In the aftermath of the team's 55-20 blowout loss, that close thanks to a late fourth-quarter Gator touchdown, Mullen admitted his team was "under numbers" to be eligible to play.
"I give our guys credit," he said during his post-game interview. "Our young guys wanted to go play in that game, and they wanted to get that experience and wanted to be on that stage."
In the wake of an abdication of COVID-era guideline-setting by the NCAA, the SEC this season established a minimum threshold of 53 scholarship players for game participation. However, teams could still opt to play even if they didn't meet that number. There were also minimum thresholds at each position that gave teams the ability to opt-out.
Mullen did not say whether they were short scholarship players in total or at one position. Still, the writing has been on the wall that the Gators would be short-staffed since star tight end Kyle Pitts opted out of the Cotton Bowl to prepare for the NFL draft following Florida's 52-46 loss Dec. 19 to No. 1 Alabama.
In the Alabama contest's post-game interview, Mullen admitted the loss was likely the final time that iteration of his team will take the field together.
"That was the last time this team would play together, I imagine," he said. "Whatever the future holds, I imagine this team as a whole of how it is will be the last one played here."
His words were prophetic. Vegas attempted to track closely who would still suit up for Florida, but the task proved to be cumbersome as schools can be cryptic right up to game time about who's in.
The Gators opened as 3-point favorites last week. Still, the line flipped in favor of Oklahoma after several key Gators joined Pitts in skipping the postseason, including the team's star receiver Kadarius Toney.
Vegas Flipped Line for Sooners, But it Wasn't Enough
On Monday, sportsbooks flipped the line to make the Sooners 3-point favorites, and it grew from there. Oklahoma was an 8.5-point favorite in the hours leading up to kickoff.
Even with the almost 12-point swing, it wasn't enough for the Gators' JV squad to cover
"I kind of viewed, I don't know, maybe this is wrong, that wasn't the 2020 football team that you saw," Mullen said of his 8-4 squad, which lost its final three games. "There were 25 guys missing off the 2020 football team out there tonight."
The question is, of the remaining bowl games that will be played, which school is most likely to pull a Florida? The answer is likely No. 9 Georgia, which is set to meet No. 8 Cincinnati in the Peach Bowl. The first bowl game of 2021 is set to kick off in Atlanta at 12:30 p.m. ET.
Georgia Looks Like a Squad on the Ropes
The line is shrinking daily for Georgia, which opened as 8-point favorites but started to shed athletes as soon as they found out they'd be playing in the Peach Bowl on Dec. 20.
Cornerbacks Eric Stokes, a team captain, DJ Daniel, safety Richard LeCoute, linebacker Monty Rice, another team captain, center Trey Hill, tight end Tre' McKitty, right guard Ben Cleveland, a third team captain, and wideout Mark Webb all decided to bounce. This represents the 2020 Bulldogs' leadership and playmaker nucleus.
But what we don't know is how many more upperclassmen and starters will elect to sit on Friday. As Florida's coach Mullens alluded to during his post-game comments, the press and Vegas oddsmakers had no idea 25 players would be missing from the Gators' locker room before kickoff.
Clemson and Ohio State Both Battling COVID Issues, Who is Worse Off Prior to Sugar Bowl?
Another harbinger of an unforeseen swing may come from No. 2 Clemson's announcement Wednesday that its offensive coordinator, Tony Elliott, will not travel with the team to New Orleans for the Sugar Bowl Friday, following the team's COVID-19 protocols. In the wake of the announcement Clamson slipped marginally from 8- to 7.5-point favorites for the Sugar Bowl vs. No. 3 Ohio State at 5 p.m. ET on Friday.
Elliott has been with the Tigers since 2011, calling plays for the offense. Clemson quarterbacks coach Brandon Streeter is expected to take over the play-calling duties, and head coach Dabo Swinney could also take over the offense if things go sideways.
Swinney has been particularly cagey about Clemson's various COVID outbreaks this season, even when it peaked in October with the absence of the infected Trevor Lawrence, which resulted in the program's only loss a 47-40 in overtime at the hands of Notre Dame. Clemson has many of its NFL-ready prospects expected to suit up Friday, including projected No. 1 Lawrence. Still, a significant piece missing in the coaching staff portends a bigger problem with the program's virus spread.
Ohio State has been battling back from its own COVID outbreak for most of the month. The Buckeyes' will have some players back for the Sugar Bowl, but coach Ryan Day said Wednesday his team is not full strength.
Buckeyes Without 22 Players in Big Ten Championship Game, Who Will Be Back Friday?
The Buckeyes went without several key players for the Big Ten Championship Game on Dec. 19, including star receiver Chris Olave and linebacker Baron Browning, along with 20 others. At the time, Big Ten protocols required anyone exposed to COVID-19 to spend 21 days in quarantine, but the league reduced that requirement to 17 days following the Buckeyes' win, which would make many eligible to play on the first.
"Full strength is a floating target right now," head coach Ryan Day said earlier this week. "Those guys who come off quarantine and isolation, they have a protocol to get back on the field. You don't just play football after not doing anything for nine or ten days."
Buckeyes quarterback Justin Fields also has been nursing a sore thumb this month that resulted in the worst passing game of his career in the Big Ten Championship Game vs. Northwestern.
While there are no guarantees in college football, especially in the wake of a pandemic-ravaged campaign, it's safe to say that by Saturday morning, bettors will have seen games played by teams that didn't resemble the ones they grew to know during the regular season.