Until the introduction of social media, the only time you'd be able to follow a professional boxer's journey would be during a TV interview, press conference, weigh-in, or fight night.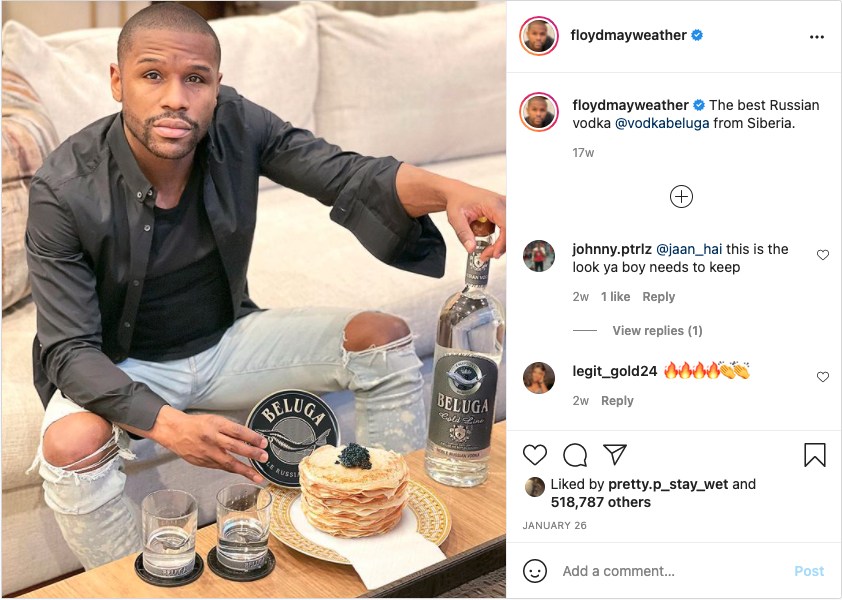 Now, thanks to platforms such as Instagram, we're able to get an insight into the lives of the most formidable fighters on the planet all year round.
We've broken down the accounts of the top 12 highest earning boxers on Instagram, so we can know who the pound-for-pound (or dollar-for-dollar) social media champion is.
Social Media in Boxing
From fight announcements and callouts to training montages and inspirational quotes, boxers post some of the most entertaining content on Instagram. Social media has become such a huge part of the sport, that even promoters like Eddie Hearn have over a million followers.
Instagram is the hub of all pre-fight entertainment, as fighters use the platform to sell their fights in pursuit of lucrative PPV records.
Boxers will play up to their fighting personas on Instagram too. Anthony Joshua and Tyson Fury have two very different personalities but share one common goal; to become the undisputed unified heavyweight champion of the world. Their mega-fight is the worst kept secret in boxing and looks to finally be happening on Aug. 14.
Ahead of the official announcement each fighter has taken a contrasting approach to build the hype with fans. Joshua, who holds the IBF, WBA, and WBO belts, has been all business with his posts since the start of the year, posting various training shots with some typical motivational captions.
View this post on Instagram
On the other hand, Fury is parading around America having the time of his life, as he regularly jumps on his story to call out AJ, his promoter Hearn, and predict the fashion in which he believes he'll finish the fight. The WBC and Ring Magazine champion's account only goes back to February 2020, just before his last fight against Deontay Wilder.
Pound for Pound Rankings: Instagram Edition
So, with Instagram's role in boxing more prominent than ever, it's time to find out just who makes the most money on the gram, instead of in the ring.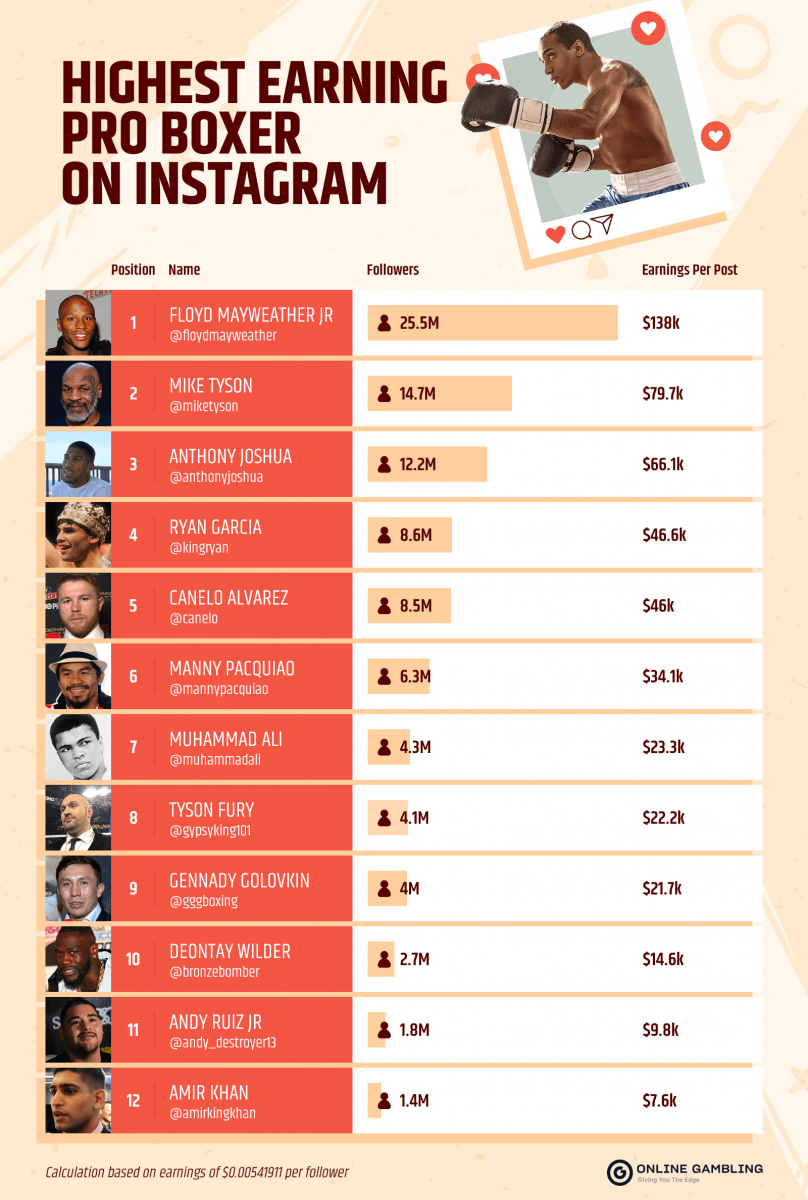 After his incredible win over Billy Joe Saunders on Cinco de Mayo weekend, Saul Canelo Alvarez cemented his place as the pound-for-pound best in the world. He is now just one win away from becoming the undisputed champion at super middleweight, with a fight against Caleb Plant inevitable.
However, it's Floyd "Money" Mayweather who still sits at the top of the Instagram earnings with prospective payouts of nearly $140k per post, despite not fighting professionally since 2017. Mayweather has got a fight date coming up though, as he fights YouTuber Logan Paul on June 6.
Logan, along with his younger brother Jake, is shaking up professional boxing, with Jake coming off a win against MMA star Ben Askren. The pair have 19.3 and 15.6 million followers respectively, which would put them 2nd and 3rd in the rankings for pro boxers.
Mike Tyson is second on the list, potentially earning almost $80k per post. He is another ex-champ who is in the exhibition fight business. In November 2020, Tyson drew his eight-round fight with Roy Jones Jr. Coincidentally, Jake Paul fought Nate Robinson on the undercard.
Another top boxer to highlight is fourth-placed Ryan Garcia. At just 22, Garcia is slowly becoming a household name, especially among younger fans. The American prospect is 21-0 since his pro debut in 2016 and is only a win or two away from a title shot at lightweight. Garcia's 8.6 million Instagram followers are awaiting news on his next fight, as he recently used his platform to pull out of an upcoming fight with Javier Fortuna due to mental health struggles.
YouTube vs. TikTok: Battle of the Social Platforms
While many boxing fans are against allowing Youtube stars to box professionally, no one can argue the huge audiences they attract.
On June 12, the card titled Battle of the Platforms will take place in Miami, Flordia. Seven fights have already been confirmed:
Tanner Fox vs Nick Austin
Faze Jarvis vs Michael LE
Dog vs Nate Wyatt
AnEson Gib vs Tayler Holder
Danny Duncan vs TBA
Deji vs Vinnie Hacker
Austin McBroom vs Bryce Hall
Check out our infographic below to see which star from each platform earns the most on Instagram.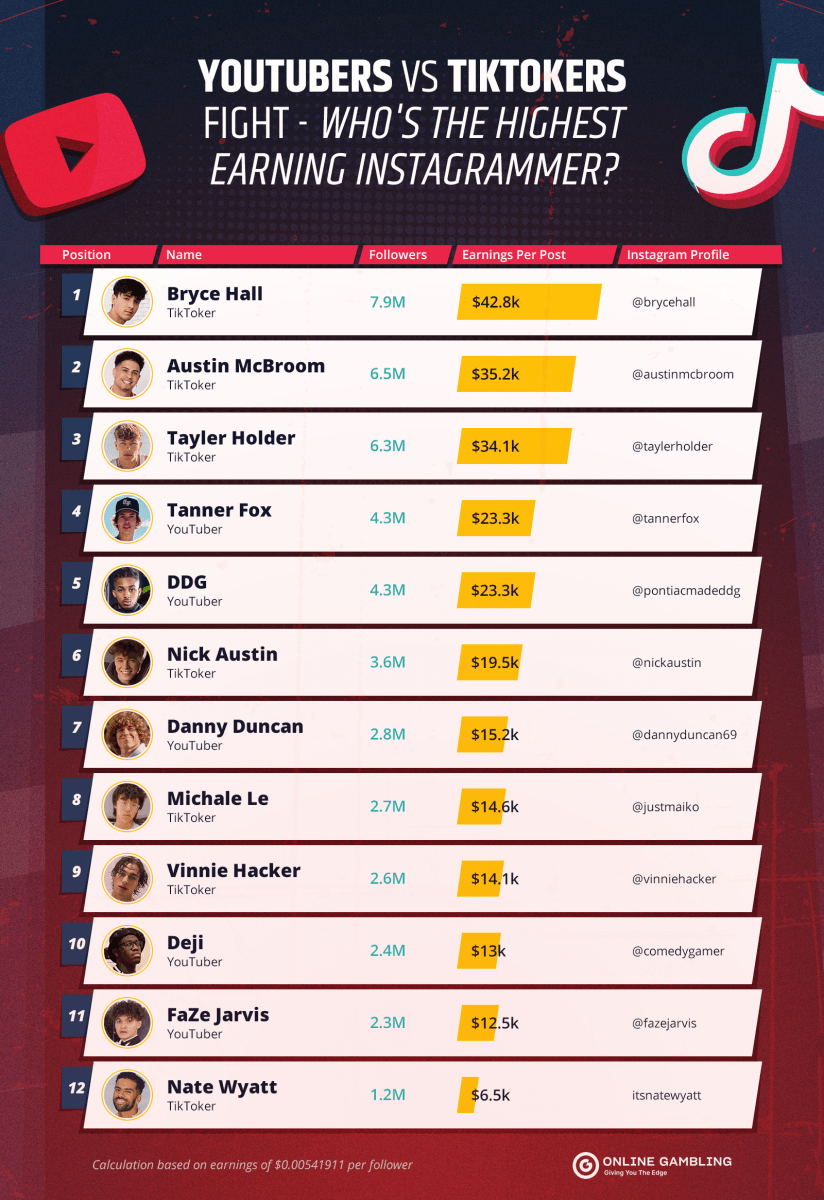 ---
Sources:
https://starrcards.com/kings-of-instagram-floyd-mayweather-jr-mike-tyson-anthony-joshua-tops-among-boxers/
https://www.hopperhq.com/blog/instagram-rich-list/