Robert Whittaker will look to solidify his bid for a rematch against middleweight champion Israel Adesanya on Saturday night when he takes on Kelvin Gastelum in the main event of UFC on ESPN 22.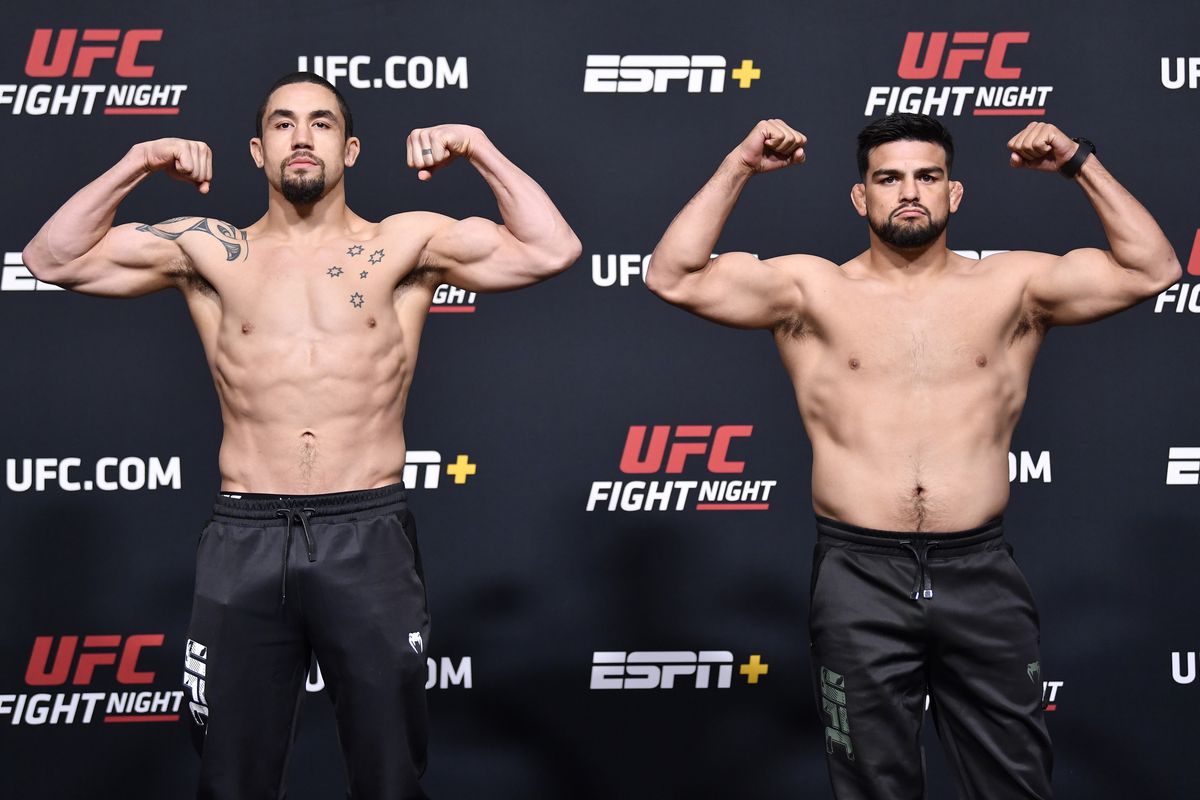 Whittaker (22-5) lost the middleweight championship to Adesanya in 2019, but has since bounced back with wins over Darren Till and Jared Cannonier to become the No. 1 contender in the division.
Whittaker Sees Gastelum as Serious Threat
But with Adesanya not showing interest in fighting Whittaker anytime soon, the former champion is looking to get into the Octagon against any worthy opponent. Initially, Whittaker planned to take on Paulo Costa, but the Brazilian dropped out last month due to a severe bout of the flu. Instead, Gastelum stepped into the role.
Whittaker comes into the fight as a significant -270 favorite, but says that Gastelum represents a real challenge.
"I think he's one of my hardest fights to date," Whittaker told Submission Radio. "I think he is a very good fighter. Yeah, I think people look too much into his recent losses and it takes away from how good he actually is. That's the game when you're at the top of the food chain, at the top of the charts. Everyone is a hard fight and they're just gonna give you more and more hard fights."
Gastelum (16-6) won his last fight, picking up a unanimous decision over Ian Heinisch at UFC 258 in February. But that broke a three-fight losing streak. As Whittaker said, those losses came to big names, however: the slide began against Israel Adesanya, and included losses against Darren Till and Jack Hermansson.
Winner Wants Adesanya, But Champ Has Other Plans
The 29-year-old Gastelum may have slipped in the rankings – he's now the No. 8 contender – but still believes that he has a future in the UFC title picture.
"I feel I've shown only maybe 50 percent of my potential," Gastelum told Yahoo Sports. "I'm not that 21-year-old kid anymore. I'm about to be 30 in October and it's kind of crazy seeing that change in me and that change in my career. I feel like I'm starting my career over again. I feel I've gotten a fresh start and I'm going to make the most of it."
Nobody has been able to knock out Gastelum in his professional MMA career, and it has been years since Whittaker earned a finish. That suggests that Whittaker's path to victory will be through the scorecards. Chances are that the former champion can pull that off, though that leaves lots of time for Gastelum to find a knockout or submission – something that could vault him right up the middleweight pecking order.
Regardless of who wins, they might find it hard to get Adesanya to fight them, at least right away. The middleweight champion has pointed to Darren Till as a likely next challenger. But Whittaker says he can't worry about what Adesanya plans to do with the belt.
"All the power's in Adesanya's hands at the moment. So, it is what it is," Whittaker said. "I'm not gonna dwell on it too much."