Bob Baffert rarely tastes defeat in the Starlet Stakes, which makes him the perfect trainer to put the crown back on Princess Noor's head in Saturday's Grade 1 Starlet at Los Alamitos.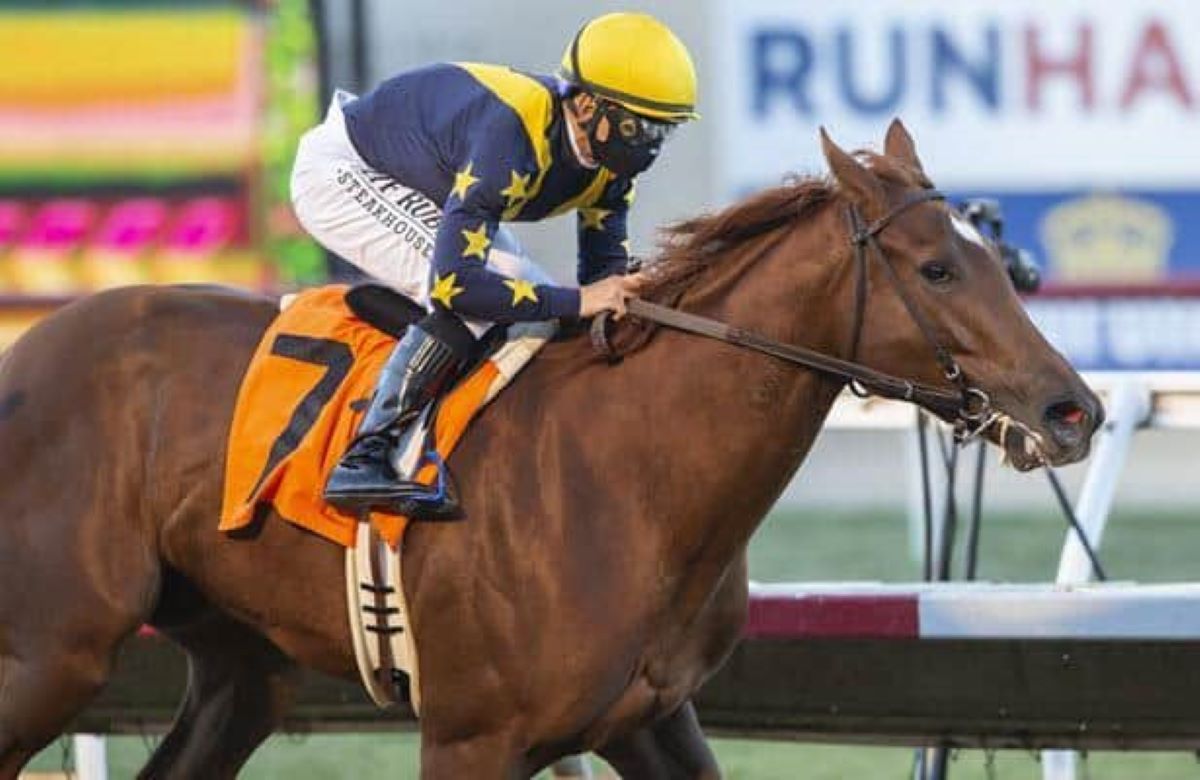 To do that, Princess Noor will not only have to beat two of her Baffert stablemates in the small, five-filly field, but take out the Richard Mandella-trained and unbeaten Astute. That's no hill for a climber like Princess Noor.
Is it?
The 1-1/16-mile Starlet is one of Los Alamitos' marquee races on its limited Thoroughbred slate. it's the final Grade 1 of the season for 2-year-old fillies who are embarking toward their Kentucky Oaks prep races in January. This is the seventh edition of the Starlet at Los Alamitos after a 33-year run as the Hollywood Starlet at the late Hollywood Park.
Baffert Has a Six-Pack of Starlets
On the surface, it's another pelt on Baffert's mantle. He's won six of these, including the last three with Dream Tree (2017), Chasing Yesterday (2018), and Bast (2019). He accounts for 60% of the field at Los Alamitos this year. Along with Princess Noor, Baffert sends out stakes winner Kalypso and stakes-placer Varda.
---
Starlet Stakes
Morning Line (Jockey)
Kalypso, 6/1 (Abel Cedillo)
Nasreddine, 15/1 (Tiago Pereira)
Princess Noor, Even (Victor Espinoza)
Astute, 7/5 (Flavien Prat)
Varda, 8/1 (Drayden Van Dyke)
---
All of the Baffert-watching eyes will be on Princess Noor, who broke her maiden in her Del Mar debut, then broke the wills of her competitors in two Grade 1 races in a 20-day span. The $1.35 million purchase in April's OBS Sale captured the Del Mar Debutante on Sept. 6, then breezed home in the Chandelier at Santa Anita 20 days later.
Naturally, this made Princess Noor the 9/5 favorite at the Breeders' Cup Juvenile Fillies – along with one of the biggest targets among all the favorites. Her speed figures entering that race were lower than most of her competitors, which made Princess Noor's fifth-place finish more believable than it appeared on paper.
Princess Noor Goes Blinker-Free for Starlet
"Her Kentucky performance was kind of lackluster, but she came out of it well," Baffert told Los Alamitos. "She didn't fire. They'll do that. I was really disappointed in that."
Even with that, Princess Noor chalked up a career-best 85 Beyer Speed Figure and only lost to Vequist by 3-½ lengths. Baffert said he'll take off Princess Noor's blinkers in an effort to put her crown back on as the top 2-year-old filly in the country.
Standing in her way is Astute. The daughter of Speightstown owns the best Beyer in the field (88), which she clocked en route to winning the Desi Arnaz Stakes at Del Mar in mid-November. That 7-½-length victory followed a debut turf win at Santa Anita in October.
Smith Tests Positive for COVID, Prat Takes Astute's Reins
A victory here would give Mandella, one of the most underrated trainers in the country, his first Starlet. It would also give Astute her first victory at longer than 6-½ furlongs. If it happens, it will happen without her regular jockey, Mike Smith, in the irons. Smith tested positive for COVID-19 on Friday and, even though he said he's asymptomatic, won't ride Astute or Proud Emma in Sunday's Grade 3 Bayakoa Stakes.
Flavien Prat, arguably California's top rider, takes the reins in Smith's stead.
The Pick: Astute. Better value, better speed and even being between two Baffert horses in Varda and Princess Noor, she has the wherewithal to get the trip she needs. Keep an eye on Kalypso, who has the pedigree and poise to steal a spot on the board.