Gamblers who want to bet on the Independence Bowl have to wonder which Miami team will show up against Louisiana Tech in Shreveport, LA, on Thursday, because the Hurricanes have certainly shown two personalities on the football field this season.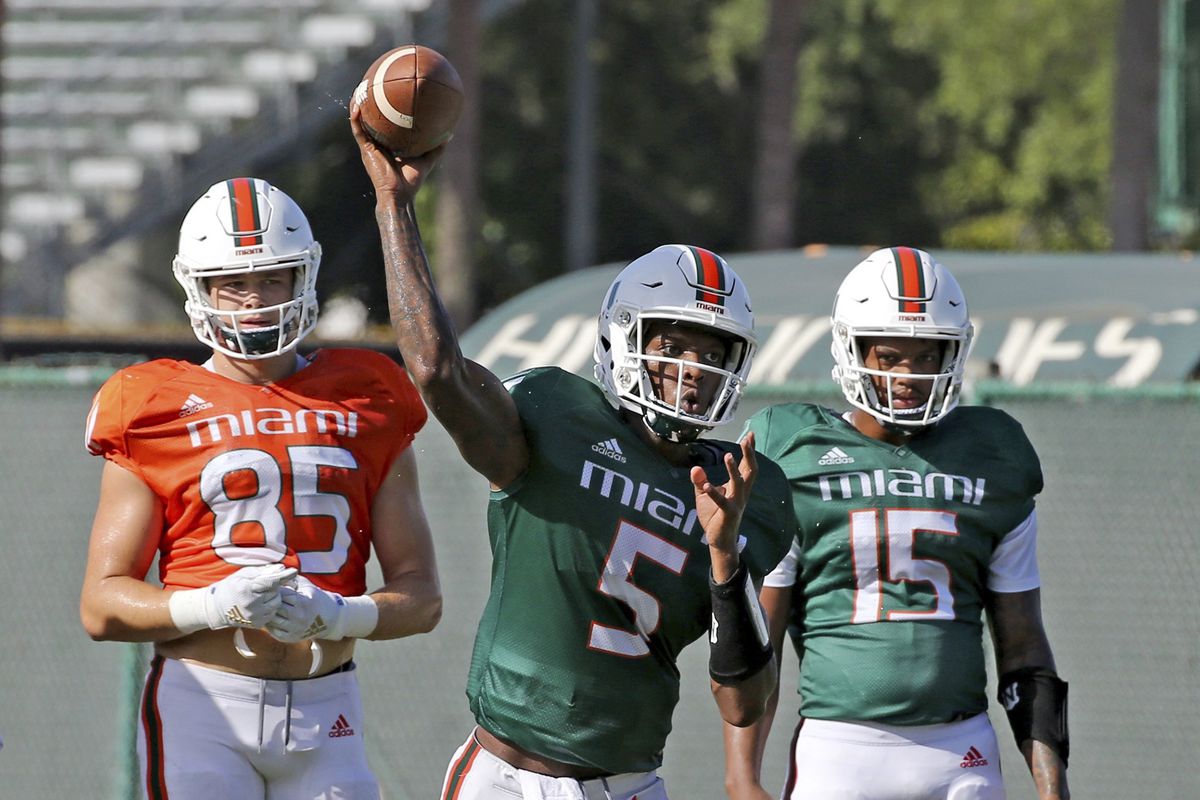 The first Miami team is the one that defeated No. 24 Virginia as a 2.5-point favorite at home in October. The second is the team that lost to in-state rival Florida International as a 21-point favorite a month later.
Oddsmakers set the line for the Miami-Louisiana Tech game at 7.5 points in the Hurricanes favor, and it was quickly bet down to six. Factor in that Miami head coach Manny Diaz opened up the quarterback competition for this game, and you suddenly have a contest that make many gamblers leery.
And the Starting QB is …?
After poor, late-season performances by Miami's two main quarterbacks, Jarren Williams and N'Kosi Perry, Diaz announced there would be a tryout of sorts for who would start in the Independence Bowl. Diaz also threw in third-string signal caller, Tate Martell.
Williams finished the season with 2,093 yards and 19 touchdowns against six interceptions while playing in 11 games. Perry had 993 yards, with eight touchdowns and two interceptions.
"When Miami gets consistent quarterback play, Miami looks really, really good," Diaz said last week on a local radio show. "We saw that in 2019, and that is what we have been teetering on for a decade. Being close to great is about being consistently good."
As of Christmas Day, however, Diaz had not named a starter. At his press conference Tuesday morning, he told reporters he wanted a little more time before he made his decision.
"We are still going to look at one more practice," Diaz said. "We have one more day to get an idea on who gives us the best chance to win."
Diaz also didn't rule out the idea of using both Williams and Perry in a dual-QB situation. He did that in the team's final, regular-season game against Duke.
"All of that will be earned by their performance [Tuesday]," Diaz said. "We will put a plan together to give us the best chance to win on Thursday."
It's All About Motivation
Whether the Hurricanes are really interested in playing Thursday's Independence Bowl is questionable. The Power 5 Conference team had much higher aspirations for Diaz's first season, but after finishing 6-6, they've had a disappointing year. The Independence Bowl seems like a consolation prize that Miami players might not want.
Several Hurricanes players have already said they are skipping the game to prepare for April's NFL Draft. Defensive ends Jonathan Garvin and Trevon Hill, junior wide receiver Jeff Thomas, and linebacker Michael Pinckney all said they won't be there. Fullback Realus George left the program with the intention of transferring.
Conversely, Louisiana Tech players are overjoyed to be in a bowl game that is about an hour away from their home field, as the Bulldogs would like to extend their six-game, bowl-game winning streak. Coach Skip Holtz told reporters the team also has another goal in mind — they want to get to 10 wins for the first time since 1984.
"That's all we've talked about. We didn't have .500 goals. Unfortunately, the conference championship, we fell just short," Holtz said. "But we still have an opportunity of double-digit wins, and this class can tie the most wins ever in the history of Tech being Division I."