While PGA Championship winner Brooks Koepka has quietly won four of the last eight major championships, the Westgate Las Vegas SuperBook has taken notice and set a major championship line. Oddsmakers there have come up with a proposition bet on how many majors the 29-year-old will win by May 3, 2040.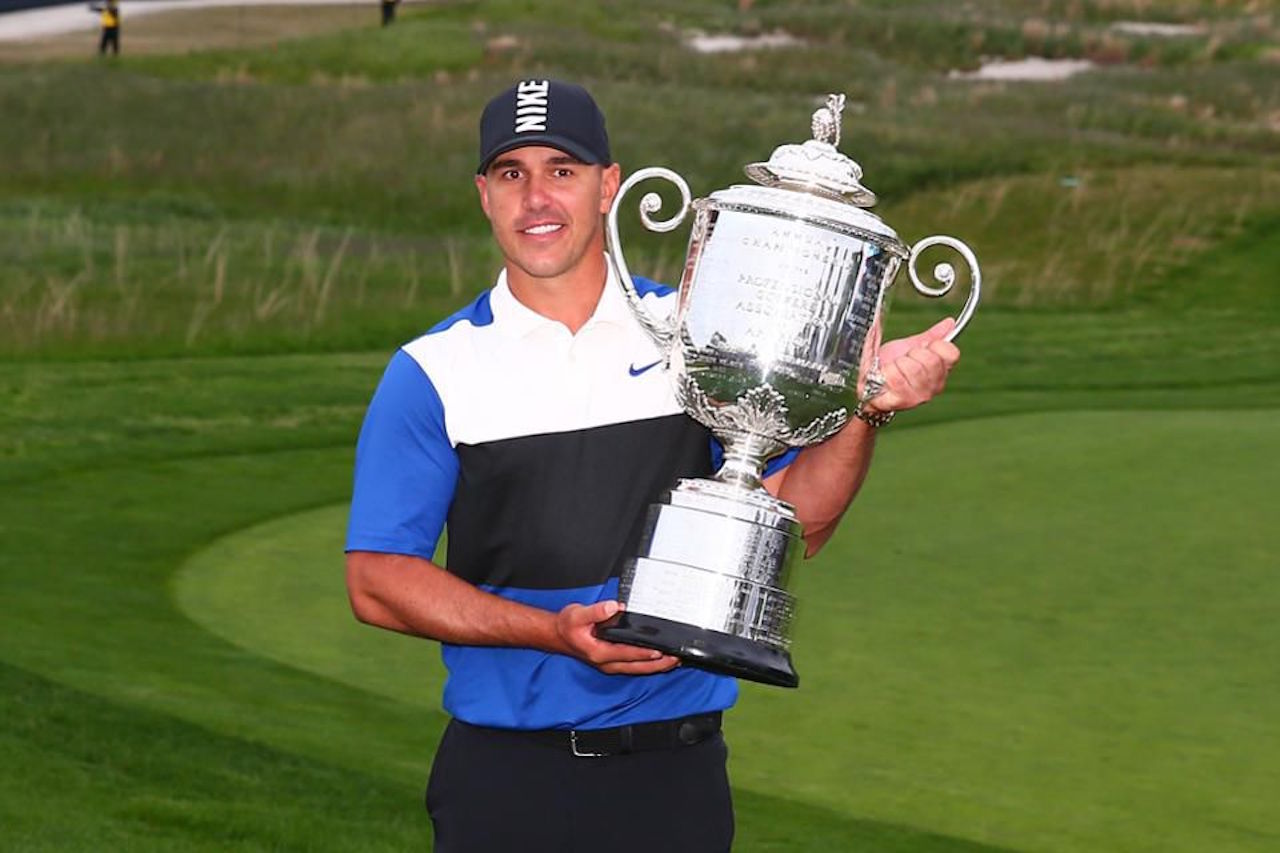 The line is set at 7.5, and the deadline coincides with his 50th birthday. The sportsbook had previously put out an identical bet with Tiger Woods. The over/under for Woods, who currently has 15 majors, is 16.5 and must be achieved before his 50th birthday on Dec. 30, 2025.
Jeff Sherman, Superbook manager told the Las Vegas Review-Journal that the bets were done for publicity, but have to meet certain conditions to satisfy Nevada Gaming regulations.
"Some of the European shops offer odds on things that don't have an end date on it," Sherman said. "We have to have some type of end date."
Sherman added that the two prop bets, especially Koepka's, has been popular. The day after the Westgate put up the Koepka prop, a bettor placed a $5,000 wager to win $6,500 on the over at plus 130. The over is now plus 110 and the under minus 130.
Though Koepka has been dominating in major championships, winning four more majors might be a bit of a task. Phil Mickelson has five, Arnold Palmer got seven. If Koepka was able to do it, he would be tied for sixth on the all-time list with Tom Watson.
"Four more majors is still a lot to win," Sherman said. "Some good golfers, like Rickie Fowler, are still looking for their first major win."
Na Rewards Caddy
Being a caddy is a pretty thankless job, that is unless professional golfer Kevin Na is your boss. The Las Vegas resident won last week's Charles Schwab Challenge in Fort Worth, Texas .
In addition to a percentage of the $1.3 million Na won, caddy Kenny Harms got a restored 1973 Dodge Challenger.
Na gave the car to Harms as a thank you gift. A video of him gifting the auto is below.
He promised to give it to his caddie. pic.twitter.com/CyhIwLPP3Q

— PGA TOUR (@PGATOUR) May 26, 2019
The decision to give the car to Harms was an easy one, Na said.
"By the way, that car is Kenny Harms' baby!" Na said in his winning interview with CBS Sports. "I'm giving it to Kenny. "He and I have an 11-year relationship. We are like brothers, and I'm more than happy to give it to him."
Harms seemed a little stunned a first, not sure what to think, but it eventually sank in.
"Now I actually have a car that doesn't have any putty or rust or anything," Harms said. "It's a super car."
This Week's Odds, Pick
The PGA Tour is at the Memorial, and Rory McIlroy is the favorite at 10/1. We like Patrick Cantlay at 16/1. He has two top-10s this year, and finished fourth at this event in 2018.
The PGA Tour Champions is at the Principal Charity Classic and Bernhard Langer is the top pick at 7/1. We think Scott McCarron at 8/1 will win. He finished second last week at the Senior PGA Championship, and was also second at this event last year.