Bob Huggins and West Virginia head down to Waco, Texas, for a crack at the top-ranked team in the nation when the #1 Baylor Bears (22-1) host the #14 West Virginia Mountaineers (18-6) in Big 12 action. In other action, a pair of March Madness bubble teams square off with VCU (17-7) at Richmond (18-6) in an Atlantic 10 clash.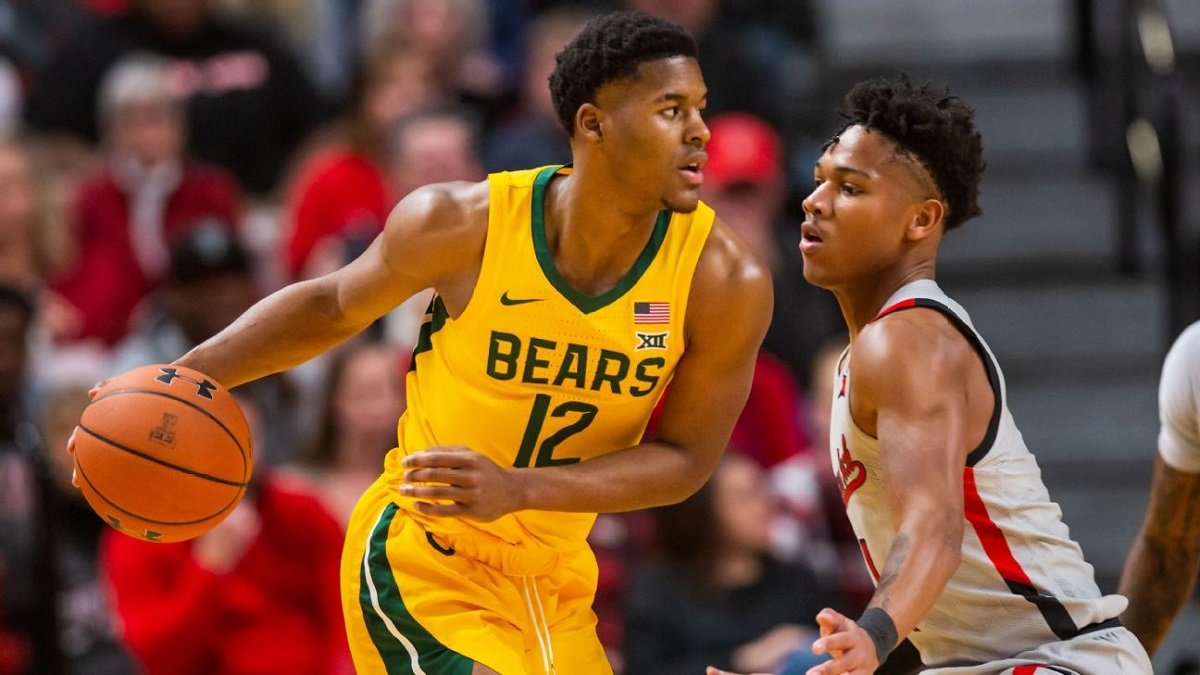 West Virginia is struggling with back-to-back losses against Oklahoma and #3 Kansas. Meanwhile, Baylor is looking to hold off West Virginia and maintain the #1 ranking for a fifth week in a row.
#16 Colorado (19-6) is trying to prove to everyone that they're the top team in the Pac-12, but they have a tough game in Beaverton against Oregon State (14-9).
Down in the SEC, road games are never easy. Auburn is on a mission to snatch an SEC title, but caught in a three-way tie for first place. Auburn can't afford to overlook any opponents.
COLLEGE HOOPS SATURDAY
#14 West Virginia at #1 Baylor
#11 Auburn at Missouri
#16 Colorado at Oregon State
#20 Houston at SMU
Pacific at Saint Mary's
Northern Iowa at Loyola Chicago
VCU at Richmond
#20 Houston and SMU have a high-noon Texas showdown in the American Conference. SMU would love an invite to the Big Dance, but they'll need a high-quality win over Houston to impress the selection committee.
Two 20-win teams joust in WCC action. Saint Mary's is another small school on the March Madness bubble, while Pacific also has postseason aspirations of its own.
Loyola Chicago were the Cinderella story from two years ago. The Ramblers have a difficult matchup with Northern Iowa while trying to shut down NIU's amazing shooter, AJ Green.
Game of the Week: Can Anyone Beat the Bears in Waco?
#14 West Virginia (18-6) at #1 Baylor (22-1)… Homer Drew and the Baylor Bears are due for a loss, but they're catching West Virginia amidst a mini-slump. West Virginia dropped two in a row, and three out of their last five games.
Two of the best defensive teams in the country will meet in an expected, low-scoring affair. West Virginia, ranked #15 in defense, allows 61.5 points per game. Baylor's stifling defense allows only 58.3 points per game, which is fourth-best in the nation.
Despite their #1 ranking in the AP Top 25 Poll, Ken Pomeroy thinks Baylor is slightly overrated. On KenPom.com, he ranked Baylor #5 overall (with Kansas at #1). Meanwhile, he's high on West Virginia (ranked #7 on KenPom) because they dealt with a tougher schedule. West Virginia went 2-2 against ranked teams, while Baylor is a perfect 4-0 versus ranked schools this season.
Baylor holds a legit home-court advantage in Waco with a 13-0 home record. Baylor covered 14-6 ATS in their last 20 games. The under hit in 11 out of Baylor's last 17 games. West Virginia had a stretch in January when they went 9-2 ATS. Since then, they're 1-4 ATS. The under is 17-7 for West Virginia this season, with the under hitting in four of their last five games.
SEC Cat Fight: Wildcats vs. Tigers
#11 Auburn (22-2) at Missouri (11-13)… For the third weekend in a row, Auburn faces another cat mascot during their Saturday conference game. Two weeks ago, Auburn picked off #13 Kentucky by nine points. Last Saturday, Auburn barely edged out #18 LSU with a 91-90 victory. In this week's cat fight, Auburn heads to Missouri to take on the gimpy Tigers.
After a close call in his last two games, Bruce Pearl will make sure Auburn doesn't take Missouri too lightly. Auburn won seven in a row since losing their only two games of the season to 'Bama, and at Florida. Auburn got revenge the other night with a 4-point squeaker over 'Bama. Auburn wins games, but they fail to cover at an alarming clip. At this juncture, Auburn is fade material with a 6-11 clip ATS over their last 17 games. Then again, Missouri is 3-9 ATS in their last dozen SEC games.
Texas Hoops Showdown: Cougars and Mustangs
#20 Houston (20-5) at SMU (17-6)… The Houston Cougars are the best team in the American Conference this season. The AAC would love to send five teams to March Madness (Cincy, Tulsa, Wichita State, SMU), but the stingy selection committee might only invite two other teams aside from Houston. That means SMU needs to rack up as many Quad 1 wins as possible, or win the AAC tournament outright. SMU lost to Houston by nine points in Houston where it's nearly impossible for visiting teams to succeed. But the Mustangs have the Cougars on their home turf for this rematch. Sophomore guard Kendric Davis might be the shortest guy on the court at 5-foot-11, but he's SMU's leading scorer averaging 16 points per game while dishing out 7.3 assists per game.
Buffs vs. Beavers
#16 Colorado (19-6) at Oregon State (15-9)… Colorado is fresh off a loss against #17 Oregon in Corvallis. The Buffs were trying to prove they're the best team in the Pac-12 before Oregon knocked them back down to Earth. Colorado and Oregon are tied for first place in the Pac-12 with an 8-4 clip. Oregon State is only 5-7 in conference play, but they're catching the Buffs off kilter. Colorado loves playing in the thin air of Boulder with a 12-2 home record. However, the Buffs are only 3-4 in away games. Expect junior guard, McKinley Wright (13.6 ppg), to bounce back for Colorado after an awful shooting night against Oregon.
Bubblicious: Saint Mary's, Pacific, Richmond, VCU
Pacific (20-8) at Saint Mary's (20-6)… Saint Mary's went heads-up against #2 Gonzaga last week, and were blown out. They're looking to rebound against Pacific and avenge an earlier loss. Pacific sent Saint Mary's on minor tilt since their last meeting. After starting the season 14-2, Saint Mary's went 6-4 since their crushing loss to Pacific. Saint Marys' hopes are diminishing, while Pacific's March Madness are on the rise after winning five in a row.
Northern Iowa (22-3) at Loyola Chicago (17-9)… Loyola Chicago is 3-3 in their last six games, including a five-point loss at Northern Iowa. Now the Ramblers host the Panthers in Chicago this weekend. Loyola Chicago's defense is ranked #12 in the nation, allowing only 61.2 points per game. Senior forward Cameron Krutwig leads Loyola with 15.2 ppg, 8.0 rebounds, and 4.2 assists per game. Super sophomore AJ Green leads Northern Iowa with 20.2 ppg. The Panthers' top sharpshooter hits 41.4 percent of his treys. Northern Iowa won six games in a row, and 11 out of their last 12.
VCU (17-7) at Richmond (18-6)… The selection committee might only pick one of these two AAC teams, so head-to-head records are paramount. The VCU Rams stomped the Richmond Spiders by 22 points a couple of weeks ago, but Richmond didn't have their top scorer, Blake Francis, in the lineup. Francis, a junior guard, leads Richmond with 17.4 ppg. He will be playing this weekend. The Spiders want to avenge the loss and even the season series. They're catching a limping VCU squad that dropped two out of their last three games. Richmond recently overcame a speed bump with back-to-back losses against #7 Dayton and VCU. They've won three straight games since then.