A couple of key starters were lost to injuries in Week 7, including Odell Beckham, Jr. (blown ACL) and Kenyan Drake (ankle). Fantasy football waiver wire pickup suggestions in Week 8 include QB Tua Tagovailoa, WR Rashard Higgins, RB Chase Edmonds, RB Wayne Gallman, and TE Trey Burton.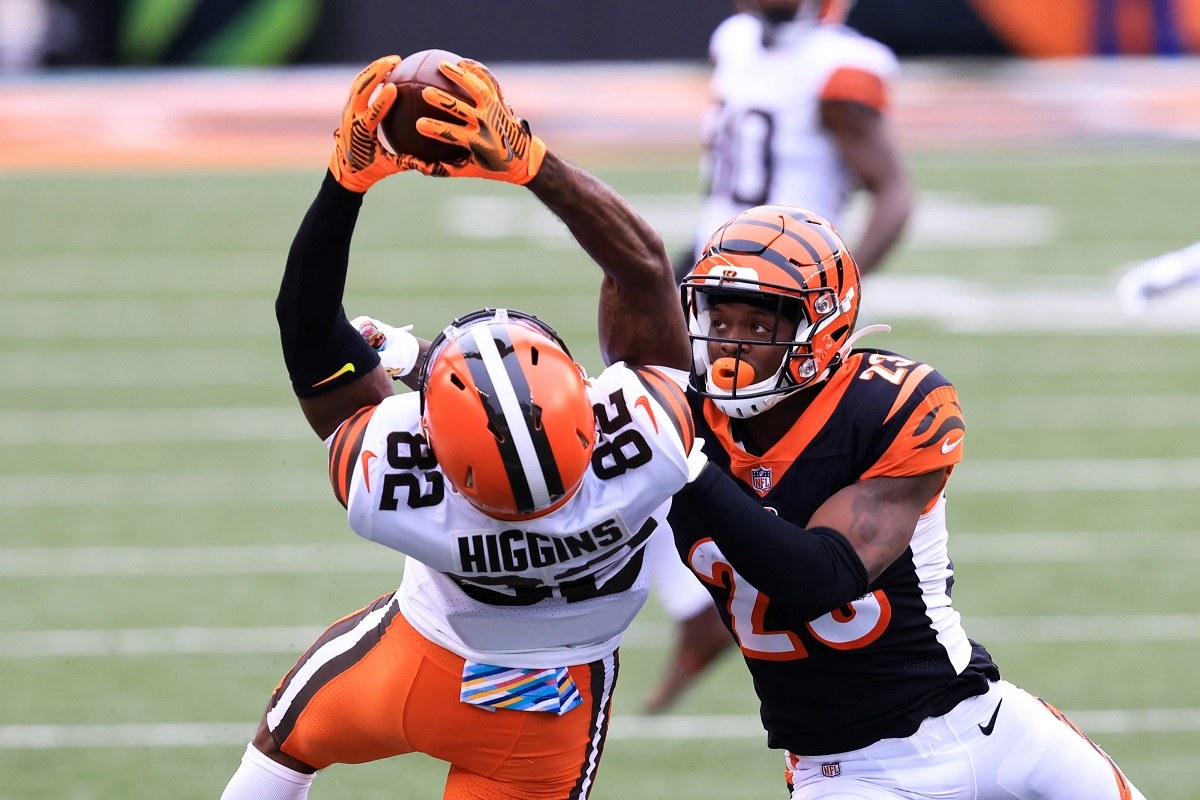 The New York Giants can't catch a break with their running backs. A month after the Giants lost Saquon Barkley with a season-ending knee injury, Devonta Freeman went down in the first half of last week's Thursday Night Football battle against the Philadelphia Eagles. Freeman never returned. Third-stringer Wayne Gallman is the next man up for the G-men.
---
WEEK 8 WAIVER WIRE PICKUPS
Tua Tagovailoa (QB, Miami Dolphins)
Rashard Higgins (WR, Cleveland Browns)
Trey Burton (TE, Indianapolis Colts)
Chase Edmonds (RB, Arizona Cardinals)
Wayne Gallman (RB, NY Giants)
---
Keep an eye on Trey Burton if you need a tight end for this week's waiver wire. The Indianapolis Colts are coming off a bye week, so Burton might not be on the radar. He scored two touchdowns in Week 6 against the Cincinnati Bengals. With Moe Allie-Cox nursing a knee injury, Philip Rivers targeted Burton 11 times over the Colts' previous two games.
Rahsard Higgins and OBJ's ACL
The Cleveland Browns won a crazy shootout against the Cincinnati Bengals in Week 7, but they lost their top playmaker when Beckham injured his knee. Early on Saturday morning, word got out that the Browns lost OBJ for the remainder of the season because he blew out his ACL.
Jarvis Landry becomes the primary target for Baker Mayfield. Rashard Higgins is the next man up on the roster in Week 8, which is why he's an essential waiver wire pickup.
Higgins caught 11 passes for 163 yards and a pair of touchdowns this season. Higgins didn't find the end zone in Week 7, but he added six catches for 110 yards.
Cleveland drafted Hggins out of Colorado State in 2016, and he's served as a backup wide receiver for most of his career. In 2018, he had a breakout season with 572 yards and four touchdowns.
Tua Gets First Start
The Tua era begins in Miami, but not without controversy.
Much to the dismay of Ryan Fitzpatrick, Tua Tagovailoa will get his first start as a pro quarterback. Tagovailoa popped his cherry during a Week 6 blowout over the New York Jets.
The Dolphins were on a bye in Week 7, but word leaked out that Brian Flores will start Tagovailoa over Fitzpatrick. Fitzpatrick was livid because he found out from his son, who got a text from a school friend. The rest of the team was also surprised because Fitzpatrick guided the Dolphins to a 3-3 record and second place in the shaky AFC East. He knew he was a place holder for Tua, but expected to remain as the starter for as long as the team had a shot at the postseason.
For now, FitzMagic is benched in favor of the rookie.
Drake Down, Chase Edmonds Up
After a slow start to the season, Arizona Cardinals running back Kenyan Drake finally found his groove (512 yards, four TDs, 4.3 yards per carry). Drake was a casualty during Arizona's big win in overtime over the Seattle Seahawks on Sunday Night Football. He injured his ankle late in the game and never returned.
Chase Edmonds filled in for Drake for the rest of the fourth quarter and overtime. Edmonds finished the game with 145 combined yards from scrimmage, including 58 rushing yards and seven catches for 87 yards.
The Cardinals have a bye in Week 8, but Edmonds should be the primary back when they resume action in Week 9. There's no clear backup to Edmonds. The Cards have a trio of young and inexperienced backs, including Eno Benjamin, a rookie out of Arizona State.
"At this point it would be a group effort," Cardinals head coach Kliff Kingsbury said. "They all bring something unique. I wouldn't say there is one we're leaning towards over the other two."
Benjamin, Jonathan Ward, and DJ Foster will be vying for the RB2 spot behind Edmonds.
The 5-2 Cards play Tua and the Miami Dolphins in Week 9, but add Chase Edmonds to your waiver wire pick-ups if you have the opportunity to do so right now in Week 8.
Gotham Value with Gallman
Devonta Freeman played only five games at running back before he found himself sidelined with an injury. Freeman was a free agent when he signed with the Giants to fill in for Barkley when he became dunzo for the season.
When Freeman went down against the Eagles, backup RB Dion Lewis coughed up the rock on his first touch. Wayne Gallman quickly replaced Lewis and finished the remainder of the game as the Giants' primary back. Gallman rushed 10 times for 34 yards and scored a touchdown. He also caught five passes for 20 yards.
Gallman, a former star back from Clemson, did a bang-up job last season for the Giants when he filled in for Barkley, who missed a couple of games with a sprained ankle. Over his career, Gallman averages 4.0 yards per carry.
If you picked up Freeman a couple weeks ago to fill in for Barkley, then consider adding Gallman to your roster if you're searching for a worthy waiver wire pickup in Week 8.