The NFL triumphantly returned and fans were treated to a number of touchdown bombs in Week 1 from the likes of Russell Wilson, Matthew Stafford, Joe Burrow, Sam Darnold, and Trevor Lawrence.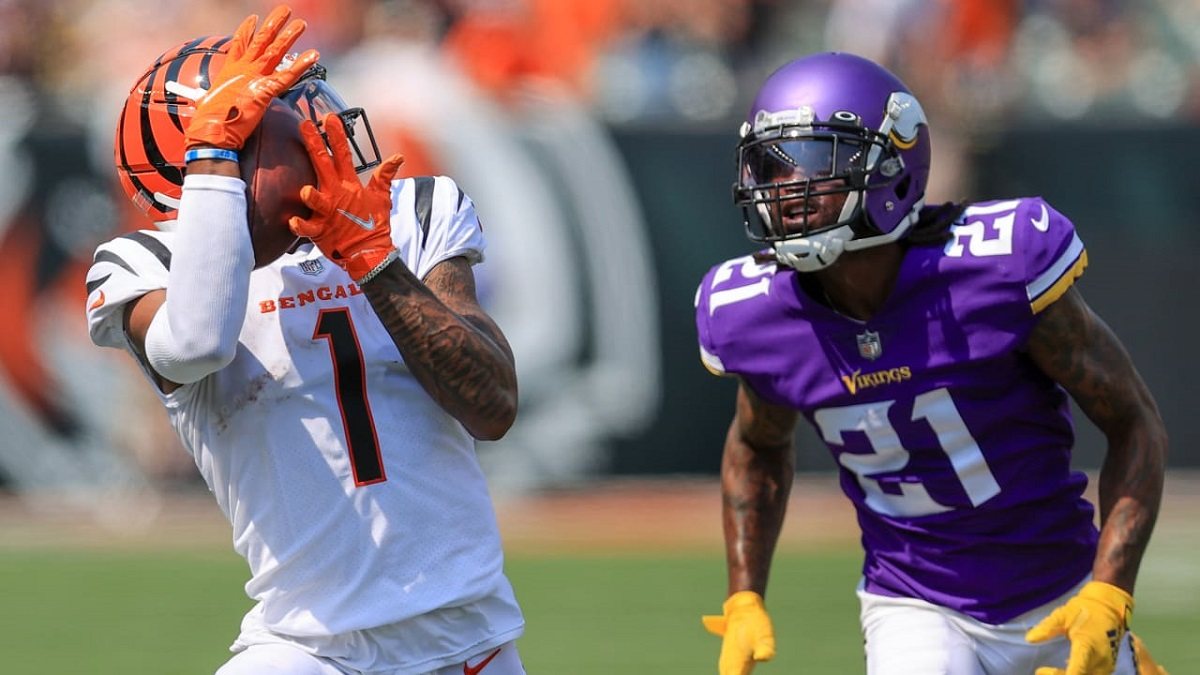 Burrow returned to the field after a blown-out ACL prematurely ended his rookie season last year. Burrow led the Bengals to an upset victory in overtime over Kirk Cousins and the Minnesota Vikings, hooking up for an impressive touchdown with former LSU teammate Ja'Marr Chase in the process.
Darnold got a taste of sweet revenge in a 19-14 win for the Carolina Panthers against his old team. The Jets traded Darnold to Carolina for a fresh start after Adam Gase ruined his career and destroyed his confidence.
Revenge of the Darnold
Two ex-Jets connected on a touchdown for the Panthers. Darnold and Robbie Anderson went deep for a 57-yard score against their old team. Darnold threw his first touchdown as a member of the Panthers, but more importantly, it's his first touchdown without Gase. Once again, a quarterback that we thought sucked thrives in a post-Gase situation.
Darnold going DEEP to Robby Anderson for his first Panthers TD 💣

(via @NFL)
pic.twitter.com/89jL0XMX3M

— Bleacher Report (@BleacherReport) September 12, 2021
Bayou Brothers: Burrow > Chase
It's fun to watch old friends reconnect on the field. Burrow and Chase won a national championship together at LSU, and now they're teammates with the Bengals.
Chase looked sharp in his pro debut with five catches for 101 yards and a touchdown. Burrow and Chase hooked up for a 50-yard touchdown just before halftime to break a 7-7 tie.
THAT @LSUfootball CONNECTION

Joe Burrow ➡️ Ja'Marr Chasepic.twitter.com/RjryzOcHNA

— The Sporting News (@sportingnews) September 12, 2021
Stafford: Welcome to Hollywood
Matthew Stafford made his debut for the Los Angeles Rams in a big 34-14 win over the Chicago Bears on Sunday Night Football at SoFi Stadium in Inglewood. Stafford struck first blood in the first quarter with a deep ball to Van Jefferson, who fell to the ground without any defenders touching him, so he popped up and scampered into the end zone for a 67-yard touchdown.
Welcome to the #Rams offense: Matthew Stafford with a 67-yard BOMB to Van Jefferson for the TD.

Fireworks! pic.twitter.com/qaow2aSIt2

— Ari Meirov (@MySportsUpdate) September 13, 2021
Wilson: 69-Yard Bomb
The Seahawks should really let Wilson throw more because when you unleash his arm, he does magical things. Wilson lit up the Indianapolis Colts for four touchdowns, including a 69-yard, long-range missile strike to Tyler Lockett at the end of the second quarter.
RUS TO LOCKETT!!

69 yards for the touchdown!

(via @NFL) pic.twitter.com/4wn6xDWeyV

— FOX Sports: NFL (@NFLonFOX) September 12, 2021
Jimmy G: Deebo the Destroyer
The 49ers got off to a slow start when Jimmy Garoppolo fumbled a snap on the first series. Jimmy G and the 49ers recovered, however, in a 41-33 victory over the Detroit Lions.
Deebo Samuel destroyed Detroit's secondary for nine catches, 189 yards, and a touchdown. In the second half, the elusive Samuel escaped multiple defenders to reach the house on a 79-yard touchdown from Jimmy G.
Deebo went ✌️💨

49ers pouring it on in Detroit!

(via @49ers) pic.twitter.com/6C3Y33L7Bd

— FOX Sports: NFL (@NFLonFOX) September 12, 2021
Lawrence: Chark Attack
Trevor Lawrence, the top pick in the 2021 NFL Draft, made his rookie debut for the Jacksonville Jaguars with a couple of touchdown passes and three interceptions in an ugly loss against the Houston Texans. DJ Chark hauled in a noteworthy TD catch for 41 yards.
Trevor Lawrence 41-yd TD pass to DJ Chark#Jaguars 14 #Texans 34 Q4 pic.twitter.com/SCZMRdIZau

— Sports 24/7 (@B_R_R_D) September 12, 2021
Scary Terry Strikes Again
How the heck did he snag that? Terry McLaurin didn't score a touchdown for the Washington Football Team after Ryan Fitzpatrick went down with a hip injury, but Scary Terry gets mad props for this amazing haul from backup quarterback Taylor Heinicke. Even ex-Washington quarterback Robert Griffin III had to share his thoughts via Twitter.
"Scary Terry caught this how?!?" tweeted RG3.
Scary Terry caught this HOW?!? 🤯
pic.twitter.com/zPCcx4GGpw

— Robert Griffin III (@RGIII) September 12, 2021