The Washington Wizards offered guard Bradley Beal a contract extension and three-year maximum deal worth $111 million, but will the All-Star stand pat and decline the invitation to stay with the dysfunctional Wizards?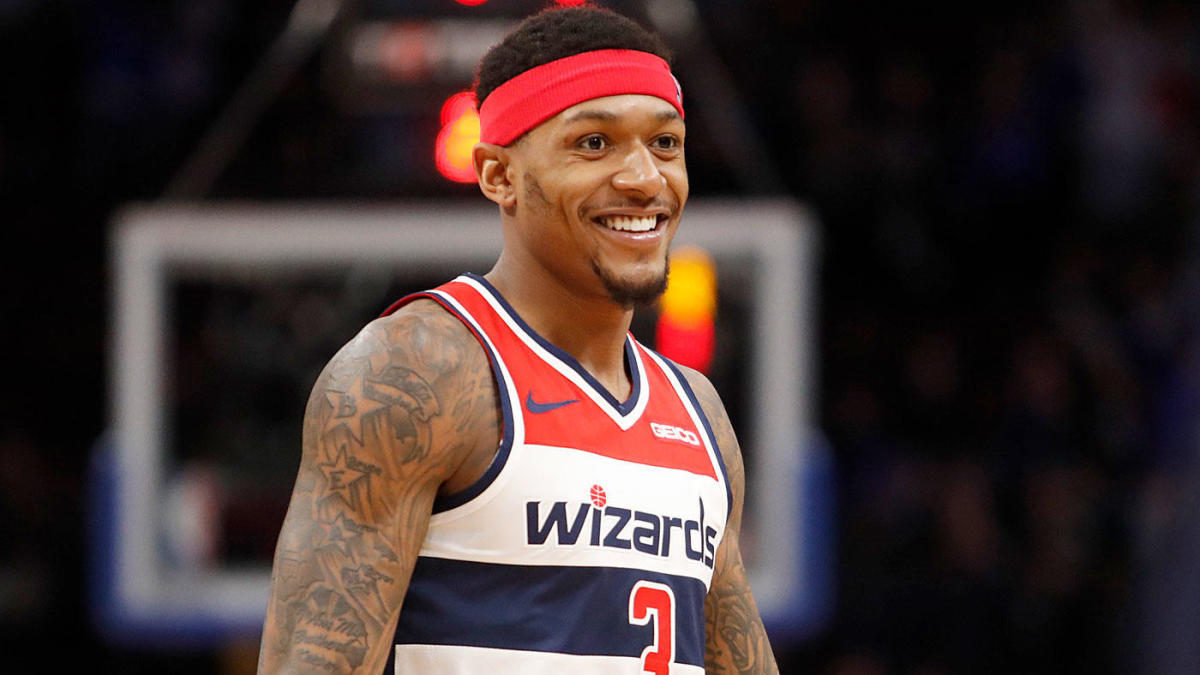 The Wizards finally fired Ernie Grunfeld after several tumultuous years at the helm in DC. New Wizards GM Tommy Sheppard told ESPN that he is offering Beal a max contract extension. Beal still has two years remaining on his existing contract.
Beal averaged 25.6 points, 5.5 assists, and 5.0 rebounds per game last year. The Wizards were a playoff team the year prior, but internal strife caused them to implode. John Wall went down and the Wizards traded Otto Porter. They finished with a 32-50 record.
The Wizards drafted Beal with the #3 overall pick in the 2012 NBA Draft. In his seven years in Washington, Beal started in 454 out of 488 career games.
Beal has been a beast in the playoffs the last two times the Wizards qualified. He averaged 24.8 points per games in the 2017 playoffs and 23.2 points per game in the 2018 playoffs.
WHO IS BRADLEY BEAL?
Age: 26
Hometown: St. Louis, MO
College: Florida
Draft: 3rd overall pick 2012 Draft
Career Stats: 488 games, 19.8 ppg, 3.7 assists
Beal was a one-and-done player at Florida for Billy Donovan. He averaged 14.8 points per game during his freshman season with the Gators.
The New Orleans Hornets selected Anthony Davis out of Kentucky with the first pick in the 2012 Draft. Meanwhile, the Charlotte Bobcats picked Kidd-Gilchrist (also out of Kentucky) with the second pick. The Wizards snatched up Beal with the third pick. Damian Lillard went sixth overall in 2012.
Stay or Go?
The Wizards have been dysfunctional for some time, yet somehow made the playoffs in 2017 and 2018. The future looked bright with one of the best backcourts in the Eastern Conference with John Wall and Bradley Beal. Except, there was only one ball and players clashed with different offensive philosophies.
It seemed like Beal thrived most when he played without Wall, who later blew out his Achilles while rehabbing another injury.
Even if Wall returns to his old form, will one ball be enough for this volatile backcourt?
You could make a good argument that Beal should politely decline the extension. He still has two years remaining on a current contract.
If Beal unlocks All-NBA status for next season, he would become eligible for something known as supermax status. At that point, he could sign a five-year deal worth $254 million. If anything, it's worth the risk of bagging a $50.8 million annual salary especially coming off his best season as a professional.
A max contract without a supermax exception is worth only $155 million over four years. That breaks down to $38.75 million a season.
When you have an awesome shooting guard in the modern trey-happy NBA, you want to do everything to retain their services. Most recently, Damian Lillard signed a contract extension with the Portland Trailblazers. Out in the Bay Area, Klay Thompson did the same with the Golden State Warriors.