Chase Young, a defensive standout for the Washington Football Team, tore his ACL in the second quarter against the Tampa Bay Buccaneers on Sunday. He will miss the remainder of the season while recovering from reconstructive knee surgery.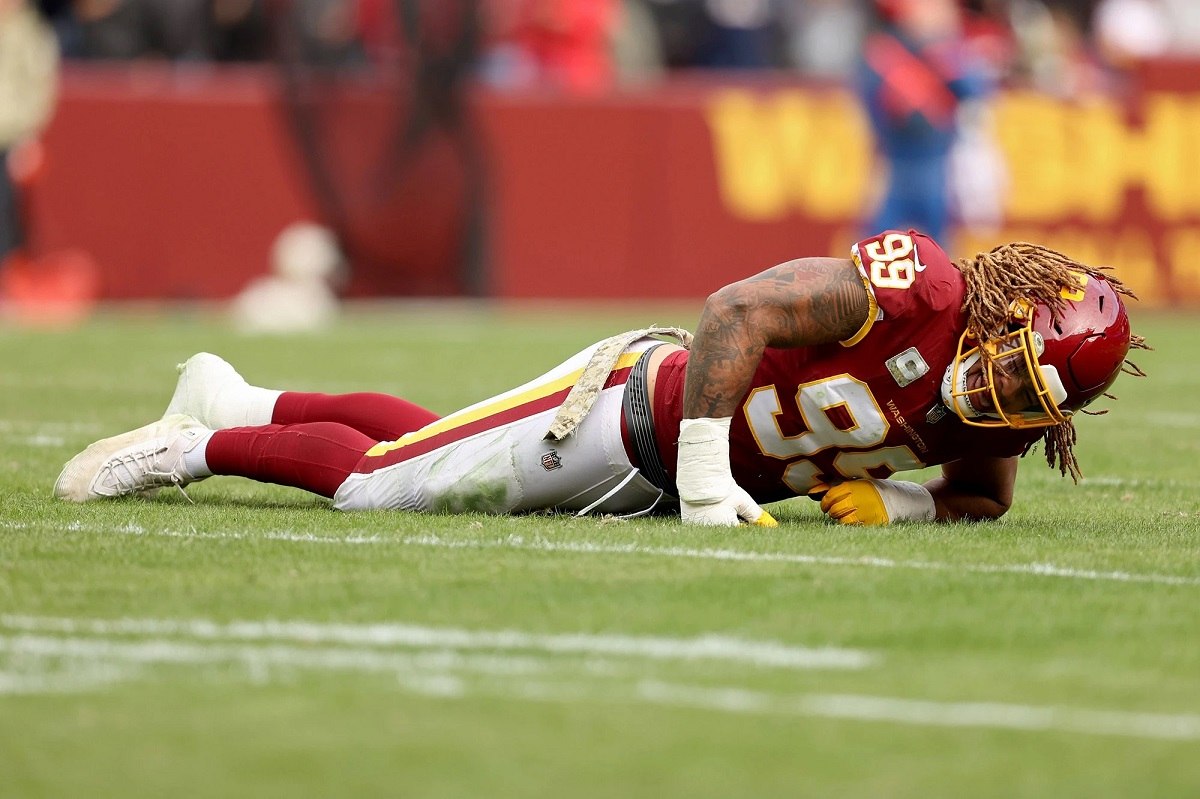 Midway through the second quarter, Young went down with a non-contact injury. His body language indicated a serious injury. He needed assistance to the locker room, but he didn't want the cart to take him off the turf at FedEx Field.
WFT opened a 16-3 lead in the first half over the defending Super Bowl champions, and Young's menacing defense was one of the reasons why the Bucs struggled to score.
"Chase had some good moments early in the game, and it was promising," said WFT head coach Ron Rivera. "You do lose the threat of that type of player coming off the edge now. We have a couple workman guys who get an opportunity. We'll see how they handle it."
Without Young, Washington held off the Bucs and thwarted a second-half comeback attempt from Brady to win 29-19.
On Monday, Rivera confirmed that Young had a season-ending ACL injury.
"It's definitely sad," said DT Jonathan Allen. "It's going to be tough, but knowing Chase's personality, knowing the way he works and the kind of guy he is, he'll come back stronger than ever."
"Hard to see a guy like that go down for us," added WR Terry McLaurin. "He's a dominant player for us. He's a leader for us."
Here's a look at the injury to Chase Young.

He refused to get carted off at the end. Was helped to the locker room.pic.twitter.com/Gu8fAhxJDU

— Dov Kleiman (@NFL_DovKleiman) November 14, 2021
Slumping Young and FitzMagic both dunzo?
Washington selected Young with the #2 pick in the 2020 NFL Draft. Young made the front office look like geniuses when he won the NFL Defensive Rookie of the Year last season with 7.5 sacks.
In his second season, Young recorded just 1.5 sacks, but he had become a major point of neutralization for opposing offensive coordinators while trying to shrug off a sophomore slump. His rough second year in the league ends with season-ending knee surgery.
With the second half of the season underway, WFT is 3-6 and will play the rest of the year without their starting quarterback or top defensive star. Word got out that Ryan Fitzpatrick might not return this season. Fitzpatrick suffered a hip injury in Week 1 and the team thought he could return in six to eight weeks. However, he's still a long way from completing his rehab and getting cleared to play.
With a tough schedule ahead of them, a top pick in the 2022 NFL Draft is in the future for the WFT once again.