Sam Waley-Cohen treated himself to the best 40th birthday present/retirement party an amateur jockey can ever dream about — a Grand National title.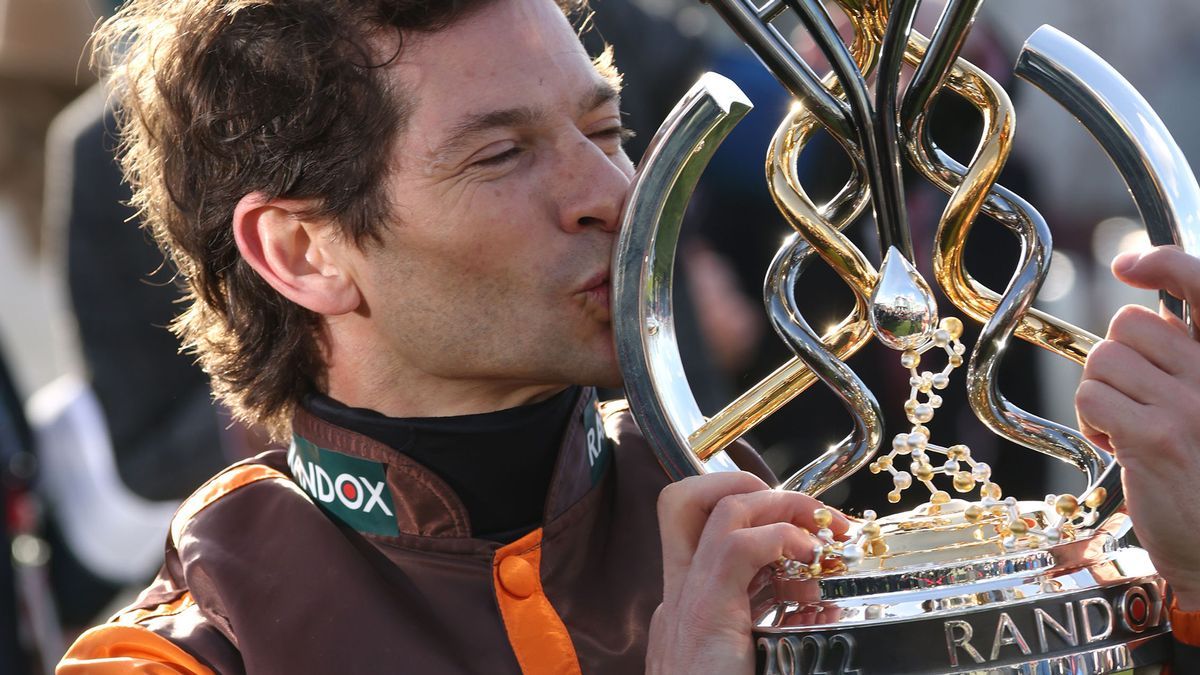 Waley-Cohen won Saturday's Grand National at Aintree aboard 50/1 Noble Yeats, beating 15/2 favorite Any Second Now by 2 1/4 lengths. As farewells go, this one's hard to beat.
"It's a dream. It won't sink in for weeks — it feels like a fantasy and I just don't know what to say," he said in a release.
Waley-Cohen announced earlier last week that the Grand National would be his final ride before he retires. And Noble Yeats gave Waley-Cohen quite the farewell trip. The 7-year-old became the first horse in that age group to win the Grand National in 82 years, or since Bogskar prevailed in 1940. Seven is the minimum age for a Grand National competitor.
Waley-Cohen first amateur Grand National winner this century
The milestones go on from there. An amateur jockey, Waley-Cohen became the first amateur to win the Grand National in 32 years. Marcus Armytage turned the trick with Mr. Frisk in 1990 when Waley-Cohen was 8.
Waley-Cohen also became the first amateur jockey to win both the Grand National and the Cheltenham Gold Cup, the top two jump events in the UK. Waley-Cohen won the Cheltenham Gold Cup 11 years ago aboard Long Run.
Noble Yeats was the first Grand National runner for trainer Emmet Mullins, the nephew of standout Irish jump trainer Willie Mullins. Emmet Mullins began training in 2016.
The epitome of an amateur sportsman
In the manner of well-to-do amateur sportsmen of a bygone era, Waley-Cohen rides as an avocation, not a vocation. He heads one of the largest dentistry firms in Great Britain. His father, Robert, bought him horses to ride. One of those was Noble Yeats, who was acquired in mid-February.
This was a year where a novice like Noble Yeats could spring the upset. Even with defending champion Minella Times in the field, bettors couldn't find a slam-dunk favorite to pile in on. When the cash from all avenues finished pouring in, Any Second Now wound up the lukewarm favorite.
One by one, all of the contenders fell or faded. Only 15 of the 40 starters finished. Two gates out, leader Longhouse Poet ran out of gas, leaving matters for Noble Yeats and Any Second Now. Capitalizing on a 12-pound weight advantage vis-a-vis his rival, Noble Yeats took the lead rounding the Elbow.
He held it all the way to the finish.
Only third time aboard Noble Yeats
"Jumping the last, I thought, 'I've gone too early!' I really didn't want to get there then," Waley-Cohen said. "But at Cheltenham, I was struggling to stay with them all the time. But when I pulled him out and asked him, he gave me way more than I expected, so half when I went for him, I thought he's got plenty — I know he's got plenty of toe. So as soon as he picked up, I thought, 'He's gone — he's got this.'"
This was only Waley-Cohen's third time aboard Noble Yeats. He rode him once at Emmet Mullins' Irish farm, once during the Cheltenham Festival (where they finished ninth), and at the Grand National. Waley-Cohen said the Cheltenham ride made the Grand National victory possible.
"This could literally be a moment that I wake up from. It really couldn't be any better," Waley-Cohen said. "One of my earliest memories is of trying to ride the Grand National on the rocking horse we have at home, just knowing a few of horses' names and remembering them."
'That's it'
So why retire? Why not build on this indescribable feeling? Why not try to recreate it in the future?
"I turn 40 next Friday. I've always wanted to ride for the love of it, and one of the reasons I wanted to stop now is because I've always felt when you don't want to go every day and you don't enjoy every race, wherever you come, you should stop," Waley-Cohen said. "And the days when you don't want to go travel three hours for a small race, no matter where you come, it's time to stop. That's it. Busy family, busy work — enough. That's it."