Ryan Tannehill (Tennessee Titans), Danny Amendola (Detroit Lions), and Chris Conley (Jacksonville Jaguars) could be valuable waiver wire pickups to strengthen your NFL fantasy football team in Week 9.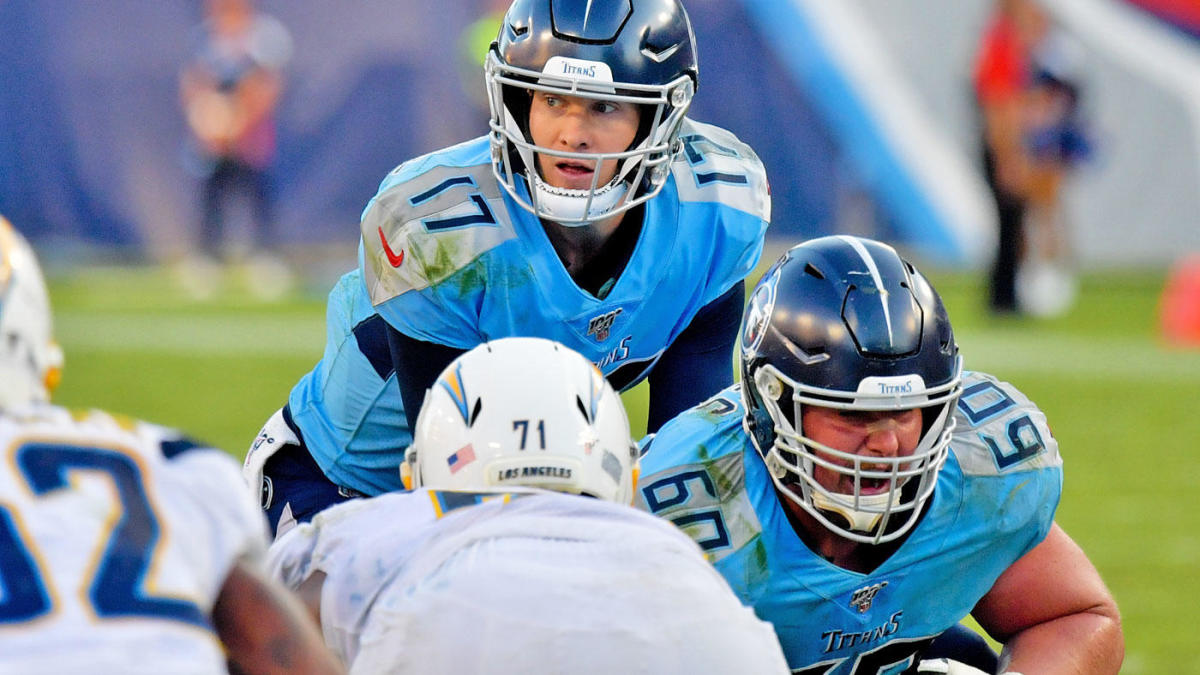 Tannehill has done a bang-up job with a 2-0 record as a starter since Mike Vrabel benched Marcus Mariota. Conley has become a trusted receiver for Gardner Minshew in recent weeks and with Dede Westbrook injured, Conley becomes an under-the-radar weapon for the Jags. Although Amendola is not the primary option on paper, Matt Stafford targeted the veteran wideout with 25 percent of his passes over the last two weeks.
WAIVER WIRE PICKUPS – NFL WEEK 9:
Danny Amendola (WR, Detroit)
Chris Conley (WR, Jacksonville)
Ryan Tannehill (QB, Tennessee)
Four teams are on a bye week in NFL Week 9 including the Atlanta Falcons, LA Rams, New Orleans Saints, and Cincinnati Bengals. If you need a quarterback in a pinch for Week 9, Tannehill is a viable option if he's available on your waiver wire. If you're in a league with 12-14 teams, then tertiary receivers like Amendola and Conley are also valuable assets that are peaking at the right time.
Ryan Tannehill
Around Labor Day before the season began, the Tennessee Titans were a sleeper to win the AFC South when news that Andrew Luck retired from the Indianapolis Colts. However, after a sluggish 2-4 start, the Titans were stuck in a funk after losing four out of five games. Head coach Mike Vrabel decided to bench former Heisman Trophy winner Marcus Mariota in favor of back up Ryan Tannehill during a 16-0 embarrassing loss to the Denver Broncos
Since then, Tannehill is 2-0 as a starter with the Titans. He engineered close victories over the LA Chargers and Tampa Bay Bucs. He's thrown 5 touchdowns and only 1 pick in the last two games.
Although he had a tough day against Tampa, Tannehill still threw three touchdowns. He posted his best game of the season against the Chargers with 23-for-29 and 312 yards plus two touchdowns.
Of course, a lot of so-called experts chuckled and unleashed sassy eye rolls at the initial switch up. Tannehill did not garner any respect because he came from Miami, where he struggled to master a weird offensive scheme under Adam Gase with a team that outright sucked.
The Titans face the Panthers in Carolina in NFL Week 9. In Week 10, the Titans host the Kansas City Chiefs.
Danny Amendola
With all eyes on Kenny Golladay, Danny Amendola has been able to rack up freelance yardage and passes over the last two weeks for the Lions. Amendola should be available on the waiver wire, so grab him for Week 9.
Amendola always had skills, but he's been banged up for the majority of his career. If he can stay healthy, he's always a dangerous option. Amendola's body incurs an inordinate amount of damage because he has no fear. He does not hesitate to run crossing routes. He took his fair share of licks over the years. Most recently, he found a sweet spot in Detroit playing with Matt Stafford.
In Week 7 and Week 8, Stafford targeted Amendola 19 times, or approximately 25 percent of all of Stafford's pass attempts. Amendola hauled in eight receptions in each of the last two weeks, while averaging 100 yards. He only has one touchdown this season while nursing a chest injury, but he's been a high-volume receiver in recent weeks.
Against the NY Giants last week, Amendola caught all eight passes thrown to him and tallied 105 yards. The Lions were passing more than usual after losing RB Kerryon Johnson for the rest of the season.
The Lions hit the road for the next two weeks. They face the Oakland Raiders in NFL Week 9 and play a tough divisional matchup in Week 10 against the Bears in Chicago.
Chris Conley
If you're seeking a short-term fix at WR or for a flex, then you could take a waiver wire flier on Chris Conley in Week 9.
Gardner Minshew's favorite target has been DJ Chark, but Conley is back on his radar after busting out of an early season slump. Minshew target Conley 14 over the last two games. Conley only caught four passes against the Jets, but he hauled in a 70-yard touchdown catch for only his second score of the season.
70-yard TD as @_flight17_ turns on the… jets#DUUUVAL pic.twitter.com/ylpXIFxCHW

— #DUUUVAL (@Jaguars) October 27, 2019
Conley finished the Jets blowout with 103 yards. Over the last two weeks, Conley caught seven passes for 186 yards. So far this season, Conley caught 21 passes but he averages 20.4 yards per reception.
Minshew extends plays but he's not a big-time runner like Lamar Jackson or Russell Wilson. He evades blitzes and can side step a pass rush long enough to keep the play going so he can find an open receiver. The Houston Texans matchup looks like it could be a shootout, which makes Conley an appealing option.
The Jaguars host the Texans in London for NFL Week 9. They will have a bye week in Week 10 before returning to action in Week 11 with a road game against the Indy Colts.