If you are seeking to add depth to your fantasy football roster with Week 7's waiver wire pickups, then consider backup QB Devlin Hodges (Pittsburgh Steelers), RB Jamaal Williams (Green Bay Packers), WR Allen Lazard (Green Bay Packers), and  one of the NY Jets wideouts, with either Jamison Crowder or Robby Anderson.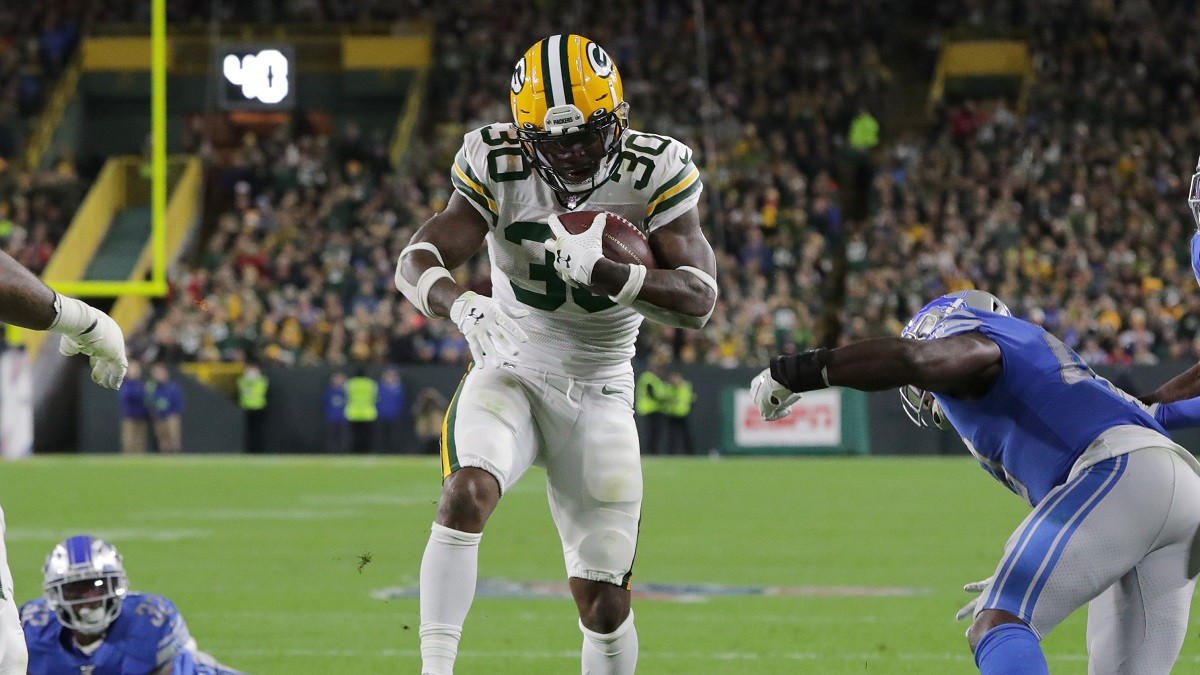 After six weeks of action, everyone who is worth anything has been gobbled up off the waiver wire. If you originally drafted Big Ben, then you probably want to grab Devlin Hodges as your backup handcuff while Mason Rudolph is still woozy from that nasty double hit in Week 5.
If QB Sam Darnold plays like he did in his first game back post-mono, then you'll find tremendous value on the waiver wire in Week 7 with either of the NY Jets top wide receivers.
WEEK 7 WAIVER WIRE PICKUPS:
Jamaal Williams (RB, Green Bay)
Allen Lazard (WR, Green Bay)
Devlin Hodges (QB, Pittsburgh)
Jamison Crowder (WR, NY Jets)
Robby Anderson (WR, NY Jets)
The good news is, you probably caught a glimpse of a couple of these players on Monday Night Football during the conclusion of NFL Week 6. Green Bay hosted NFC North rival, the Detroit Lions, but their wide-receiving corps were nicked pretty badly, especially superstar Davante Adams. Both Jamaal Williams and Devlin Hodges got face time in front of a national TV audience.
Jamaal Williams
At first glance, your instincts tell you to ignore Williams because he's Aaron Jones' backup in Green Bay. But then you have to remember that the Packers are super thin at wide receiver right now, and Aaron Rodgers likes to throw to his running backs in the revamped offense.
During a zebra-assisted comeback victory against the Detroit Lions, Williams posted "starter" numbers with 136 total yards. Williams rushed for 104 yards on only 14 carries for a 7.4 average yards per carry. He also broke off a 45-yard run.
Williams also caught four balls out of the backfield, including a touchdown. Both of his touchdowns this year happened on passes in the red zone. Unless someone in your fantasy football league selected Williams as a handcuff for A-Jones, then he should be available on the waiver wire for Week 7.
Take it in for the score, @jswaggdaddy!#DETvsGB | #GoPackGo pic.twitter.com/zsK9exsQVE

— Green Bay Packers (@packers) October 15, 2019
Allen Lazard
Speaking of Green Bay wideouts, Allen Lazard is someone you never heard of until Monday Night Football. I don't think Aaron Rodgers knew his name until the kid stepped into the huddle.
The Packers were thin at wide receiver before the MNF battle against the Lions began. Davante Adams nursed a bad bout of turf toe. The Packers lost Geronimo Allison to a couple of injuries, including a possible concussion. Even though Marquez Valdes-Scantling was dinged up, he played. Rodgers lost his top two targets, and the Packers #3 WR should have been sitting out, but MVS played hurt.
The next two guys up on the rotation were Lazard and Darrius Shepherd. Lazard, an undrafted rookie from Iowa State, had never caught a pass from Rodgers before he entered the game.
"With Davante out and Geronimo goes down, we finally get Allen Lazard in the game, and that's what he does," Rodgers told ESPN after the game. "He's been doing it in practice a bunch. Good to see him finally get an opportunity to make some big plays."
Lazard would finish the MNF game with four catches for 65 yards and a touchdown.
Devlin 'Duck' Hodges
Devlin Hodges, a 23-year-old rookie QB, ran the Air Raid offense at Samford college. He went undrafted, but the Steelers snatched him up because of his impressive arm.
Hodges pulled off a big win over the LA Chargers. He threw a touchdown and an interception in his first full game as a starter.
"We have a lot of confidence in him," said head coach Mike Tomlin. "We haven't been bashful about that. He has a lot of confidence in himself. I think that's what makes people gravitate to him. We're not getting over-excited. This is a guy that played good tonight, with very limited experience."
Hodges first got his number called when backup Mason Rudolph incurred a concussion against the Baltimore Ravens in Week 5. He went 7-for-9 against the Ravens, but didn't get his sea legs until the Chargers game.
Known as "Duck", Hodges' teammates quickly took to his nickname. The fans in Steelers nation ate it up, and showed up at the Chargers game with duck hats and duck calls.
The Steelers are on a bye week in Week 7, but if Rudolph is still under concussion protocol, it might be worth taking a flier on Duck Hodges on the waiver wire.
Anderson/Crowder
Seriously, two WRs from the #LOLJets? Yes, sometimes you have to seek out value in a place where no one dares to go. And that's the Jets locker room.
Crowder might get more balls per game, but Anderson has home run potential. Anderson caught the bomb from Darnold that turned into a 92-yard touchdown score. That touchdown marked the longest pass from scrimmage this season in the NFL. It also marked one of the biggest plays in recent Jets memory.
With Darnold back in the mix, the Jets offense looked like a different team on the field. If he can continue to move the ball with efficiency, then the Jets wideouts will reap the benefits of a huge boost in their offense. Plus, there's a great chance both of these guys are available for your Week 7 waiver wire pickups.