Heading into Week 6 of your NFL fantasy football league, you should consider adding WR Will Fuller (Houston Texans), RB Matt Breida (SF 49ers), QB Sam Darnold (NY Jets), or backup RB Jon Hillman (NY Giants) to your rosters.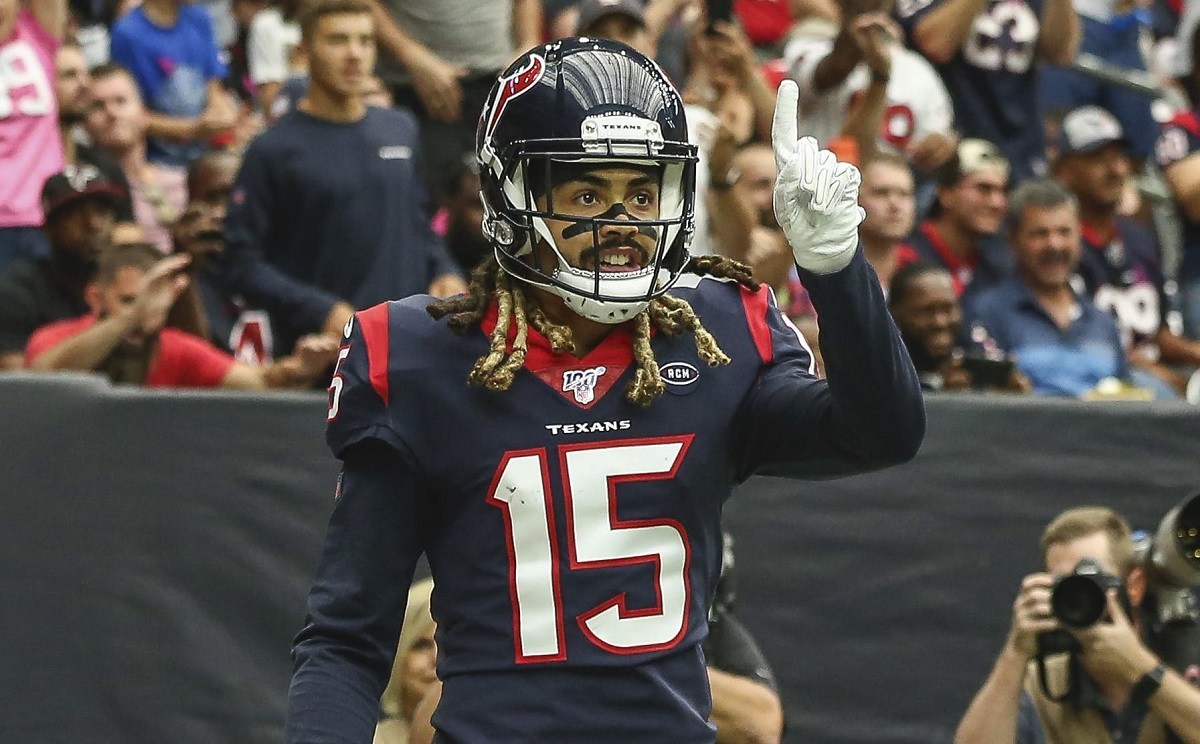 It's always a fun fantasy football week when your team puts up 55 points. The Houston Texans scorched the Atlanta Falcons, and fantasy owners with DeShaun Watson and DeAndre Hopkins were thrilled. Not too many people had Will Fuller. If the Texans #2 WR is available on your waiver wire, he won't be for too much longer.
WEEK 6 WAIVER WIRE PICKUPS:
Will Fuller (WR, Houston)
Matt Breida (RB, San Francisco)
Sam Darnold (QB, NY Jets)
Jon Hilliman (RB, NY Giants)
The New York Jets are winless, but they are finally getting QB Sam Darnold back in the lineup after recovering from mononucleosis. Head coach Adam Gase hopes Darnold can jump-start the second-worst offense in the NFL.
The Giants are running through running backs like Spinal Tap ran through drummers. Saquon Barkley and his backup Wayne Gallman are both out for a Thursday Night Football matchup against the New England Patriots. That means rookie Jon Hillman gets the call during a potential massacre in Foxboro.
Will Fuller Crushing
DeShaun Watson posted a perfect passing rating and WR Will Fuller was on the generous end of Watson's offerings in the Houston Texans blowout over the Atlanta Falcons. Fuller caught 14 passes for 217 yards and three touchdowns. If you had Fuller in your fantasy football league, you probably won your week because he produced one of the largest single week scores in nerd history.
It's difficult to replicate an insane game like Will Fuller had in Week 5 with the Houston Texans. Even Hopkins doesn't get those types of numbers on a weekly basis. But for as long as Watson and the offense roll along, Fuller is a worthy addition as the #2 option in Houston.
Bay Area Breida
San Francisco improved to 4-0 after a 31-3 blowout against the Cleveland Browns. The Niners rushed for more than 275 yards in the victory. They almost had two backs with 100-plus yard games, and Tevin Coleman missed out with 97 yards. Matt Breida ran for 117 yards and scored both a rushing touchdown and a receiving touchdown. The Niners score the second-most points in the NFL, so there's plenty of points to go around for their offensive players like Breida, even if he splits time with Coleman.
Sam Darnold and Jon Hilliman
Next-man-up with the Giants. Backup RB Wayne Gallman went down with a concussion in Week 5's loss to the Minnesota Vikings. Gallman replaced Saquon Barkley, who went down in Week 3 with a high-ankle sprain. Barkley is still at least a week away from playing.
Third stringer and Rutgers rookie Jon Hilliman gets his first career start in the backfield against the Patriots on Thursday Night Football. If Gallman was your handcuff for Barkley, then grab Hilliman for a week before Barkley returns. Jon Hilliman is a feel good story. The running back from Boston College spent a grad year at Rutgers and went undrafted in the NFL. Hilliman latched onto the Giants. The kid played his high school ball at St. Peter's Prep in Jersey City, which is less than 15 miles from MetLife Stadium. The Hilliman family will have to head up to Foxboro to watch his first start.
After missing the last couple of weeks with mono and becoming nonstop meme fodder, Jets QB Sam Darnold will start this Sunday. His engorged spleen had shrunk in size, and team doctors cleared him to play. Darnold will make his second start of the season when the Jets host the Dallas Cowboys.
Jets TE Chris Herndon also returns to the mix after sitting out the first five weeks due to a suspension. He might be rusty, along with Darnold, but those two are a tight unit, and Darnold likes throwing to Herndon downfield over other Jets wideouts.