Heading into Week 6 of the NFL season, consider these waiver wire pickups: Chase Claypool, Travis Fulgham, Andy Dalton, Alexander Mattison, or Tee Higgins. After Dak Prescott suffered a brutal, season-ending injury, fantasy football owners will scramble to find a suitable replacement like his backup, Dalton.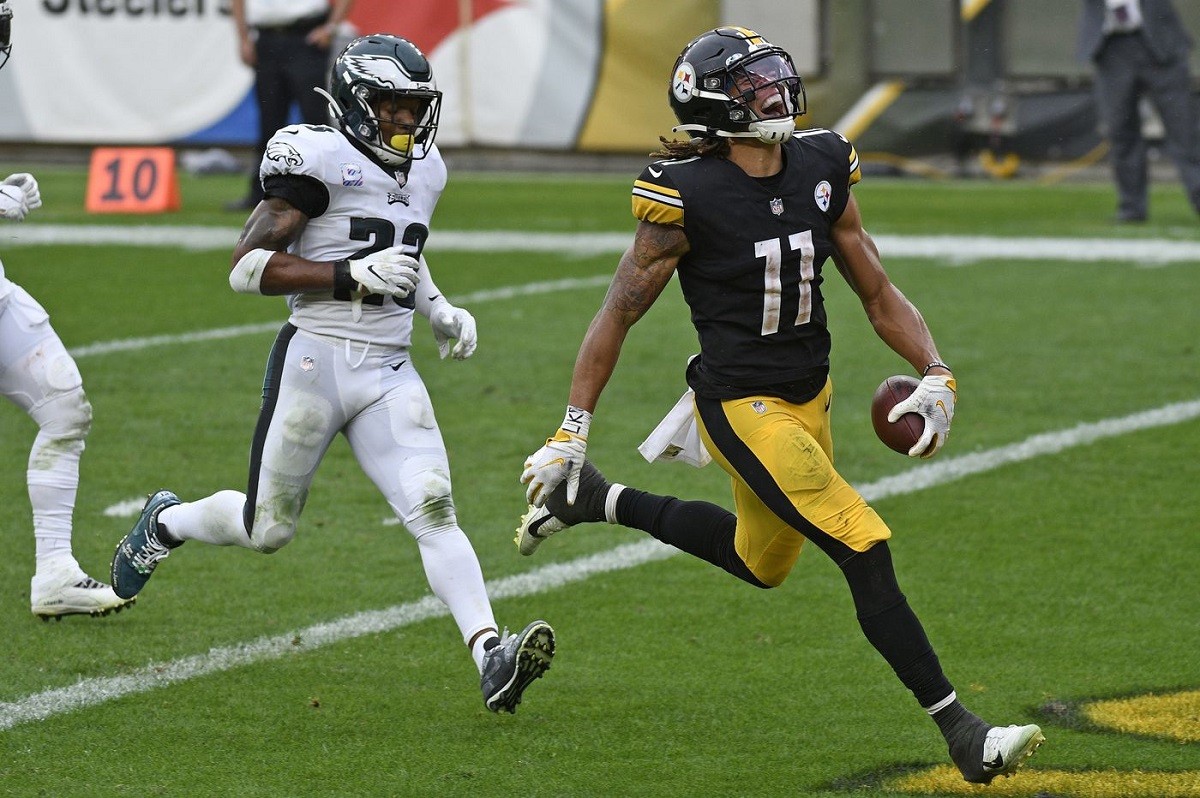 Dalvin Cook injured his groin in the opening drive of the Minnesota Vikings' thrilling game on Sunday Night Football against the Seattle Seahawks.
---
WAIVER WIRE – WEEK 6 PICKUPS
Chase Claypool (WR, Pittsburgh Steelers)
Travis Fulgham (WR, Philadelphia Eagles)
Andy Dalton (QB, Dallas Cowboys)
Alexander Mattison (RB, Minnesota Vikings)
Tee Higgins (WR, Cincinnati Bengals)
---
Dalton got run out of Cincinnati in the offseason when the team selected Joe Burrow with the #1 pick in the NFL Draft. The Cowboys needed someone to back up Prescott, and offered him the job. Dalton didn't anticipate he'd be thrust into the spotlight so soon in the season and will now lead a Cowboys team that's seen its Super Bowl odds drop to 44/1 after Dak's injury.
If you drafted Prescott and play in a deep league or don't have many available QBs on the waiver wire, you should probably grab Dalton before one of your opponents tries to ginger block you.
Rookie WR: Chase Claypool or Tee Higgins?
It almost felt like a video game as Chase Claypool kept catching touchdowns on Sunday. Big Ben put the ball up, and Claypool hauled it in every time. The Steelers drafted Claypool late in the second round out of Notre Dame, and he's already returning dividends on their investment.
The Steelers crushed the Philadelphia Eagles in Week 5, and Claypool became a one-man wrecking crew. He caught seven passes for 110 yards and three touchdowns. He also added a fourth TD with a rushing score. Through four games, the rookie has 12 receptions and four touchdown catches.
Tee Higgins quickly developed into Joe Burrow's go-to guy, especially when things get crazy or plays break down. The rookie WR made a name for himself at Clemson as a popular target for Trevor Lawrence last season. So far this season, he's made 16 catches for 214 yards and two touchdowns. He's averaged four receptions per game in the last four games.
Chase Claypool HAVE A DAY SIR 🔥 @ChaseClaypool @steelers pic.twitter.com/RdOhfwAmdU

— The Checkdown (@thecheckdown) October 11, 2020
Travis Fulgham Rising
Technically speaking, Travis Fulgham isn't a rookie. The Detroit Lions drafted him in 2019 as a sixth-round pick. He appeared in just three games last season with the Lions and didn't catch a single pass.
He landed a spot on the Philadelphia Eagles practice squad and got called up to the team when they were depleted by injuries at the wideout position.
In Week 4, Fulgham caught just two passes, but he racked up 57 yards and a touchdown in a victory over the San Francisco 49ers.
In Week 5, Fulgham had an official coming-out party with 10 catches for 152 yards and a touchdown.
10 catches. 152 yards. 1 TD.

What a day for Travis Fulgham 🤯

(via @NFL) pic.twitter.com/ONDhiOu4fM

— SportsCenter (@SportsCenter) October 11, 2020
Cook Down, Alexander Mattison Up
The Minnesota Vikings lost Dalvin Cook, who leads the NFL with 489 rushing yards and seven rushing touchdowns. He's scored at least once every week since the season began. Cook tweaked his groin at the start of the game, but still played through the pain and tallied 65 yards and a touchdown.
After Cook's MRI on Monday, team doctors diagnosed him with an adductor strain. With a bye scheduled for Week 7, Cook is expected to miss Week 6 in order to give him two weeks to rest up.
The Vikings selected Alexander Mattison in the third round of the 2019 NFL Draft out of Boise State. In his rookie season, he averaged 4.6 yards per carry as Cook's understudy. Mattison did a bang-up job when tasked with filling Cook's shoes last season when Cook missed two games.
Against the Seattle Seahawks on Sunday Night Football, Mattison rushed for 112 yards and added 24 receiving yards off the bench in Week 5. He also found the end zone once.
If you drafted Cook, have a thin bench, or need a RB to stream in Week 6, then consider adding Mattison to your waiver wire pickups this week.