Atlanta Falcons backup running back, Brian Hill, could be a worthy waiver wire pickup for your fantasy football team in NFL Week 11, along with rookies Hunter Renfrow (Oakland Raiders WR) and Noah Fant (Denver Broncos TE).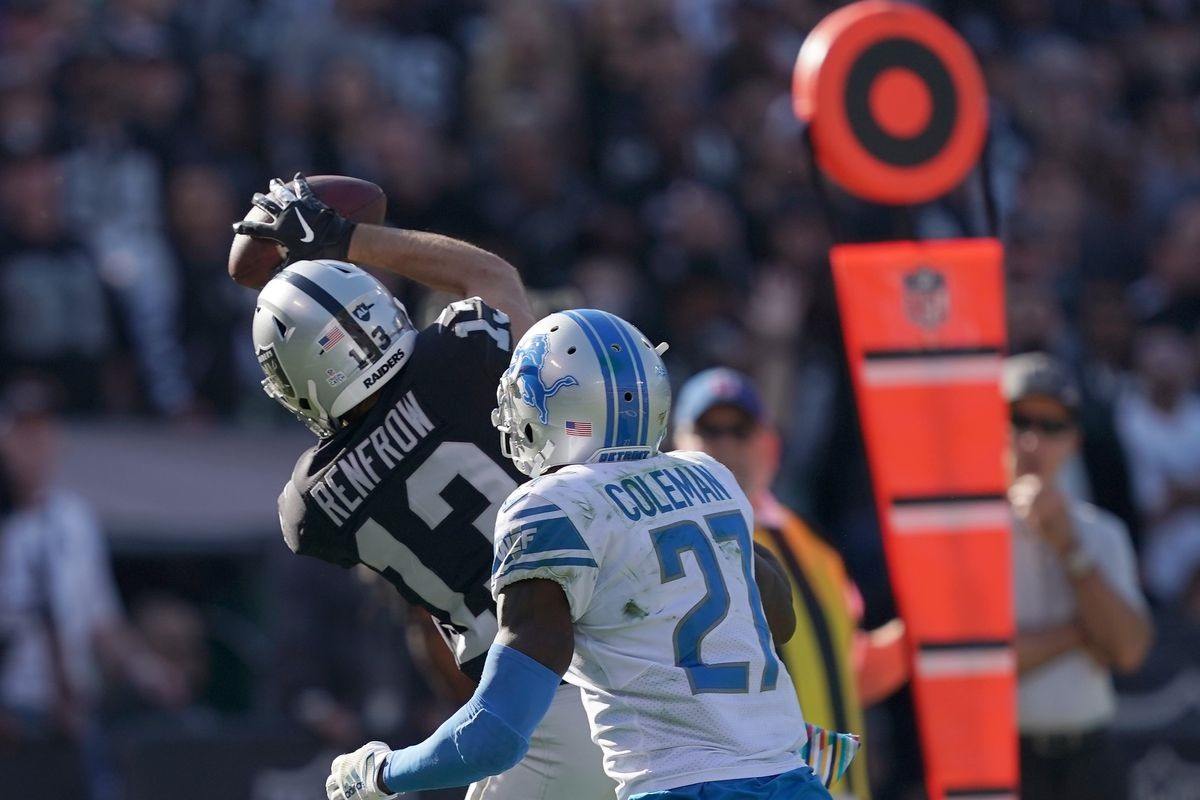 Renfrow has been a legend since his freshman year at Clemson. The undersized Renfrow has been an underdog his entire life, but he's finally coming into his own as a professional with the upstart Raiders.
The Atlanta Falcons originally drafted Hill out of Wyoming, but they had to cut and re-assign him to the practice squad due to their depth at running back. In Week 10, Devonta Freeman went down with a foot injury, and the Falcons turned to Hill to help hold a lead against the Saints.
NFL WAIVER WIRE – WEEK 11:
Hunter Renfrow (WR, Oakland)
Noah Fant (TE, Denver)
Brian Hill (RB, Atlanta)
Fant is no slouch. In college at Iowa, Fant tied the collegiate record for most touchdowns in a season with 11. Those Big Ten tight ends also block a lot to support the running game, so you know he's tough, and not a glorified wideout.
Hunter Renfrow
Even if Renfrow never played in the NFL, he'd go down as a legendary football player for his exploits with the Clemson Tigers. He went from an undersized walk-on at 5-foot-11 and 155 pounds to the guy who became a favorite target for DeShaun Watson, and who caught the winning pass in the Championship Game to beat Alabama.
Renfrow headed to the NFL and, once again, no one gave him a chance. He looked more like one of the guys in the analytics department or "Hunter from Marketing" than a professional football player.
Renfrow appeared as one of the rookies trying to make the team on this season of HBO's Hard Knocks, which followed the Oakland Raiders. Renfrow made the team even though he was buried on the depth chart behind Antonio Brown and others. After the Brown fiasco ran its course, and other players got dinged up, Renfrow moved up the depth chart. He's now the #2 option behind Tyrell Williams.
So far, Renfrow caught 28 passes for 299 yards and a couple of touchdowns. In his last three games, Renfrow caught 14 passes, and Derek Carr threw two touchdown strikes to the rookie.
After finally getting in the rotation, Renfrow looks like he might become the next Wes Welker.
Noah Fant
Fans were treated with the first snow game of the season in Green Bay. It's already snowed a couple of times in Colorado, but not on game day for the Broncos. If there's any bad weather, Fant is well equipped. He was no stranger to inclement weather in the Big Ten as a tight end for the Iowa Hawkeyes.
The Broncos took Fant with the 20th overall pick in the 2019 NFL Draft. The rookie started five games this season, catching 23 passes for 300 yards and two touchdowns. In his last two games, Fant added eight receptions, and got targeted 13 times.
Against Cleveland, Fant caught three passes for a career-high 115 yards, including a 75-yard touchdown reception from backup Brandon Allen.
HE 👏 COULD 👏 GO 👏 ALL 👏 THE 👏 WAY 👏#CLEvsDEN | @nrfant pic.twitter.com/6Qez10bRBL

— Denver Broncos (@Broncos) November 3, 2019
At this point, Fant looks like the second option behind WR Cortland Sutton.
Brian Hill
Hill began the season on the practice squad and slowly worked his way into the Atlanta Falcons lineup up due to injuries.
When Devonta Freeman exited the New Orleans Saints game early with a foot injury, Hill sprang into action. Hill rushed 20 times for 61 yards. He also caught one pass for a 10-yard touchdown as the Falcons held off Drew Brees and the Saints.
With Ito Smith on IR with a concussion, and Freeman out for at least one more game with a sprained foot, Hill becomes the man in Atlanta. So far this season, he has 101 rushing yards and one rushing score. He averages 3.6 yards per carry.
Even if Freeman returns to action in Week 12, Hill would be a worthy handcuff for the injury-prone Freeman.