Vladimir Guerrero Jr., the 20-year old son of Hall of Famer and MLB star Vladimir Guerrero, hit two home runs for the Toronto Blue Jays in the same game including his first big league dinger.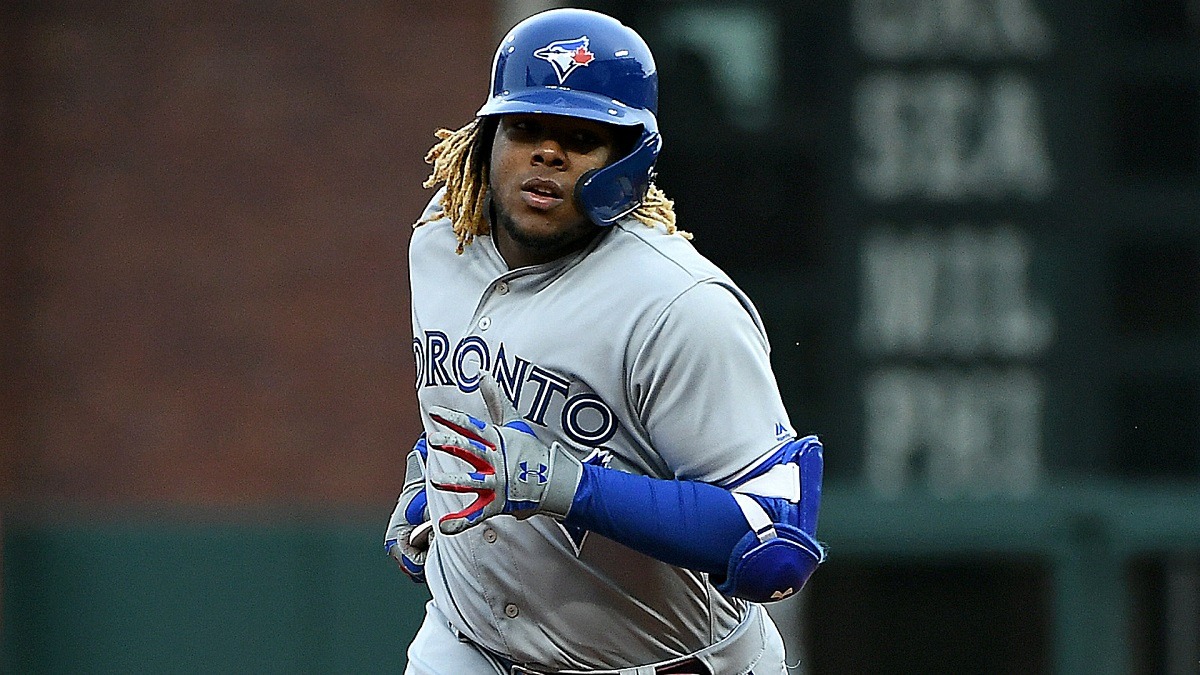 Third base prospect Vladimir Guerrero Jr. is finally living up to the hype ever since the Toronto Blue Jays called him up from the minor leagues a couple of weeks ago. Guerrero began the season in AAA Buffalo and obliterated his minor league counterparts. Since getting called up to the show, Guerrero Jr. is only hitting .222. However, he finally hit his first home run, which is a big deal for any rookie.
Guerrero Jr. became the third-youngest rookie to hit their first two home runs in the same game. One of those other rookies was Manny Machado back in 2012.
2 for Junior
It took 14 games before Vladimir Guerrero Jr. went yard. He struggled with in his first 11 games with a .146 batting average and only 6 hits in his first 41 at bats. It looked like he finally found a groove with a 3-for-6 clip in two games against the Chicago White Sox.
On May 14, Guerrero Jr. took advantage of lackluster pitching from the last-place San Francisco Giants. In a 7-3 victory for the Blue Jays, Guerrero Jr. hit two home runs.
Guerrero Jr. got on the board early with a solo homer in the first inning off Nick Vincent.
You'll never forget where you were for this one!#LetsGoBlueJays pic.twitter.com/ZeuDRgHXi2

— Toronto Blue Jays (@BlueJays) May 15, 2019
In the sixth inning, Guerrero Jr. took Reyes Moronta yard with a three-run dinger.
After the game, Guerrero Jr increased his batting average to .235. He went 3-for-4 with 4 RBI and a walk.
HE DID IT AGAIN! #LetsGoBlueJays pic.twitter.com/c0eZuyws8f

— Toronto Blue Jays (@BlueJays) May 15, 2019
Chip Off the Old Vlad
Guerrero's father is a nine-time All-Star and played 16 seasons in the majors with four different teams including the Montreal Expos, LA Angels, Texas Rangers, and Baltimore Orioles.
In 2004, Guerrero won the American League MVP in his first season in the AL. He hit .337 with 39 home tuns and 126 RBI.
Guerrero Jr said he wanted to give both balls to his father.
"He just said like he always told me, 'Don't look for home runs. They're going to come'," said Guerrero. "I'm going to give both balls and the bat to my dad. I'm going to keep using everything that I used today except the bat that I really want to give to my dad."
In 2018, the Baseball Hall of Fame in Cooperstown, NY inducted Guerrero. Guerrero ended his career with a .318 batting average and he slugged 449 home runs with 2,590 career hits and 1,496 RBI. He is currently 44th on the all-time home run list.