This Saturday will present a unique challenge for veteran oddsmaker Mike Battaglia. Even with 46 years of experience creating morning lines at Churchill Downs, how can that adequately prepare someone to tackle Kentucky Derby numbers equating more to history and novelty than true probability?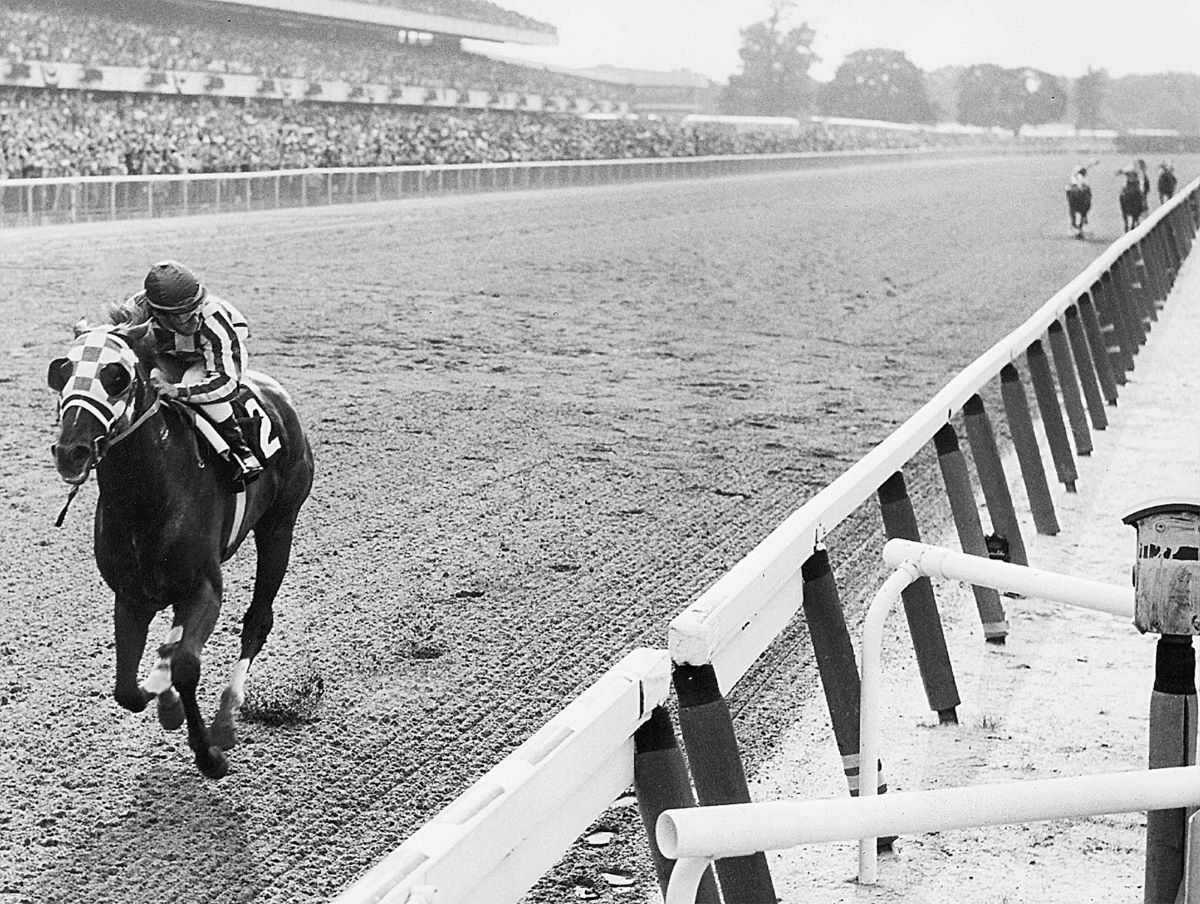 The easy part of Battaglia's challenge in creating a morning line for Saturday's virtual Kentucky Derby Triple Crown Showdown will be plugging in Secretariat as the 7/2 favorite. The hard part? Plugging in odds for the other 12 Triple Crown-winning horses.
Saturday's virtual race will pit 13 Triple Crown-winning horses against each other in a 1¼-mile race at Churchill Downs. The virtual post will happen on NBC at 2:45 pm PT as the capper to the network's "The First Saturday In May: American Pharoah's Run to the Triple Crown" broadcast, starting at 12 pm PT.
The virtual race will run in place of the actual Derby, which moved to Sept. 5 due to the COVID-19 pandemic. This is the first time since 1945 that the Derby won't run on the first Saturday in May.
As for its virtual substitute, the mind reels with betting possibilities. Put Secretariat atop a trifecta with Citation and Affirmed? How about an exacta with Secretariat topping American Pharoah, Seattle Slew, and Whirlaway? Or shoot for the moon and put Secretariat atop a superfecta wheel, hoping a long shot such as Justify hits the board?
Odds for Entertainment Purposes Only
Alas, there is no actual betting on Saturday's virtual race. Starting Thursday, fans can visit www.kentuckyderby.com and choose their favorite horse. All participants selecting the winning horse will be entered to win an ultimate Kentucky Derby 146 VIP Experience.
"I've got to give Secretariat the edge," Battaglia said in a release. "This was a really fun morning line to make, and I'm looking forward to the race."
Making the iconic Secretariat the favorite doesn't require Battaglia's two generations of experience. He took over the Churchill Downs morning line in 1974, grabbing the number reins a year after Secretariat authored the fastest time in Derby history – 1:59.4. He became the first horse to break two minutes for the 1 ¼-mile race, eclipsing Northern Dancer's 1964 record of 2:00.00
Looking at the other winning times, one of several factors determining the virtual winner, 1978's Affirmed holds the next-fastest by a Triple Crown winner at 2:01.20. He finds himself on the virtual post at 5/1, the same odds assigned his immediate Triple Crown predecessor,1977's Seattle Slew. One of only two Triple Crown champions to retire undefeated – 2018's Justify being the other — Seattle Slew (virtual post 5), has the fourth-fastest time at 2:02.20.
Post positions and morning line (Triple Crown year-jockey)

Affirmed, 5/1 (1978-Steve Cauthen)
Assault, 20/1 (1946-Warren Mehrtens)
Secretariat, 7/2 (1973-Ron Turcotte)
Sir Barton, 20/1 (1919-Johnny Loftus)
Seattle Slew, 5/1 (1977-Jean Cruguet)
American Pharoah, 6/1 (2015-Victor Espinoza)
Gallant Fox, 20/1 (1930-Earl Sande)
Citation, 4/1 (1948-Eddie Arcaro)
War Admiral, 8/1 (1937-Charlie Kurtsinger)
Whirlaway, 4/1 (1941-Eddie Arcaro)
Count Fleet, 6/1 (1943-Johnny Longden)
Justify, 15/1 (2018-Mike Smith)
Omaha, 20/1 (1935-Willie Sanders)
Your second favorites at 4/1 are 1941's Whirlaway (virtual post 10) and 1948's Citation (virtual post 8), who is generally in the discussion with Secretariat and Man o' War as one of the greatest thoroughbreds in North American history. Citation won 27 of 29 races in his 2- and 3-year-old seasons before an injury cost him his entire 4-year-old season.
As for the two most recent Triple Crown champions, 2015's American Pharoah (virtual post 6) is 6/1, and Justify (virtual post 12) is 15/1.
No Long Shot > 20/1
Your longshots are 1946's Assault (virtual post 2), 1919's inaugural Triple Crown winner Sir Barton (virtual post 4), 1930's Gallant Fox (virtual post 7), and 1935's Omaha (virtual post 13). All are listed at 20/1.
"I didn't have the heart to hang more than 20/1 odds on a Triple Crown winner," Battaglia said.
It may be hard for Battaglia to pile on early 20th-century horses, but Omaha has the fastest time of the long shot quartet at 2:05. While flexible, based on factors such as race type (sprint vs. route), the general rule of thumb is that one length equals one-fifth of a second. If you're going just by times, Secretariat (1:59.4) would finish nine lengths ahead of Affirmed and a mind-boggling 54 lengths ahead of Sir Barton, who owns the slowest time among the 13 at 2:09.4.
That makes Secretariat's 31-length victory in the 1973 Belmont Stakes look like a head-bobbing finish.
Time's Only One Factor
There's more going into setting these lines than just mere finishing times, and more reasons that Secretariat is the favorite. Inspired Entertainment, the company creating the virtual race, plugged in information on each horse, ranging from past performances to analytics and opinions from horse racing experts. Those experts evaluated each horse's achievements in total and added a historical perspective.
Inspired Entertainment fed that information, known as the Fundamental Probabilities, into computer models that will use the data, along with random number generation, to determine a winner. The Fundamental Probabilities assign probability values to each horse – the higher the value, the better the chances for victory.
Churchill Downs officials made it clear Battaglia's morning line is independent from the Fundamental Probabilities, and stated that he did not know about the statistical elements for each horse when he set the line.
The Kentucky Derby Triple Crown Showdown is one element of a full day of online festivities Churchill Downs officials planned to encourage the perfect Derby At-Home Party. Churchill Downs joins the Kentucky Derby Museum and other partners in offering virtual tours of the facility along with Derby cocktail and fascinator-making tutorials, ideas for party decorations, kids' crafts, and other activities.