Villanova sits atop the college basketball polls but Virginia is nipping at their heels and might be the better team. They are certainly the sounder betting choice for gamblers.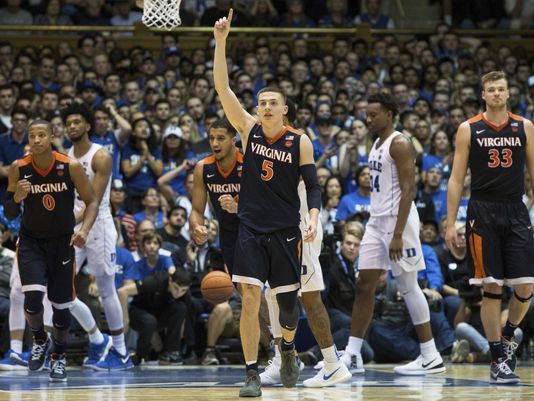 The Wildcats have been No. 1 for seven of 12 weeks of the season. The Cavaliers have been behind them for the last three weeks, but are starting to impress those who decide the rankings and are swinging first-place votes to them.
Two weeks ago the ACC team received one top vote. In the latest tally they garnered 17 of them. Virginia was 86 points behind Villanova Jan. 22 and now only 35 points separate them.
Not bad for a team that wasnít even in the preseason Top 25 on Oct. 22. They were ranked No. 27 behind teams like Seton Hall and Baylor, who have fallen out of the rankings.
The time to get big odds on Virginia has passed. They began the season as a 30-1 long shot to win the NCAA Basketball Championship. A month ago Bovada had them at 50-1. They now are still an attractive selection at 7-1. Villanova has been lowered from 6-1 a month ago to 11-2.
How They Ascended
Both Villanova and Virginia are 20-1 and while the Wildcats quickly shot up to No. 1, it has been more of a steady climb for Virginia. Villanova was No. 6 in the preseason poll and by Week 6 was the top team.
Virginia had to work its way up the rankings. They didnít even crack the top 10 until the last week of December and then had to wait 21 days before they reached the second spot.
While both only have one loss, it is who they lost to that is most telling. Villanova was defeated by an unranked Butler squad while Virginiaís lone loss was to West Virginia, who was No. 18 at the time.
Also the Cavaliers have knocked off ranked teams in the tougher ACC conference. Virginia beat No. 4 Duke on the road last Saturday. It was the first time they won at Cameron Indoor Stadium since 1995. They have also taken care of defending champion North Carolina and Clemson, both ranked opponents at the time.
Villanova plays in the Big East and the level of competition is not as strong as what Virginia has to face. The teamís signature win thus far was over then No. 10 Xavier. They also beat Tennessee, who wasnít ranked when they faced each other, but is now No. 22.
Contrasting Styles Might Benefit Virginia
What the Cavaliers do best is defense. They stifle teams and press and that could be a huge benefit come tournament time. In the 65-63 win over Duke they kept the Blue Devils to 28 points below their scoring average. Top scorer Grayson Allen was frustrated against Virginia finishing with only five points on 2-8 shooting.
Villanova utilizes the three-point shot better than most teams in the country. They have at seven games where they have at least 15 three-pointers and set the school record twice with 19.
Both could have No. 1 seeds in March when the tournament begins but it might be the Cavaliers who make a deeper run and possibly win it all.