Vince Carter, an 8-time All Star and former NBA Rookie of the Year from 1999, will be suiting up for one final season in the NBA with the Atlanta Hawks. Carmelo 'Melo' Anthony, who still thinks he has plenty of gas left in his tank, is still looking for an NBA team. Melo is unemployed and several ex-players think he got blackballed.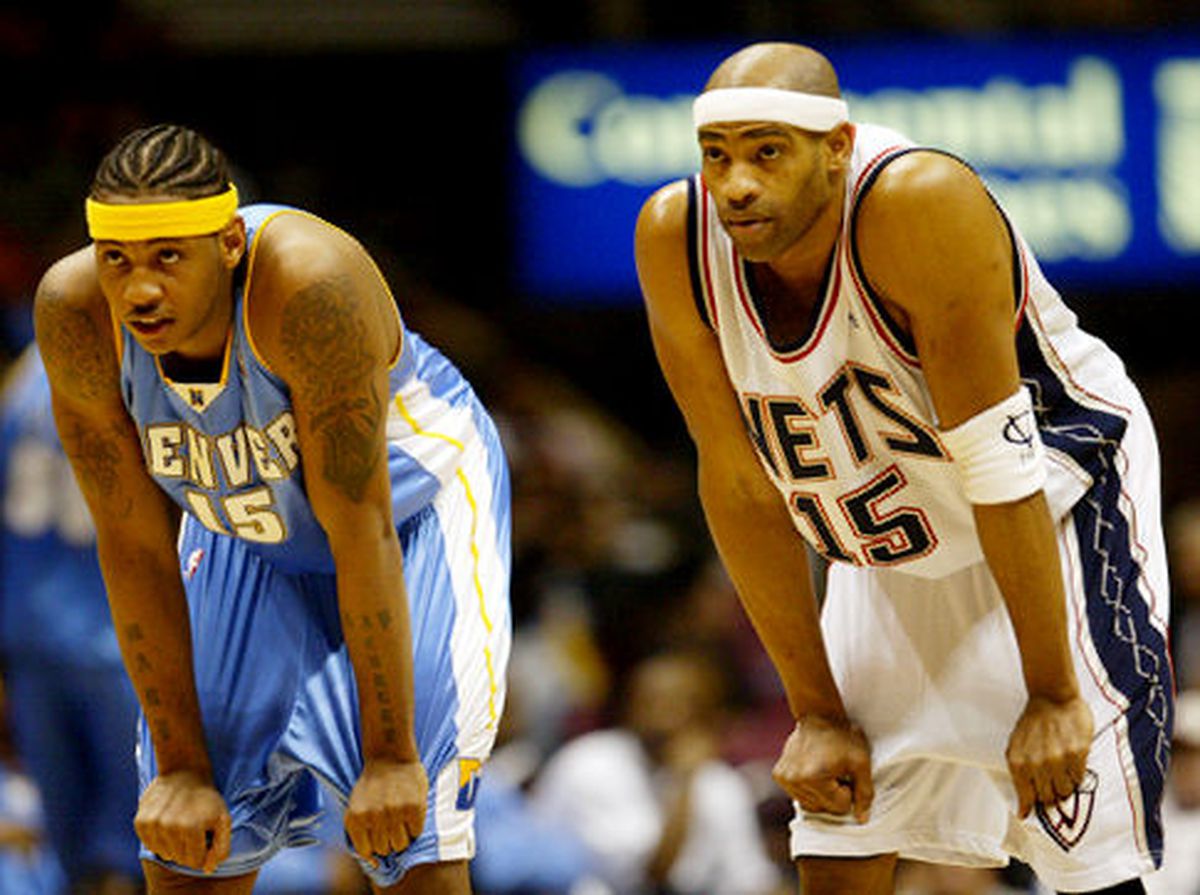 The Atlanta Hawks brought Carter to the team last season to mentor their young players including rookie Trae Young. Carter averaged 7.4 points off the bench last season, which many speculated would be his final year in the NBA.
The Hawks and Carter agreed to stay together for one more season to continue to guide a team that has seven players 23-years and younger. The Hawks signed Carter to a veteran's league-min contract worth $2.6 million.
Over his career, Carter averaged 17.2 points per game. He averaged 20-plus at least ten times in his 21-season career. His career numbers dipped the last five seasons as he scored under double digits after taking a diminished role as a bench player and reserve.
WHO IS VINCE CARTER?
Age: 42
Hometown: Daytona Beach, FL
College: North Carolina
Draft: 1998 5th overall by Golden State
Stats: 17.2 points per game in 1,481 games
Teams: Raptors, Nets, Magic, Suns, Mavericks, Grizzlies, Kings, Hawks
The Golden State Warriors drafted Vince Carter with the fifth overall pick in the 1998 NBA Draft. They traded him to the Toronto Raptors for his UNC teammate Antwan Jamison. Carter would go on to win the Rookie of the Year in 1999.
In his third season in the NBA, Carter scored a career-high 27.6 points per game with the Raptors. VC played six full seasons with the Raptors before they traded him to the New Jersey Nets early in the 2005 season. VC helped turn around the Nets, which included an Atlantic Division crown.
What About Melo?
Meanwhile, Carmelo Anthony is still unemployed. The LA Lakers are the only team linked to Melo right now. And that's a very loose link. LeBron James and Melo are close friends, but will his friendship override the consensus about Melo's antiquated iso-game? If LeBron thinks Melo can legitimately help Anthony Davis and company bring a title back to Hollywood, then you can expect to see Melo in a Lakers uniform.
In many regards, Carmelo Anthony is regarded as the opposite of VC. Carter is the consummate team player and professional. Carter played his collegiate ball at North Carolina. He learned team concepts under the great coach Dean Smith. Carter carried along many of Smith's fundamentals during his tenure as an NBA player. Carter's willingness to make personal sacrifices, both financial and statistical, is one of the reasons he's returning for a 22-year in the NBA.
Although many popular players in the league love Melo and consider him a member of their inner circle, his overall philosophy of basketball is wanted clashed with teammates and coaches.
Melo, 35, averaged 24 points per game over his illustrious career. He scored 20-plus in 14-straight seasons. His career average would be slightly higher if he didn't average 16.2 points per game with the OKC Thunder and 13.4 points per game off the bench with the Houston Rockets.
Big Data vs. Melo
In the last two seasons, both the Thunder and Rockets brought in Melo in hopes he could help put those teams over the top of the Golden State Warriors. Neither team were a fit for Melo. The Rockets pulled the plug on Melo after ten games.
Melo is a throwback player. His isolation-mid-range game is more suited from the NBA around the turn of the century. The 1990s version of the NY Knicks could have used Melo as an additional scorer with Patrick Ewing.
However, in the modern NBA during the age of Big Data, it's impossible for analytics teams to ignore the not-so-favorable numbers about Melo. With versions of Mike D'Antoni's spread offense plus the emphasis on three-point shooting dominating offensive sets, Melo's iso-move seems outdated and inefficient. Gone are the days when a player will camp out on the block, hold the ball and let the shot clock wind down before taking a fade away jumper.
Melo Blackballed?
Ex-NBA All-Star Stephen Jackson has a rabid social media following. Captain Jack unleashes the truth in various Instagram posts. Jackson self-medicates while ranting and pontificating about current issues in the NBA.
Captain Jack had no shortage of great things to say about Melo. He also thinks the NBA blackballed Melo because he still has a couple of good years left in him.
"Melo has better stats than a lot of Hall of Famers," said Stephen Jackson. "He's one of the best players the game's ever seen."
Jackson also shrugged off critics about Melo's label as a poor defender.
"How many guys in this league actually play defense?" said Jackson.
One thing is for certain, Melo ran coach Mike D'Antoni out of NYC. Melo did not buy into D'Antoni's seven seconds or less system when D'Antoni coached the Knicks. D'Antoni was well ahead of his time with a philosophy that revolutionized NBA scoring. However, as the big star at MSG, Melo wanted the entire offense to run through him. In that instance, owner James Dolan sided with Melo and the head coach skipped town.