Vijay Singh had a chance to make history for himself, and a whole lot of money for those that backed him in the final round of the Honda Classic. The 56-year-old was trying to break Sam Snead's record as the oldest winner on the PGA Tour. Snead was 52-years-old when he won the Greater Greensboro Open in 1965.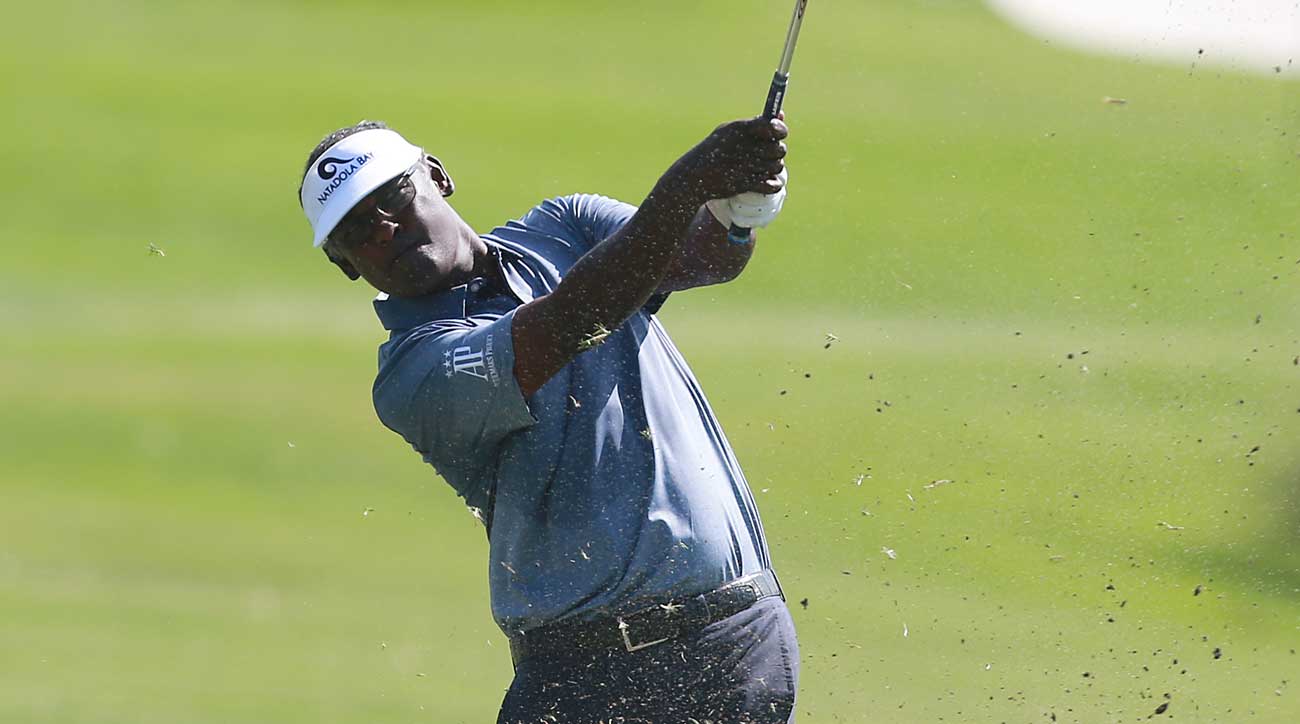 It is amazing that the record has stood for 54 years. The closest anyone has come recently was when 59-year-old Tom Watson lost in a four-hole playoff to Stewart Cink in the 2009 Open Championship.
Singh came into the final round of Sunday's event one stroke behind leader Wyndham Clark. The two were in the final pairing. Clark was a 9/2 pick to overcome rookie jitters and win his first event. The favorite was Rickie Fowler, who was two shots back, and listed at 3/1.
Singh was at 16/1, behind three other golfers. He was not insulted that despite being a shot out of the lead, he was given such a remote chance of winning.
"I'm physically quite capable of doing it," Singh told reporters after his third round. "Mentally, I'm going to go out there and see how my mind works. If I just don't let anything interfere, I think I can do it."
He stayed near the lead for most of the final round. When he reached the 17th hole, though, he hit his tee shot in the water. He made bogey and entered the 18th three strokes behind winner Keith Mitchell.
Still sixth place is pretty impressive for a golfer competing with players half his age. With his workout regimen, it wouldn't be surprising to see him in this position again.
Justin Thomas vs. USGA
Justin Thomas and the USGA are in a war of words after the PGA Tour player again vocalized his opposition of a new rule. Rule 10.2b (4) states that a player is not allowed to have his or her caddie deliberately stand behind him or her when the player begins taking a stance.
Adam Schenk became the third player to be penalized this year for the violation at last week's Honda Classic and Thomas again was critical of the rule.
"Anything that can be changed rule-wise that can better the game, all of us are all for it, especially myself," Thomas said. "I don't really see a way, along with other players, that that [rule] improves the game of golf and the rules of golf."
The USGA came out with a post on Twitter that accused Thomas of canceling several meetings to discuss the subject.
"It was a little shocking," Thomas said. "It was a little upsetting just because it was inaccurate. I haven't canceled anything, especially any meetings. But it is what it is, and all I want is the best for the game of golf and the best for the sport."
This week's odds, picks
The Bay Hill Classic is a tournament that Tiger Woods has won eight times, but his withdrawal from this week's event leaves a void. Woods was listed at 10/1 behind favorite Rory McIlroy, who is at 7/1. Justin Rose is now the second pick at 9/1.
We like Rickie Fowler at 14/1. He played well last week at the Honda Classic, and tied for 14th and 12th the last two times he has played there.
At the Hoag Classic, Fred Couples is the favorite at 11/1. Scott McCarron and Kevin Sutherland are next at 12/1.
We like Kirk Triplett at 30/1. He is a strong putter, which is what you need on the small greens at Newport Beach Country Club.