With Joe Biden virtually assured to be the 2020 Democratic nominee for President, a frenzy of speculation surrounds who he'll select for a running mate. Will Biden pick one of the well-known betting favorites, or instead, go with a less visible long shot? The former Vice President says he'll announce his decision by August 1st.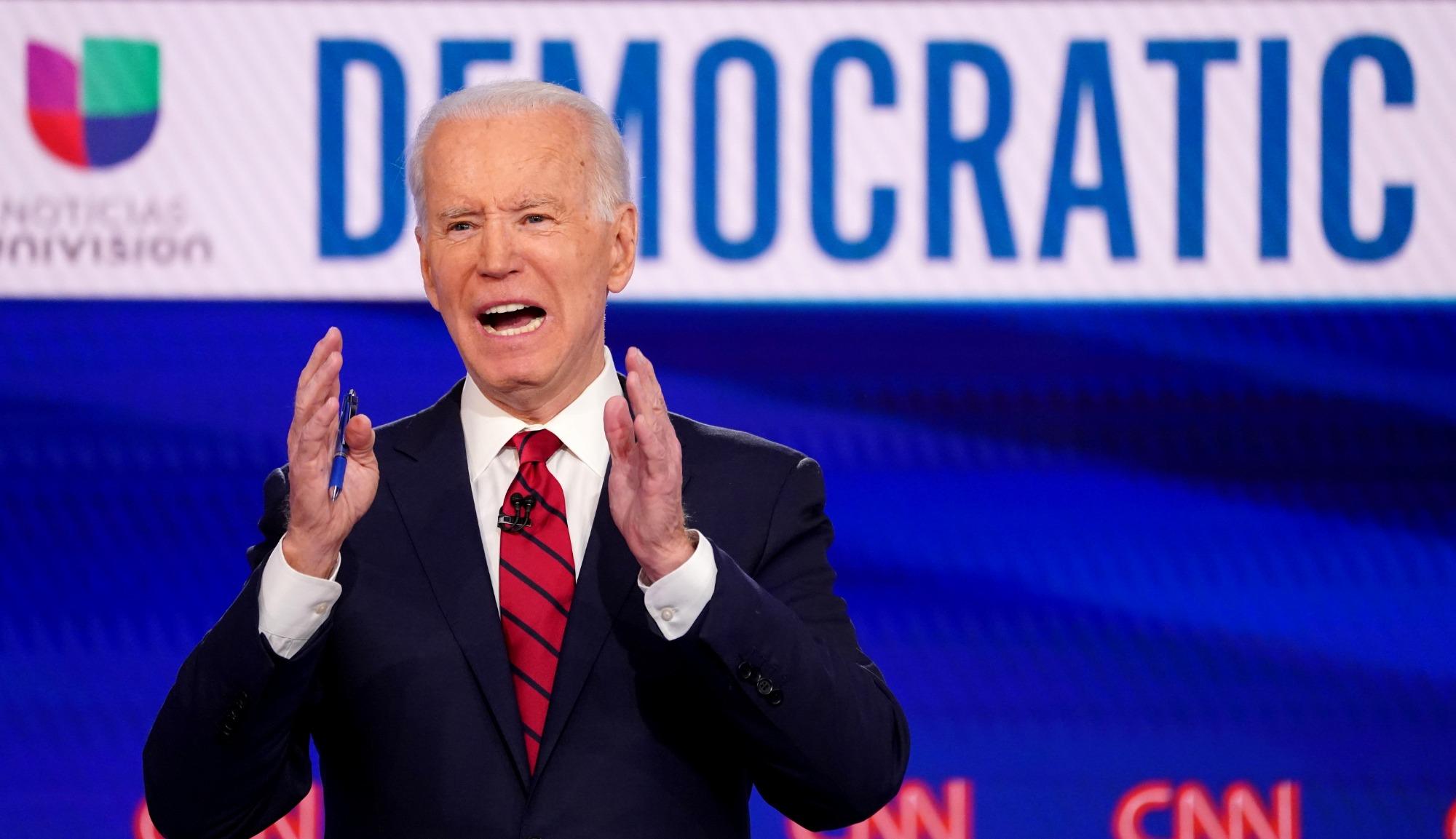 Betting markets generally tend to be unenthusiastic about vice-presidential politics. However, 2020 has proven to be anything but typical so far. While it's likely the dearth of gambling options currently available may be playing some role, the Democratic Party veepstakes is generating widespread interest from gamblers, which can be seen by some quickly shifting betting lines.
Indeed, this is an election unprecedented in American history. Aside from the unpredictable dynamics of President Donald Trump and the barrage of controversies surrounding his persona, both campaigns were on complete lockdown for more than three months due to the COVID pandemic scare.
It now appears the political season is about to ramp up again and shift into high gear. Some gamblers are even tuning in to political talk shows and digesting breaking news just as closely as injury reports in sporting events. Nevermind watching the Super Bowl or Game 7 of the World Series — many of us have betting action on the pending veep pick.
Kamala Harris Still the Favorite
While wagering on political races isn't legal in Nevada (yet), that hasn't stopped betting action from gravitating offshore.
Accordingly, several online betting sites have posted odds on the vice-presidential sweepstakes, which has effectively determined a solid crop of frontrunners and several long shots.
With the Democratic National Convention still two months away, Sen. Kamala Harris has emerged as the clear frontrunner. She broke away from the pack in late April after reports began leaking that Biden is determined to select a woman of color as his running mate.
Harris had been bunched in the pack of a crowded and competitive list of veep candidates. Listed at +200 as of mid-April, she was an attractive candidate for a national campaign, but also risked being lost in the shuffle of a tough deck of fellow prospects. Sen. Amy Klobuchar and Stacey Abrams, who were also thought to be under strong consideration by Biden, had their own backers. Klobuchar has dropped out of the running, and the odds Abrams have plunged over the past month, leaving Harris now as the veep prospect to beat.
This needle has also moved significantly in favor of two other intriguing possibilities — Rep. Val Demings and Amb. Susan Rice. A month ago, Demings was listed by most sites at around +2500. Rice was even more of a long shot, garnering a price at +2000 as recently as mid-May. Three months earlier, Rice wasn't even listed among the candidates by many sites. Both Demings and Rice have made the biggest surges according to current odds.
Both odds and experts indicate it's become a three-person race.
Women in Charge
On March 16, Biden promised to pick a woman as his running mate. Whether this decision was purely political or practical, odds reflect the virtually unanimous agreement that Biden will deliver on this pledge and a female will be on the ticket.
It's vital to understand the reasons why Biden and the Democrats want a female VP candidate. Perhaps a closer examination of motives might enable gamblers to weigh the prospective chances of each potential nominee, and determine if value-betting opportunities exist.
Data shows Trump suffers from an alarming gender gap. All reliable polls reveal a majority of women — 62% by at least one most recent account — won't vote for Trump. The data shows Trump losing by a whopping 30 percentage points among female voters.
Conversely, Trump is winning the male vote by about 7 percentage points. Obviously, these numbers are fluid, but Democrats believe the gender gap to be Trump's Achilles heel in the election.
Trump's path to victory in November will be difficult if current polls that show Biden up by double digits are accurate. However, the race is much closer in so-called "swing states."
Hence, there are compelling reasons why Democrats are determined to add a female to the ticket, which is thought to be one way to boost enthusiasm and turnout for Biden.
Black is the New Gold
When former presidential candidate Sen. Amy Klobuchar dropped out of the veepstakes last week, she stated that a woman of color would be the ideal decision for her party.
From an odds perspective, that marked a clear division between the practical contenders and the long shots.
No doubt, the admittedly sensitive topic of race is a huge issue in America right now. This is especially true in Democratic Party politics where Black women, arguably, have been the bricks and mortar that kept the party together and laser-focused on rebuilding after the crushing defeats of 2016.
Given that lower Black turnout in 2016 (versus 2008 and 2012) was a contributing factor in the previous election, Democrats are determined to generate greater enthusiasm among that critical constituency, and picking a Black veep would likely go a long way toward rekindling turnout numbers from the Barack Obama days.
So, it's clear why the top three favorites are all well-qualified Black women.
Democratic Veep Odds
According to a consensus of numbers from online sportsbooks, here are the current odds of each candidate being chosen as the 2020 Democratic vice-presidential nominee. Note that these numbers are quite fluid at the moment (odds are accurate as of June 24th). A $100 wager would return the following odds:
Kamala Harris -125
Susan Rice +210
Val Demings +550
Elizabeth Warren +1200
Keisha Lance Bottoms +1400
Stacey Abrams +2000
Michelle Lujan Grisham +2500
Michelle Obama +2500
Tammy Duckworth +3300
Gretchen Whitmer +5000
Hillary Clinton +5000
Tulsi Gabbard +10000
Let's highlight the top prospective nominees:
Kamala Harris — The former California Attorney General and current US Senator from the nation's most populous state was also an early presidential candidate. However, she ran a poor campaign and failed to garner much support. Nonetheless, Harris looks to be the total package as a running mate with lots of legal and political experience, a criminal justice background, appealing qualities as a candidate, and a reputation for standing up and fighting when the spotlight shines brightest. Harris deserves to be the favorite, but might be slightly overpriced given the strengths of other candidates in the race. She also doesn't help much on the electoral map since her home state is assumed to be a lock for Biden. Yet another factor could be Harris' ambition for a different office — Attorney General, assuming there's a Biden Administration.
Susan Rice — The former UN Ambassador and National Security Advisor under President Obama has risen steadily as a betting choice during the last month. Rice certainly has stellar credentials in foreign policy, but she lacks these strengths in domestic affairs, nor has she ever run for public office. Critics might also raise concerns about her alleged misconduct in some Obama administration matters (whether these charges have merit or not is immaterial since scandal always makes for a ripe target during a campaign). Aside from Rice's obvious mastery of history and governance, and her unflappable nature, her strongest asset of all as a betting choice is probably her close prior relationship working with Joe Biden when he served as Vice President. This personal relationship could be the tipping point that gets her the nomination. Rice was super attractive at +650 odds a few weeks ago, and still looks to be worth a bet at some stray offshore sites where +210 is still available. Rice has lots of momentum at the moment, coming off a stellar appearance on last week's edition of "60 Minutes."
Val Demings — Rep. Demings rocketed into the top three a few weeks ago as more viewers saw her on television, reacting superbly to race issues and discussing controversies about police policy (note that Demings was the former Chief of Police in Orlando). She also rose to national prominence during the Trump impeachment hearings in congress, and many Trump-bashers loved what they saw. Demings also brings one huge advantage to the ticket. She's from Florida. Unlike Harris and Rice, who don't give much boost to Biden's electoral chances, if Demings could somehow turn Florida blue (for Democrats), the roadmap to re-election would be very difficult for Trump-Pence. Hence, Demings deserves very strong consideration as a betting choice.
The Field — My random thoughts about other possible contenders:
Stacey Abrams was a hot pick once Biden was assured of winning the nomination but has since faded and seems an unlikely choice given the strengths of the three frontrunners
Elizabeth Warren would be a strong veep selection in any other year, but not in this political climate, although she's favored by many in the progressive wing of the Democratic Party which is essential to victory
Keisha Lance Bottoms burst upon the national scene recently as the Mayor of Atlanta, but seems an office and election win away from being catapulted to the national stage
Michelle Obama's name is floated as a possibility in these races and will continue to be a target of future speculation as to any possible political future; however, she's not shown any desire to re-enter the spotlight and doesn't seem to be a serious contender (wild card possibility: she knows Biden well, and the announcement is being crafted as a bombshell surprise — no, I don't believe this, but who knows?)
---
Nolan Dalla is putting his degree in political science to work. He can be reached at: nolandalla@gmail.com.