How tough is first-year coach Vic Fangio? The 61-year-old prowled the sidelines of the Hall of Fame Game Thursday with a kidney stone working its way through his system.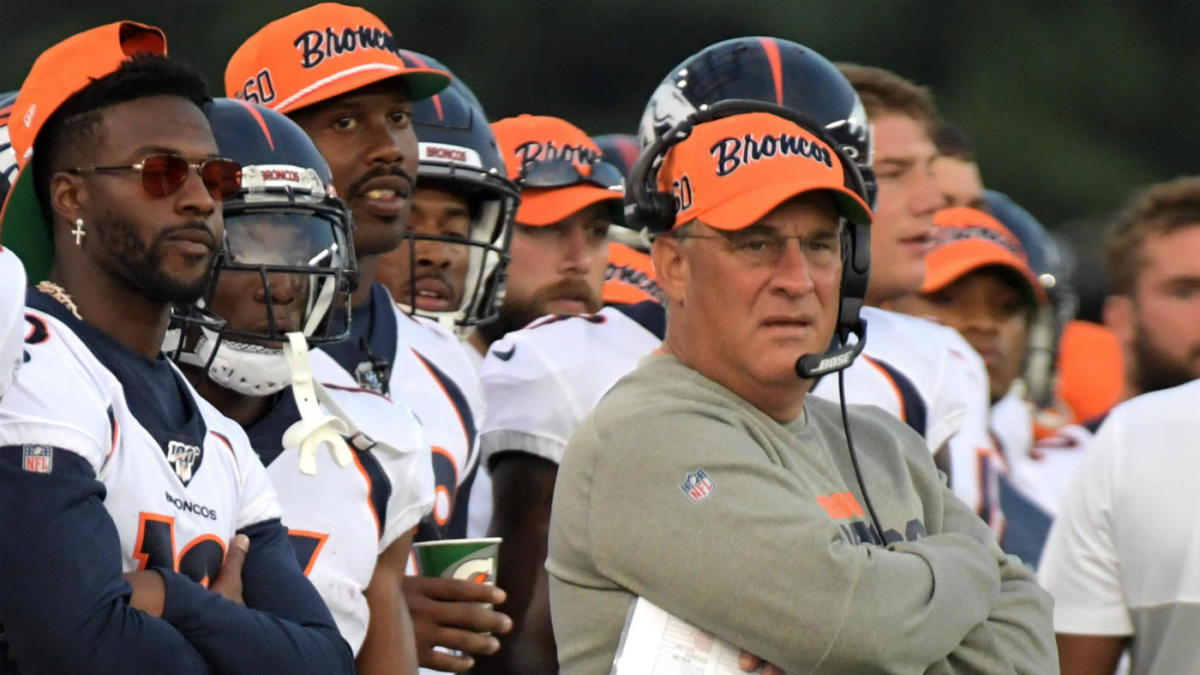 Fangio felt discomfort earlier in the day and went to a local hospital where he was diagnosed with the stone. He went to the stadium and coached like nothing was wrong.
As if he didn't feel bad enough, the Broncos play made him feel a little more ill. The team, which covered the 2.5-point spread, scored twice to win 14-10, but several players looked rusty.
That is understandable for a bunch of back ups and third stringers playing the first game of the year, but still Fangio was looking for more. He mentioned rookie quarterback Drew Lock by name.
"I was hoping for more, but [I'm] not surprised," Fangio said. "He's still got a lot of work to do. I thought his accuracy wasn't clean all the time along with his reads, but that's to be expected. We've got four more games and we've got to get him ready — more ready than he is right now."
Atlanta's Dan Quinn went to 0-9 in preseason games, and the Falcons are now 0-5 straight up and against the spread.
Murray Feels Fun, not Pressure
If Kyler Murray is worried about fulfilling the promise as the No. 1 overall pick, he certainly isn't admitting it. He met with reporters on Thursday after Arizona Cardinal's practice and said he is enjoying training camp.
"I got to go out and play well," Murray said. "And if I don't, then people are gonna be mad, I'm gonna be mad, everybody's gonna be mad. So, my focus is play well. I don't feel pressure."
First-year coach Kliff Kingsbury said his quarterback can't get wrapped up in all the hype.
"You can't control that narrative, and I understand that. He's the first pick and he is a dynamic talent," Kingsbury said. "As a coach you understand that there's going to be ups and downs and he's a young player, and we're going to deal with some adversity. In today's society, that's what you're going to get."
Bizarre Behavior Leads to Cut
Wide receiver Jordan Lasley had a strange week of training camp, and it might have led to being cut by the Baltimore Ravens. It began with the second-year player from UCLA fighting with teammates during a scrimmage.
Then Lasley scored a touchdown, and celebrated by throwing the football into a pond.
He was cut soon after, but Ravens head coach John Harbaugh said it was for his performance, not his antics.
"We never cut anyone for fighting," Harbaugh told ESPN.com. "It's over a year now. From a fit perspective, in terms of what we're trying to do with our offense, other guys are going to be a better fit."
The Raiders claimed him off of waivers.
Brown to Return Punts
Raiders receiver Antonio Brown may be returning punts this season for the team. Brown was sitting out practice because of blisters on his feet.
Rich Bisaccia, assistant head coach and special teams coordinator said that Dwayne Harris will be the main guy, but that Brown could also help out.
"When Antonio gets back to practice, we're going to get him back catching (punts) and put him in a situation where hopefully he's in a backup role or, who knows, maybe we'll have two guys back there together where a lot of things can happen," Bisaccia said.