The Vegas Golden Knights made a goaltending switch before Game 4 and it paid off as Robin Lehner delivered a memorable performance in a 2-1 overtime win over the Montreal Canadiens. Now, Vegas must decide whether to stick with Lehner in a critical Game 5 matchup on Tuesday night.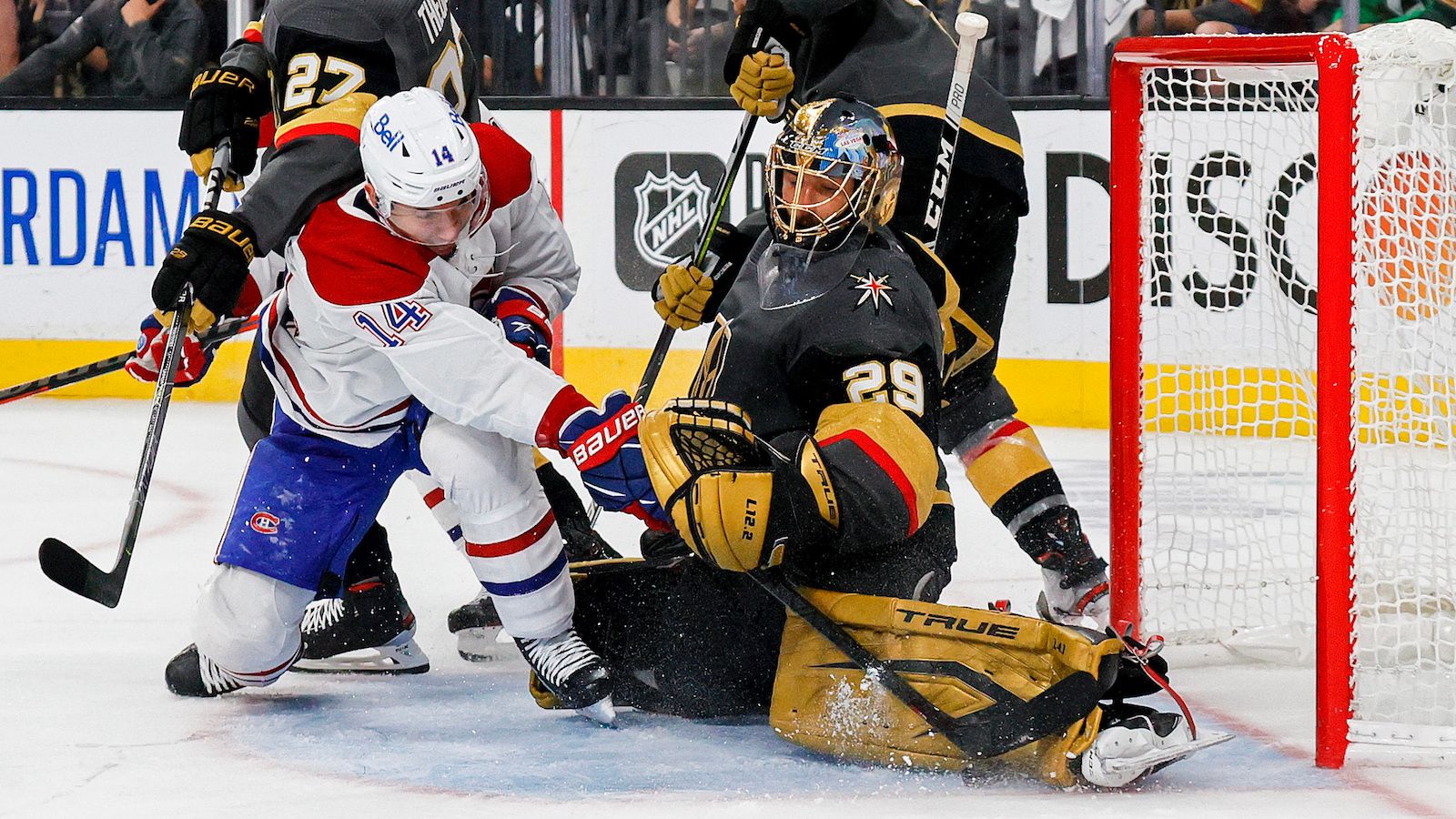 Golden Knights coach Pete DeBoer made the decision to rest 36-year-old Marc-Andre Fleury, saying his veteran goaltender was fatigued after making 15 playoff starts, including the last eight postseason games in a row.
Fleury gets a rest, apparent Game 5 starter
Lehner responded by making 27 saves. But Fleury left Tuesday's morning skate first, suggesting he'll still get the Game 5 start.
DeBoer expressed confidence in both goaltenders before Game 5.
"We wouldn't be here without [Fleury] and how he's played for us, but it's a lot of hockey," DeBoer told the Las Vegas Review-Journal. "For me, knowing [Lehner], knowing how hard he's worked and knowing the goalie he is, the gamble to play him having not played a lot lately was no bigger than the gamble of playing a fatigued, in my mind, goalie with no rest really on the horizon."
Fleury has performed well during the postseason, going 9-6 with a .921 save percentage while allowing 1.97 goals per game. But he misplayed a puck late in Game 3 against Montreal, allowing the Canadiens to tie the game with less than two minutes remaining in regulation. Montreal went on to win the game.
💻 DeBoer: It's a 2-out-of-3 now with two of the games at our building. We have to take advantage of that home ice advantage that we worked all season to have. pic.twitter.com/1YhZkM1rsT

— Vegas Golden Knights (@GoldenKnights) June 21, 2021
Even without full certainly over the goaltending situation, sportsbooks have installed the Golden Knights as a heavy favorite in Game 5. FanDuel Sportsbook lists Vegas as the -250 pick, with Montreal coming in at +205 to win on Tuesday night.
Canadiens say pressure is on Vegas
Those odds don't bother the Canadiens. In fact, Montreal players say that the pressure is all on the home team in a critical Game 5 with the series tied at two games each.
"I think you come into this series, and obviously there's a certain rhetoric about how this series is supposed to go," Canadiens forward Brendan Gallagher told reporters. "I'm not saying they bought into it or believed it. We definitely didn't, but there's certain expectations on their side. The longer this series goes, the more the pressure just falls on them."
The Golden Knights sit in the driver's seat, as they will host Game 5 and a potential Game 7. FanDuel lists Vegas as the -300 pick to move on to the Stanley Cup Finals, with Montreal at +230 to advance.
If Montreal wants to win the series, the team will be looking for more scoring out of arguably their top line of Phillip Danault, Artturi Lehkonen, and Brendan Gallagher. While the line has performed brilliantly defensively, allowing no goals in 78 evenhanded minutes on the ice this series, it has also produced just two goals.
"They're really doing a great job defensively," Montreal coach Luke Richardson told reporters. "I think the expectations for any line, but especially them, is you don't get scored against, you don't give up scoring chances and when you have a chance to create, we're going to try and put those home."