Vanderbilt pitcher Kumar Rocker tossed a no-hitter and struck out 19 batters against the Duke Blue Devils in the NCAA Super Regional to keep Vandy's hopes alive for a berth into the College Baseball World Series.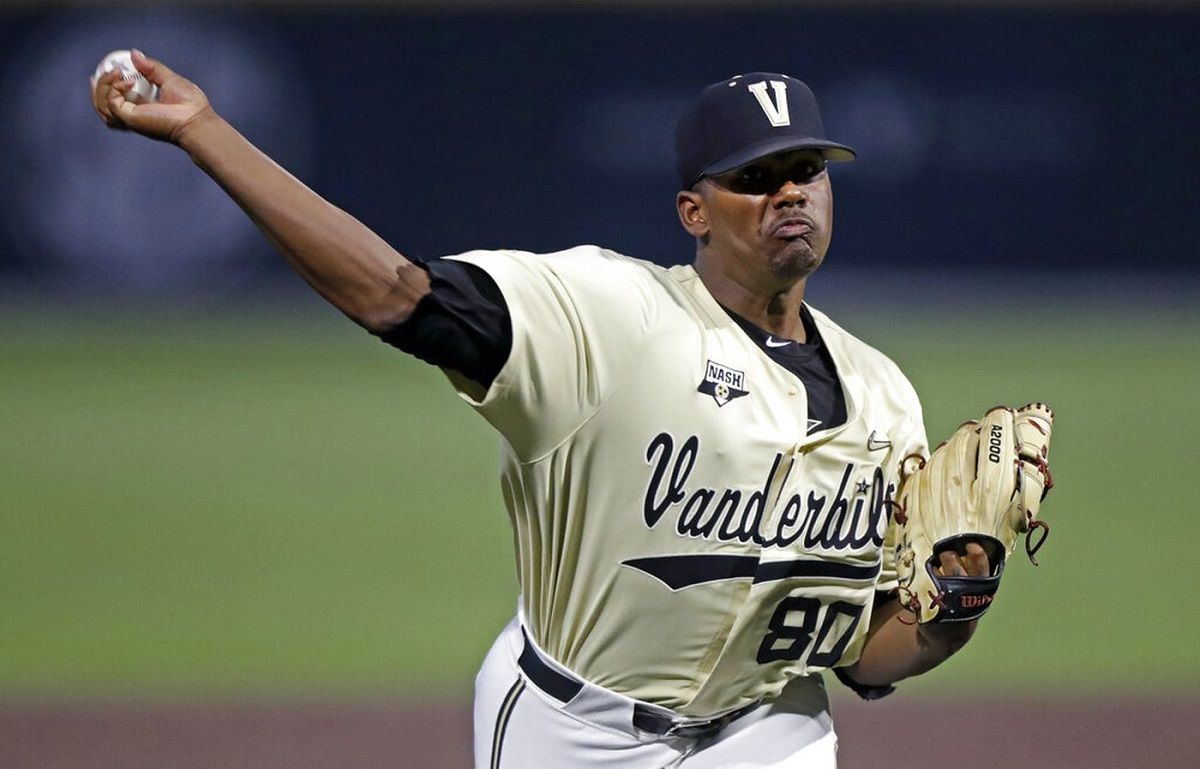 Vanderbilt (53-11) defeated Duke 3-0 to stave off elimination. Vandy needs one more win to qualify for the World Series. They face Duke (35-26) on Sunday with the winner advancing and loser going home empty-handed.
A near-perfect Rocker missed a perfect game when he walked two batters. Rocker finished with 131 total pitches including a nasty slider. He is now 10-5 with a 3.50 ERA.
Rocker, who got stronger as the game progressed, struck out the side in the 9th inning to secure the no-hitter.
"I was trying to win, that's what I was trying to do," said Kumar Rocker after the game.
"Congratulations to Kumar Rocker," said Duke head coach Chris Pollard. "He was really special tonight when his team needed him to be. I've been in college baseball for over 25 years and it was one of the best pitching performances that I've ever seen, particularly when you take into account what was at stake."
Rocker threw the first no-no in the NCAA Super Regionals. His no-hitter is the 8th no-no in College World Series history and the first since 2012. Rocker also threw the first no-hitter for Vandy since 1971.
unhittable [ənˈhidəb(ə)l] – adjective

1. impossible to hit
2. Kumar Rocker tonight#RoadToOmaha | @VandyBoys pic.twitter.com/b6bcMjXN7T

— NCAA Baseball (@NCAACWS) June 9, 2019
Who Is Kumar Rocker?
Kumar Rocker, 19, is a freshman at Vanderbilt. He played high school football and baseball in Athens, Georgia. Rocker, 6-foot-4, brings the heat in the high-90s as a right-handed flamethrower.
Scouts ranted Rocker as the second-best righty coming out of high school. The Colorado Rockies drafted him late in the 2018 MLB Draft. He would have gone earlier if he was not committed to going to Vanderbilt.
Kumar's father, Tracy Rocker, is a former two-time All-American defensive tackle at Auburn. Tracy Rocker played a couple of seasons with the Washington Redskins before he pivoted to coaching. The elder Rocker is currently the defensive line coach for the Tennessee Vols.
Vandy Loves Pitchers
Vanderbilt University in Nashville, Tennessee has one of the most beautiful campuses in America. The school is widely-known for its academics, but their sports teams have taken their fare share of lumps in the SEC.
Vandy's football squad is definitely one of the bottom dwellers in SEC. The basketball team is in a transitional period. Vanderbilt recently fired Bryce drew and hired ex-NBA star Jerry Stackhouse, in hopes of leading the Commodores to a March Madness berth. Scottie Pippen's son, Scottie Pippen Jr., declared his intentions to play for Vanderbilt next season.
Vanderbilt's best sport is baseball. The school has been cranking out some of MLB's top arms in recent years. The phrase "pitcher factory" is often used when describing Vanderbilt. They consistently recruit the top pitchers in country.
MLB PITCHERS FROM VANDERBILT
David Price (Red Sox)
Walker Buehler (Dodgers)
Sonny Gray (Reds)
Carson Fulmer (White Sox)
Mike Minor (Rangers)
Drew VerHagen (Tigers)
Kyle Wright (Braves)
In 2018, at least 8 former Vanderbilt pitchers started a game in MLB last season with 9 ex-Vandy pitchers taking the mound in the show.
David Price, Red Sox pitcher and Fortnite addict, played his collegiate ball at Vanderbilt. He became the first-overall pick in the 2007 MLB Draft out of Vanderbilt. Price tweeted out his congratulations to Kumar shortly after his heroic effort.
"Wow with a loss tonight @VandyBoys season is over," tweeted @DavidPrice24. "@_KumarRocker decided he would throw a no hitter and punch out 19!!! To be able to step up that way as a freshmen is inspiring!!! I tip my hat to you sir!!"