The San Diego State Aztecs (15-4) are seeking their first Mountain West Conference men's college basketball crown since 2018, but the Utah State Aggies (14-5) are favorites to win a third-straight conference title at +125 odds.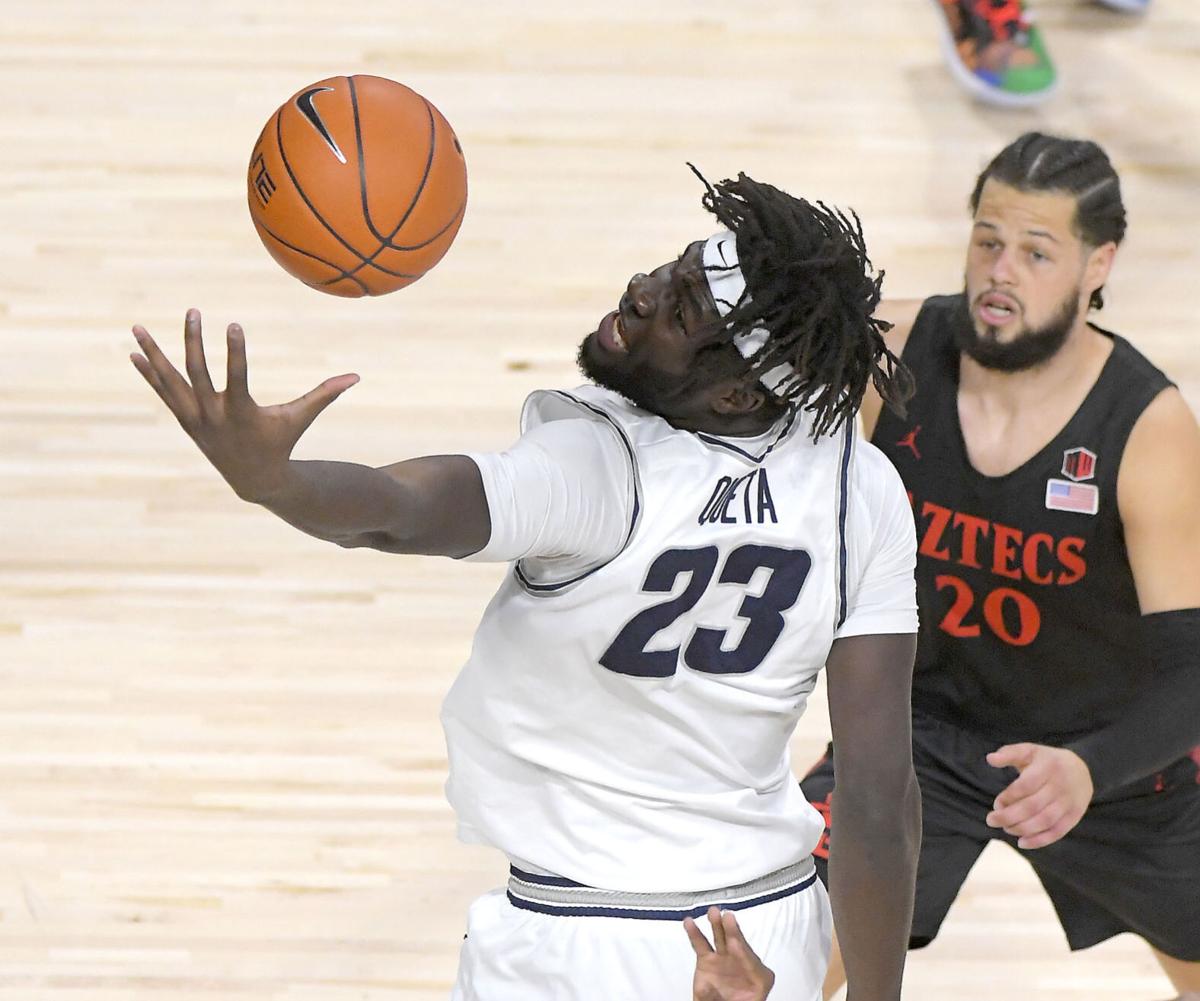 Utah State started the season with a 1-3 record, but went 14-2 since then. San Diego State won six games in a row since dropping back-to-back games against Utah State last month. The Aztecs tipped off the season with an upset over #22 UCLA.
Second-place Colorado State (14-4) has an 11-3 conference record and offers up value at +490 odds to win the Mountain West for the first time since 2003.
Boise State (14-4) has a 10-3 conference record and is currently in third place. The Broncos are +400 odds to make history with their first Mountain West conference title.
---
2021 MOUNTAIN WEST CONFERENCE ODDS
Utah State +125
San Diego State +200
Boise State +400
Colorado State +490
Nevada +3000
UNLV +3000
Wyoming +5000
Fresno State +10000
New Mexico +30000
San Jose State +30000
Air Force +50000
---
The UNLV Rebels used to be the most-feared team in the Mountain West, but the Rebs haven't won a Mountain West title since back-to-back wins in 2007 and 2008. UNLV is one of the long shots to win the conference at +3000 odds.
New Mexico (5-11) won three-straight Mountain West titles between 2012 and 2014, but they've been in a tailspin since then. The Lobos sit in last place with a 1-14 record.
SDSU: Aztecs Seek Revenge
No one was more bummed out about the 2020 March Madness cancellation than the San Diego Aztecs. They were 30-2 and were ranked #6 in the country at the time. They didn't get a chance to play for a shot at a Final Four and the national championship. This year's team can't match last season's squad led by Malachi Flynn, but the current batch of Aztecs live and die by the 3-pointer.
Senior guard Matt Mitchell leads San Diego State in scoring with 15.1 ppg. He's also knocking down 40% of his 3-pointers. Jordan Schakel, another senior guard, averages 14.7 ppg. Schakel leads the Aztecs with a 45% success rate from beyond the arc.
Head coach Brian Dutcher has a career 87-30 record with San Diego State. He's won at least 21 games in each of his first three seasons with the Aztecs.
San Diego State sits in fourth place. The Aztecs have the most overall wins out of any other Mountain West team, but they're only 9-3 in conference play. Oddsmakers still like San Diego State as one of the favorites to win the Mountain West at +200 odds.
San Diego State started the season 9-2 before they dropped two straight road games against Utah State in mid-January. They won four in a row since that low point.
San Diego State has four conference games remaining on their schedule. They play two games at Fresno State next week and then host Boise State for two games to finish the season at the end of February.
In addition to two regular-season losses, San Diego State also lost to Utah State in the 2020 Mountain West tournament. Dutcher and the Aztecs would love to enact a bit of sweet revenge on Utah State and win the conference crown this season.
Utah State: No Merrill, No Problem
Sam Merrill graduated from Utah State last season and he went down in Aggies' history as their third-best scorer in school history. Merrill won the 2009 Mountain West Player of the Year. The Milwaukee Bucks took a flier on him with the #60 pick late in the second round of the 2020 NBA Draft. He's currently playing with the Memphis Hustle, the Grizzlies' G-League team.
Merrill made a name for himself as a clutch perimeter shooter with a career 42% success rate from downtown. He led Utah State in scoring for three-straight seasons starting as a sophomore. He averaged 20 ppg over his last two seasons for the Aggies. Even without Merrill, Utah State still stands at the top of the Mountain West with an 11-2 conference record.
Utah State suffered back-to-back losses two weeks ago against Colorado State and UNLV. The Aggies won two in a row to get back on track before their next four games were canceled due to COVID-19 protocols. They won't hit the hardwood again until next Wednesday with two games against Boise State in Boise. Utah State ends the season with a two-game homestand against Nevada.
Neemias Queta, a 7-foot junior from Portugal, started at center since his freshman season. Queta leads Utah State with 12.5 points and 9.1 assists per game. The highly-efficient Queta hits 56.8% of his shots, but struggles from the free-throw line with a 60.8% rate.