Kamaru Usman will try to continue his dominance over the UFC's welterweight division when he defends his title against Gilbert Burns in the main event of UFC 258 on Saturday night in Las Vegas.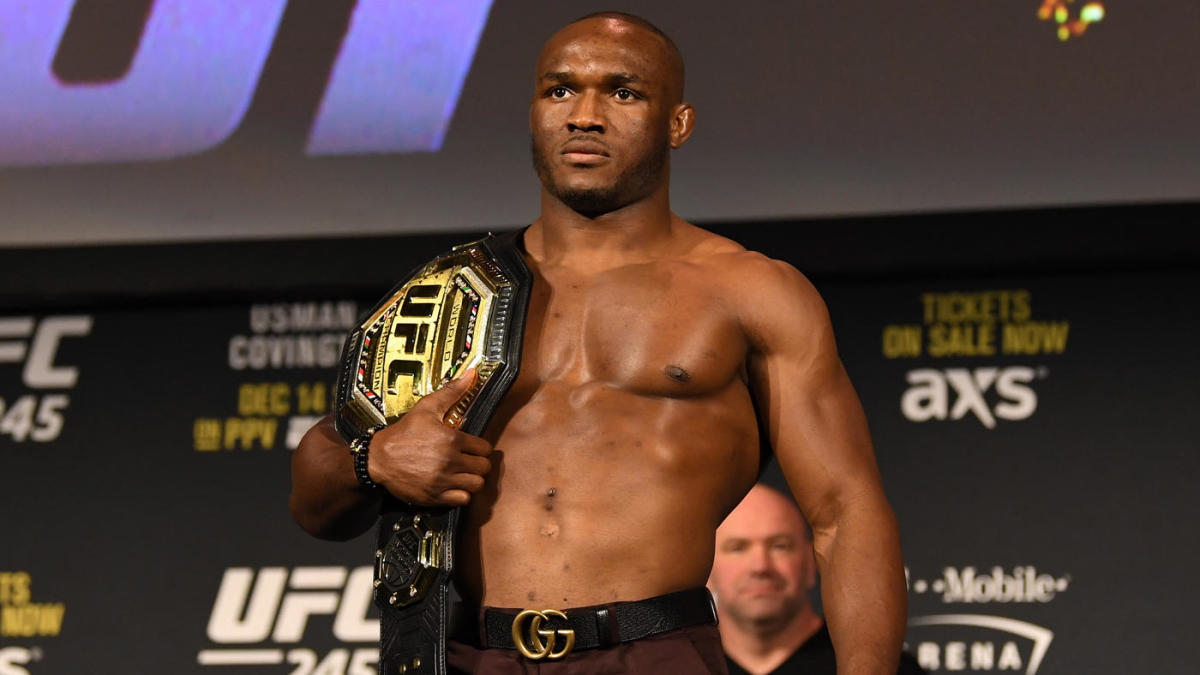 Usman hasn't lost since the second fight of his career, and has overwhelmed each of his recent opponents, even in his title fights.
Usman: Burns is 'Toughest Opponent to Date'
Known as "The Nigerian Nightmare," Usman (17-1) doesn't come across as the most exciting fighter on the UFC roster. He tends to rely on his world-class wrestling skills, despite the fact that he's also a fairly strong standup striker with some submissions in his toolbox. As a result, nine of his 12 UFC wins have come by decision – all unanimous.
But, that might be a tall order against Burns (19-3), who has won his last six fights. Burns also features a strong all-around game, meaning Usman may not simply be able to dominate his former teammate on his way to an easy win.
"Gilbert is the opponent in front of me, which means he's my toughest opponent to date," Usman told Sports Illustrated. "That's why he's here. I'm the champion, which means I have to fight the toughest guy in the world every fight, which I am ready to do – and he's that next guy."
Burns is coming off dominant wins of his own over Demian Maia and Tyron Woodley, setting him up as the clear challenger for Usman's crown. He also offers up a unique threat thanks to his strong submission game, which could potentially tempt Usman to avoid grappling for the lion's share of their five rounds. If the fight stays standing up, Burns can hit hard, presenting a knockout threat as well.
But, the biggest factor in this fight could be the fact that Burns and Usman are teammates and former training partners who have sparred and, even unofficially, fought plenty of times in the past. That familiarity could leave both men looking for new angles in a matchup they both know well.
Teammates Well-Prepared to Face Each Other
According to Burns, he's been working on a few surprises for Usman for their matchup.
"He's a strong guy, so I did a lot of work to surprise him, because he never trained with me so much at this weight," Burns told ESPN. "[He] will feel a stronger 'Durinho,' physically speaking. With the same speed as before, but with greater physical power."
Usman says the former relationship between the two won't impact how he approaches the fight.
"Whether we know each other, or whether we're friends, we are pitted against one another," Usman said. "Once we get in that Octagon, all that friendship is put aside. I see no face in the Octagon."
---
UFC 258 Odds (via DraftKings Sportsbook)
Kamaru Usman: -278
Gilbert Burns: +220
Maycee Barber: +105
Alexa Grasso: -127
Kelvin Gastelum: -225
Ian Heinisch: +175
Maki Pitolo: +145
Julian Marquez: -177
Bobby Green: -265
Jim Miller: +210
---
Usman enters the fight as the -278 favorite over Burns (+220), according to DraftKings Sportsbook. Oddsmakers also expect the fight to go the distance, with a Yes bet rated at -139 on the bout going the full five rounds.
Outside the main event, UFC 258 is light on star power, but still contains some interesting fights between contenders. In the co-main event, No. 15 ranked women's flyweight Alexa Grasso (-127) takes on the 8-1 Maycee Barber (+105), while No. 9 middleweight Kelvin Gastelum (-225) takes on No. 15 Ian Heinisch (+175).