Following Ohio State's 28-23 victory over Washington in the Rose Bowl on Tuesday, there were plenty of pundits offering opinions that Buckeyes head coach Urban Meyer would be back from his retirement before too long. But according to Meyer and his wife Shelley, the three-time national champion coach truly believes that he will never patrol the sidelines again.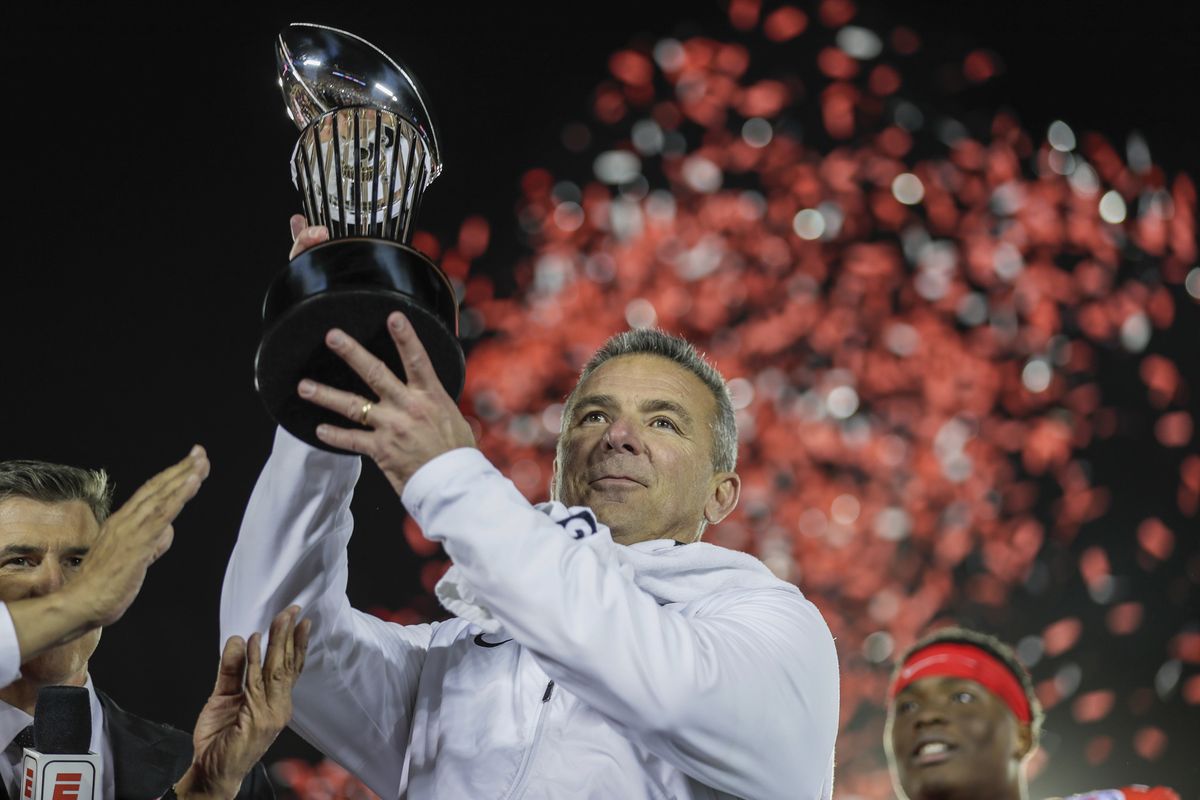 Meyer announced his intention to retire after the Rose Bowl about a month before the game, a move that signaled a possible end to one of the most successful college football coaching careers of all time.
Rose Bowl Provided Fitting Exit for Meyer
Over the course of his time as a head coach at Bowling Green, Utah, Florida, and Ohio State, Meyer compiled a 187-32 record, including a 12-3 mark in bowl games to go along with those three national titles. But despite the fact that Meyer is just 54 years old, he has said that lingering health issues make him confident that he's done as a head coach.
"I've been blessed," Meyer said after his final win at Ohio State. "I know this is relatively young, but I started young…and I do believe I'm done."
The fact that Ohio State found its way into the Rose Bowl this year – a game that Meyer had never coached in before – may have made his decision to leave a little easier.
"I didn't realize it until I really think about it now," Meyer told Cleveland.com last week. "If I never had the opportunity to coach in the Rose Bowl and I said, 'I'm done,' that would have been hard."
Meyer's wife Shelley echoed his commitment to truly leaving coaching behind, saying that she truly hoped her husband would be done with the job, as he was "too intense" in his current position.
"I'm sad, but I'm really happy for him because this is what needed to happen right now," Shelley Meyer told ESPN. "He's been fun again. He's back to the Urban I knew when he wasn't so stressed out and anxious and having headaches."
Many Skeptical Meyer Can Stay Away
Many have expressed doubts that Meyer could truly stay away from football as a whole, and his plans aren't taking him outside of the game entirely. Meyer will become an assistant athletic director at Ohio State, and teach a course in the university's Fisher College of Business. Some players expect to see him more than occasionally around the football team as well.
"He is going to have an office right across the street," senior wide receiver Johnnie Dixon told ESPN. "I think he will still be in the special-team meetings at least. I think it is going to be very hard for him to eventually walk away from the game because it is something he has been doing for so long."
And then there are those who feel certain that Meyer – who previously "retired" twice while with Florida – will find himself coaching another major college powerhouse before long.
"USC is gonna fire Clay Helton and they're gonna be looking for a savior and they're gonna pay Urban Meyer 10 million dollars a year and by this time in 2020, right after the first of the year, Urban Meyer's gonna be throwing up the V," opined Fox Sports Radio's Clay Travis. "He's gonna be the next head coach of USC."
At least one bookmaker agrees with Travis, at least in a broad sense. Last month, online sportsbook BetDSI set the odds of Meyer coaching at the college level again before September 1, 2020 at -300, with +240 payouts available on him staying away from the sideline until at least that date.