The Washington Football Team fined quarterback Dwayne Haskins $40,000 and took his team captain status away less than 72 hours after photos showing him with strippers while not wearing a mask were released.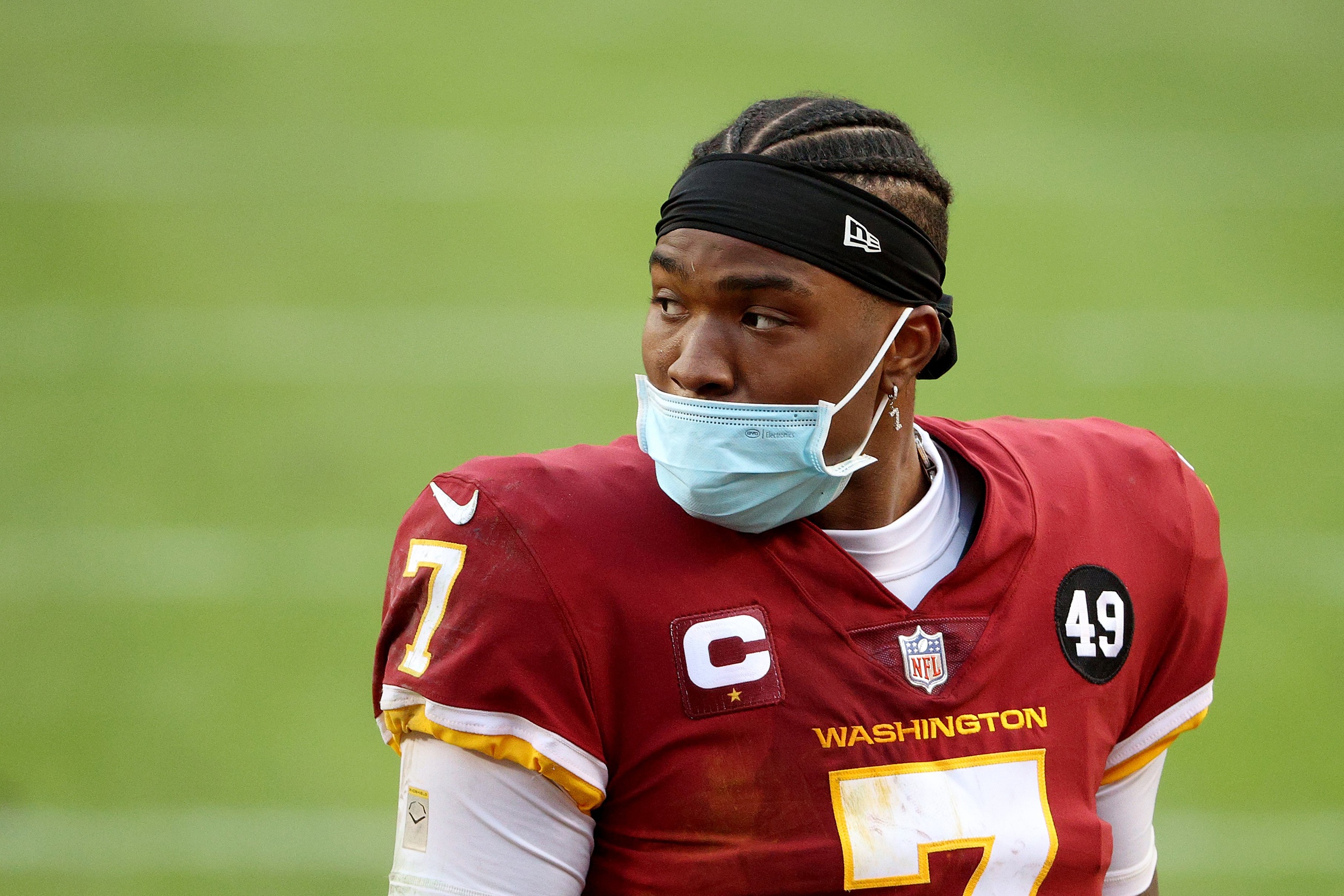 Team officials haven't said whether Haskins, 23, will retain his starting role when the Washington Football Team (6-8) hosts the Carolina Panthers (4-10) on Sunday. Washington opened as 2.5-point favorites. The line did not move Wednesday immediately after the Haskins news broke.
"We are holding him accountable, and he's been punished, and he accepted it," Washington coach Ron Rivera said in a press briefing Wednesday. "If you make a mistake, you've got to step up, and you have to take responsibility."
On Sunday, Haskins attended his girlfriend's birthday party at a hotel where strippers were performing. Posts of the celebration surfaced on the internet Monday. The incident was the second time 2019's No. 15 overall pick violated league and team COVID-19 protocols this season.
Haskins Has Performed of Late, in Spite of Off-Field Gaffes
In Week 6 against the Giants. Haskins made a reservation for a family friend at the team hotel, which goes against the team COVID-19 protocol during the pandemic. At the time, Washington fined the quarterback $4,833.
Haskins was demoted to third-string earlier this season after a slow start, but has since made a comeback, providing the team with a spark. Washington's won four of its last five games, putting itself in playoff contention while sitting atop the moribund NFC East with a losing record.
"I know my team needs me," Haskins said Wednesday. "I need to step up to the plate, and I can't be selfish, and I need to stop getting in my own way. I know I shouldn't have put my team at risk. I shouldn't have been there. We were more than 10 people not wearing masks, and that's a violation regardless of where it was at."
Rivera said he's been aware of the posts since Monday afternoon and immediately contacted Haskins, who was rushed to the team facility to test for COVID-19 under NFL protocol rules.
Subpar Season Notwithstanding, Washington Can Clinch on Sunday
Backup QB Alex Smith, who continues his improbable comeback to the NFL after almost losing his leg, didn't practice Wednesday because of a strained right calf. During Wednesday's practice, Washington gave reps to backups Taylor Heinicke and Steven Montez; both were also active last week.
The NFL and the team agreed to give Haskins two tests a day. He also must practice this week with a mask and a face mask, and a face shield. All meetings he attends are remote.
"You get a chance, you've got to make the most of it, and I'm just grateful to have that chance," Haskins said Wednesday. "When you mess up, you have to be able to admit it."
Smith says he's "exhausting everything" to get himself ready to play. Should Washington win Sunday, and the New York Giants lose to Baltimore, the team will win the division.
---
NFC East Odds
| | |
| --- | --- |
| Team | Odds |
| Washington Football Team | -260 |
| Philadelphia Eagles | +550 |
| New York Giants | +600 |
| Dallas Cowboys | +1400 |