While the #5 Auburn Tigers (13-0) are getting all the attention as the only undefeated team in the AP Top 5, it's the #7 San Diego State Aztecs (15-0) that keep on winning, and who also remain undefeated after winning a clutch road game against Mountain West rival Utah State.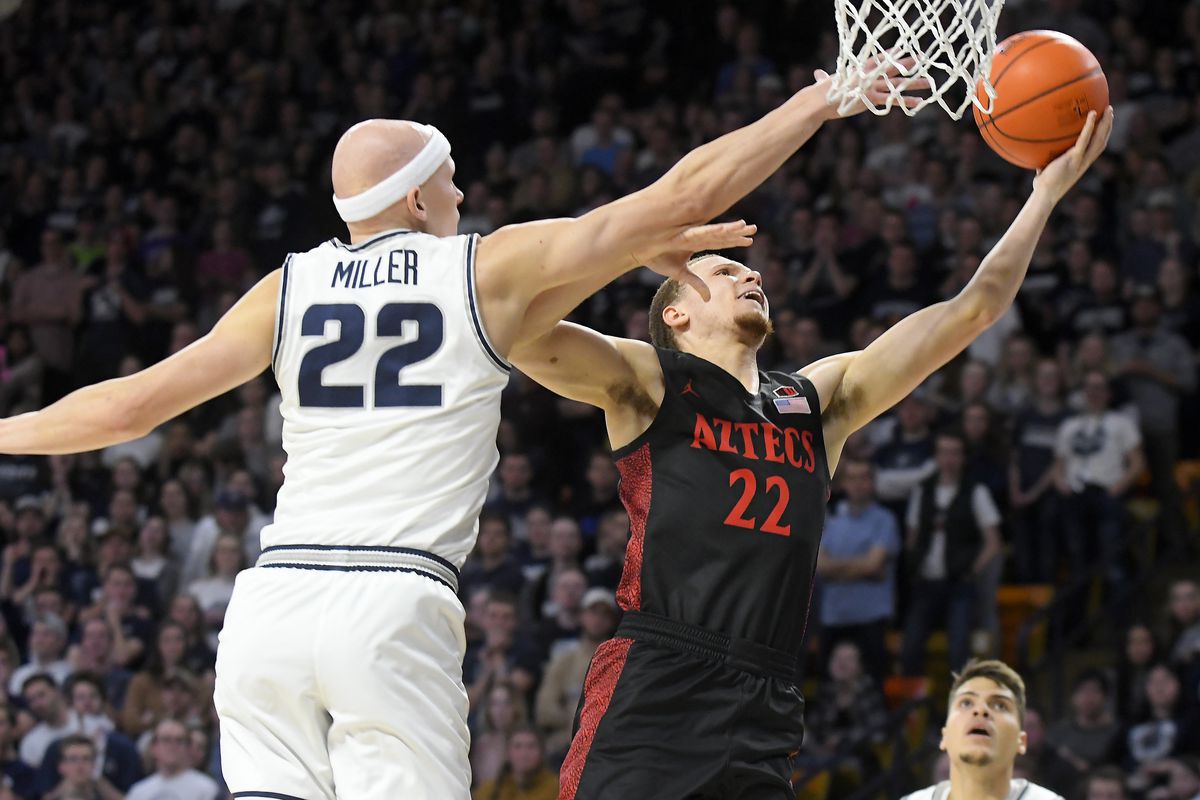 San Diego State and Auburn are the only two undefeated teams remaining in college basketball Division I.
San Diego State notched notable wins over Iowa, Creighton, BYU and Utah State. It's the win over Utah State that gave the Aztecs enough street cred to finally crack the top 10 in the latest college basketball AP Poll.
There hasn't been one truly dominant team in college basketball this season, with six different teams sharing the #1 ranking. However, both Auburn and San Diego State are the only teams in the AP Top 25 that have yet to post a loss this season. With Auburn playing a fierce schedule in the SEC, their unbeaten days are numbered. But a quick glance at San Diego State's schedule suggests they have a legitimate, if slight, chance at finishing the regular season with a perfect record.
San Diego State has a 6.2 percent chance of finishing the regular season with an undefeated record, according to KenPom.com. They'll face their toughest opponent in the final game of the season when they tip off against Nevada in Reno, in late February.
Big Win in Logan
Utah State (13-4) is one of the most hostile places to play in the Mountain West, or anywhere in America for that matter. The boisterous and rowdy crowd in Logan, Utah, creates a deafening atmosphere for opposing teams. They were riding high on a 15-game home win streak, which was promptly snapped by San Diego State.
San Diego State, ranked #13 at the time, overcame the hostile territory to defeat Utah State 77-68 and improve to 15-0. Malachi Flynn, junior 6-foot-1 guard, dropped 22 points and led all scorers. Matt Mitchell, junior 6-foot-6 forward, added 19 points and led the Aztecs with seven rebounds in the victory.
"Trust yourself, trust your teammates, trust your coaches, and you're going to have good results," said head coach Brian Dutcher.
"We came in here and we were strong," said Mitchell. "Stronger together is what we preach. Five fingers on a hand. If you're missing a finger, you can't really make a fist. It's not effective."
On Deck: Wyoming and Boise State
Wyoming (5-11) currently sits in last place in the Mountain West with an 0-4 conference record. Wyoming is a +16.5 home dog in Laramie tonight. The Cowboys are led by Hunter Maldonado, 6-foot-7 sophomore guard, who averages 18.1 points per game. Maldonado is a one-man show in Laramie because no other player in Wyoming averages double digits.
SDSU hosts Boise State (10-6) in San Diego on Saturday. Boise State is led by Derrick Alston. The 6-foot-9 big guard averages 19.9 points per game, and is a legit scoring machine.
San Diego State boasts one of the fiercest defenses in the nation. The Aztecs are ranked #5 in scoring defense, allowing 56.8 points per game. They held seven opponents to 52 points or fewer this season. They allowed teams to score 64 or more points only five times.