The undefeated Auburn Tigers started out a perfect 9-0, but they've yet to penetrate the Top 10 because there were awarded the #12 ranking for a second week in a row in the latest AP Top 25 poll.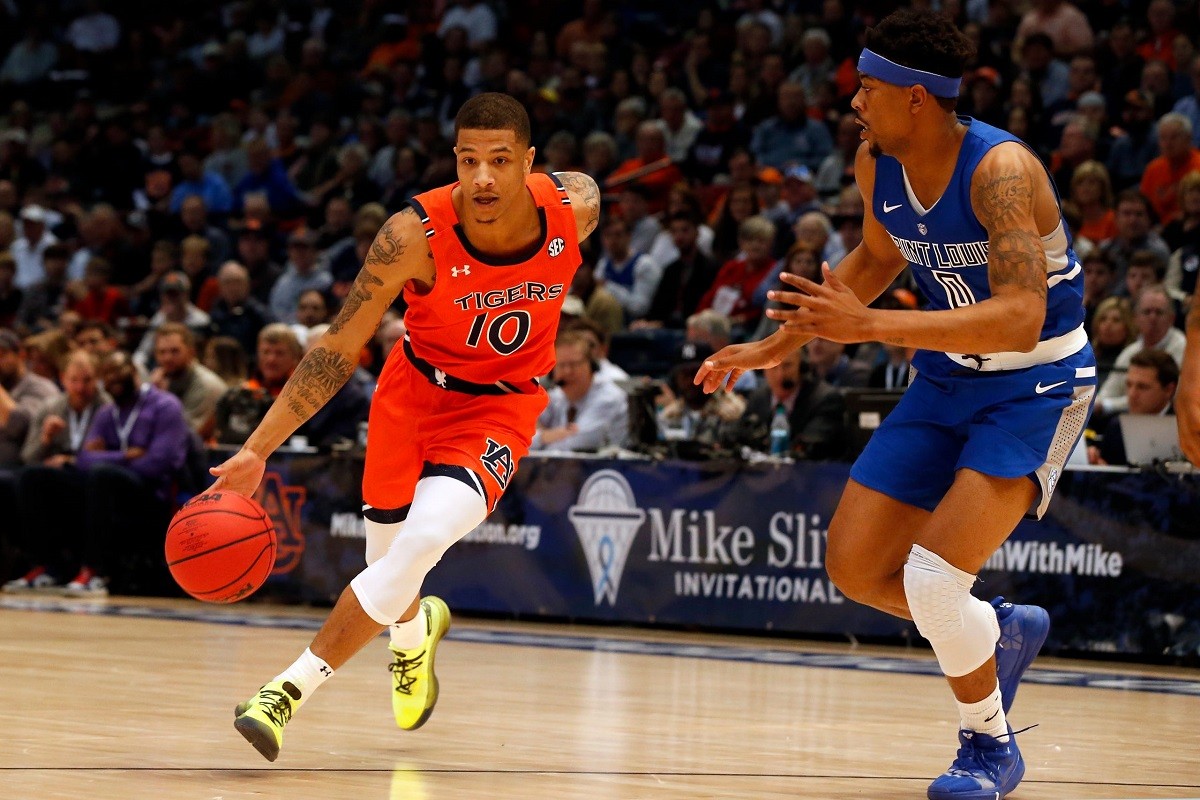 Bruce Pearl's Auburn squad went on a deep run in 2019's March Madness, but fell to eventual champion Virginia in the Final Four with a heartbreaking one-point loss.
There is no dominant team in men's college basketball this season, which is one of the reasons five different teams have been named #1 in the AP Poll. While the top spot in the ranking seem to be cursed, the Top 10 has fluctuated over the last month or so.
Auburn thought they'd finally jump into the Top 10 as one of two undefeated teams in the Top 25, along with #20 San Diego State. However, Auburn remains stuck at #12. The Tigers will spend another week on the cusp of the coveted Top-10 spot.
Most recently, Auburn kept its undefeated streak rolling when they edged out St. Louis (8-2) 67-61 to win the Mike Slive Invitational.
"We did enough of what we needed to do to win," said Auburn coach Bruce Pearl. "Defensively, we were terrific, and J'Von McCormick was the best player on the floor."
J'Von McCormick, a 6-foot-0 senior point guard, only averages 9.7 points per game this season, but he dropped 20 points, and added 7 rebounds and 6 assists in the victory over St. Louis.
Auburn's SOS
Auburn's easy schedule to start the season is the sole reason they've yet to crack the Top 10. Oddsmakers made Auburn the favorite in every game this season. Seven of their nine games saw the Tigers a favorite by nine-plus points. Overall, Auburn is 5-4 against the spread this season.
Of course, Auburn will face stiff competition when the SEC begins its regular season conference games. For now, though, they're 9-0 without a victory over a ranked squad.
Auburn's easy wins thus far included Georgia Southern, Davidson, Cal-State Northridge, Colgate, New Mexico, and Richmond. Auburn should have trounced South Alabama and Furman, but both teams gave the Tigers trouble. Auburn needed an overtime session to squeak by Furman.
Samir Doughty, a 6-foot-4 senior guard, is the other half of Bruce Pearl's veteran backcourt. In the one-and-done era in the SEC, it's rare to see two upperclassman (especially seniors) in the same backcourt. Doughty and McCormick are one of the toughest tandems in the country because of their defensive prowess. Doughty leads the Tigers with 17.3 points per game, which is 10 more points than his average last season as a bench player. He exploded for a career-high 33 against Northridge.
Auburn's freshman sensation, Isaac Okoro, is a 6-foot-6 forward from Georgia. Okoro is second on the team in scoring with 13.7 points per game. He's been improving with each game and should become a dominant force by the end of the season. Okoro hit two clutch free throws to seal the overtime victory against Furman.
On Deck: NC State, Lehigh, Lipscomb
The Tigers play three non-conference opponents to end the calendar year. The SEC regular season tips off in early January 2020 with road games at Mississippi State and Alabama, and two home games against Vanderbilt and Georgia.
Luckily for Auburn, they don't have to face #6 Kentucky until early February. They face #21 Tennessee twice, but those games aren't until the final two weeks of the regular season in late February and early March.
In a battle between SEC and ACC schools, Auburn hosts North Carolina State (8-2) on Thursday. The Wolfpack, led by CJ Bryce, are no slouch. Much like Auburn, NC State can score a lot of points in a short span. If Auburn can shut down Bryce, they'll secure the victory.
Auburn ends 2019 with a pair of games against losing schools. This Saturday, they host Lehigh (3-7). In between Christmas and New Year's, the Tigers face Lipscomb (4-6).
Auburn is 5-2 ATS in their last seven games, and the under hit in three out of the last four games for the Tigers.