Cole Anthony, North Carolina's super freshman, declared himself eligible for the 2020 NBA Draft. Cole, the son of Greg Anthony (New York Knicks point guard), grew up in New York City and has no qualms about getting drafted by his hometown Knicks.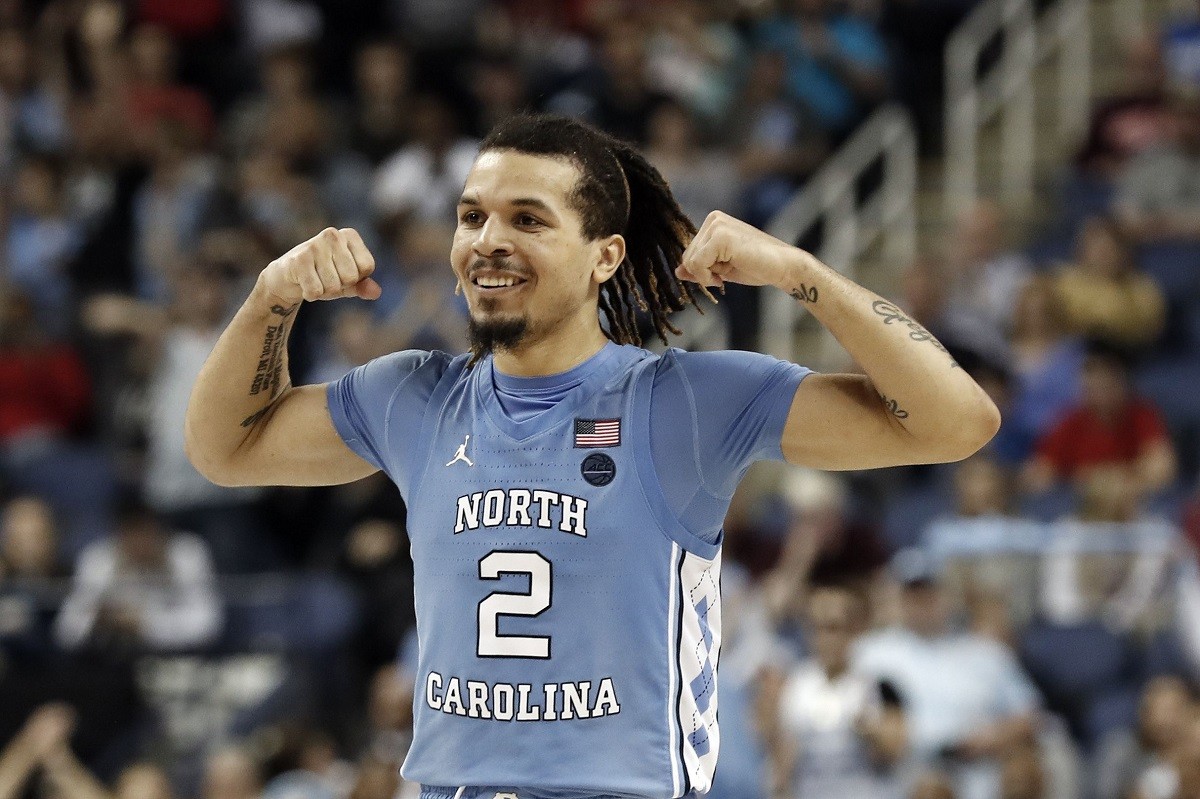 Anthony averaged 18.5 points, 5.7 rebounds, and 4.0 assists per game during his freshman one-and-done season with the North Carolina Tar Heels.
Anthony exploded onto the college basketball scene with an auspicious debut when he dropped 34 points in an 11-point victory over Notre Dame to tip-off the season. He knocked down six 3-pointers in the game, and tallied 11 rebounds and five assists. He set a new North Carolina record for most points for a freshman debut.
2020 NBA DRAFT – TOP 5 GUARD PROSPECTS
Anthony Edwards (Georgia)
LaMelo Ball (Illawarra)
Cole Anthony (North Carolina)
Killian Hayes (France)
Tyrese Haliburton (Iowa State)
Anthony injured his knee only nine games into the season and missed almost two months while recovering from knee surgery. The Tar Heels were already expecting a rough transition year with four starters heading to the NBA. Once Roy Williams lost Anthony, North Carolina's season went sideways.
Anthony knew he'd be at North Carolina for a short time before he declared for the NBA Draft.
Fathers and Sons: Greg and Cole Anthony
Greg Anthony first made a name for himself playing under head coach Jerry Tarkanian at UNLV. Greg was a member of the late 1980s Runnin' Rebels. They won March Madness in 1990 during his junior season with Greg as their starting point guard.
The New York Knicks selected Greg with the #12 overall pick in the 1991 NBA Draft. Greg played five seasons with the Knicks, mostly in a back-up point guard role, where he averaged 6.5 points per game.
Greg played 12 seasons in the NBA and finished with a career average of 7.3 points and 4.1 assists per game. He found a starting role with the Vancouver Grizzlies for two seasons in the mid-1990s. He had his best season as a pro in Vancouver averaging 14.0 points and 6.9 assists per game in 1996-1997.
Cole at MSG?
Cole Anthony would love to play for the Knicks if his hometown team picks him in the NBA Draft. There is no shortage of father/son duos in the NBA, but it's super rare for the same team to draft a father and then his son decades later.
"It would be pretty cool," Cole told the New York Post. "I was a fan for a good amount of time and like the Knicks. I think they definitely can use a guard, a good scoring point guard. If that happens, it would be pretty cool to play in front of my little brother."
The Knicks definitely need an explosive-scoring point guard like Anthony, especially after Kyrie Irving blew them off to sign with the Brooklyn Nets.
When the current NBA season shuttered due to the coronavirus pandemic, the Knicks had the sixth-worst record in the NBA.

"It would be pretty cool to step into a situation to help contribute, but I don't get to choose where I'm drafted," Cole said. "If the Knicks were to consider drafting me, I would be super grateful and excited for the opportunity."
Numerous consensus mock drafts have Cole actually going to the New York Knicks with the #6 pick. He's listed as the third-best guard prospect behind Anthony Edwards (Georgia) and LaMelo Ball (Illawarra).