The University of Massachusetts has produced a few notable professional players since it revived its hockey program in 1993. But until this week, UMass has never been considered the best team in the country.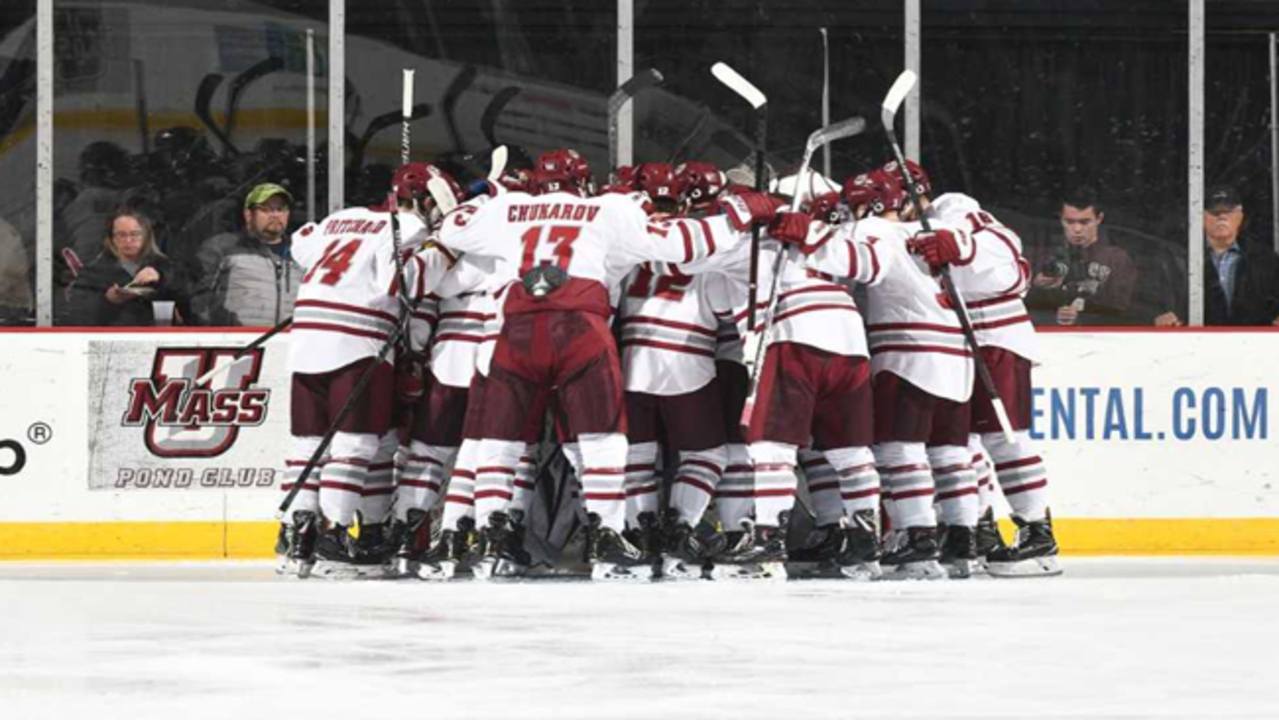 That changed when the College Hockey Online Top 20 poll was released on Monday, which had the UMass Minutemen ranked No. 1 in the country for the first time in program history.
Potential Finally Turns Into Results
For many years, UMass has been considered to have plenty of potential to be a college hockey powerhouse. The school has excellent facilities in a part of the country that embraces hockey, making it attractive for high-level recruits.
But while players like goaltender Jonathan Quick and winger Conor Sheary have had standout careers at UMass and gone on to play in the NHL, neither of them had ever truly helped the school become a premier program. In fact, UMass has only made the NCAA tournament once, in 2007, when Quick was in net.
This year's team, however, is putting together a special season. The Minutemen are off to a 12-1-0 start, including a 7-0-0 record in Hockey East conference play. They are also currently at the top of the Pairwise rankings, the official formula used by the NCAA to seed the championship tournament in March.
Carvel Builds New Culture at UMass
That's an incredible turnaround for a program that had suffered through nine consecutive losing seasons before this year. The ascendance of the school's hockey team has come under the guidance of head coach Greg Carvel, who took over the program for the 2016-17 program.
Carvel had previous coaching experience at St. Lawrence, and used that experience to build a model that is now paying dividends at UMass.
"At St. Lawrence, I had a vision and a plan and it worked pretty well," Carvel told MassLive.com. "What we did at St. Lawrence is elevated here, culture building, staff building. It's a new wave of how programs need to be run."
The Minutemen surpassed St. Cloud State (11-1-2) to take the top spot in the poll. St. Cloud State fell to No. 2 after a week in which they tied games against Miami and Minnesota Duluth and suffered a loss to North Dakota, ruining what had been a flawless start to their season. Minnesota State is ranked third, while Minnesota Duluth now sits in fourth.
While UMass might be a feel good story this year, the team isn't really writing an underdog story. There are plenty of talented stars on the team, including defenseman Cale Makar, who came back to the team as a sophomore despite being drafted fourth overall by the Colorado Avalanche in the 2017 NHL draft.
"I think there's a great mixture on this team," Makar told MassLive.com. "Growing up I was taught hard work trumps talent any day of the week. We know we have a lot of talent on this team, but the way that we use it is what's going to help us the most."
If UMass wants to stay on top, they'll have to do so by beating some of college hockey's best teams. Their next major test will come on Saturday, when they host No. 9 Quinnipiac at the Mullins Center.