The UFC's biggest star is sticking around for a while. Conor McGregor has signed a contract with UFC for six fights, beginning with his Oct. 6 bout in the Octagon against Khabib Nurmagomedov, ESPN's Darren Rovell reported.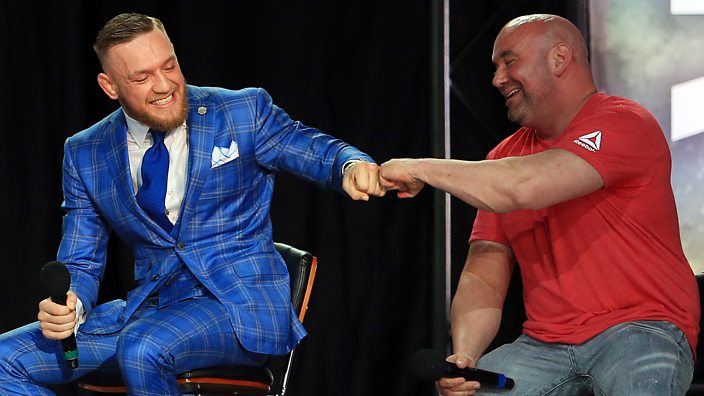 Without giving details about terms of the deal, UFC president Dana White told Rovell that the agreement could make McGregor some of the most money ever seen in the sport, based on pay-per-view appeal.
"It's not hard to do a deal with Conor McGregor because we know what he's worth," White said.
ESPN also reported that McGregor's whiskey brand Proper Whiskey will sponsor each of his fights, which could make the deal even more lucrative.
Big Money for McGregor
Money talks, and there's always plenty surrounding a Conor McGregor fight.
Forbes reported that he made $85 million for his highly touted boxing match against Floyd Mayweather in August 2017. That fight brought in $550 million in revenue and had 4.3 pay-per-view purchases.
For UFC 229 – which will be McGregor's first mixed martial arts action since November 2016 and first fight since boxing Mayweather – White said pay-per-view purchases could exceed 2.5 million.
McGregor's antics leading up to UFC 223 in New York last April – in which he threw a hand truck through a bus that was carrying other UFC fighters, including Nurmagomedov – weren't enough to keep him out of the sport.
"There's certain things you have to deal with Conor McGregor but he's worth it," White told MMAFighting.com. "For example, the New York thing. The fact he thought he could come here and have this beef with Khabib in the middle of New York City and the way that it was done that as obviously the craziest thing."
Injection of Drama
Though McGregor's bus attack drew White's ire at the time, it's a convenient storyline leading up to UFC 229 in October.
The incident in New York leading up to UFC 223 reportedly stemmed from a confrontation between Nurmagomedov and McGregor's teammate Artem Lobov. That caused McGregor to lash out at the bus Nurmagomedov was on at the time.
Nurmagomedov was uninjured, but fellow fighter Michael Chiesa sustained facial injuries which kept him from fighting. Chiesa is suing McGregor for physical damages as well as the lost opportunity to possibly fight for the lightweight championship.
"I lost a title shot," Chiesa said in June.
McGregor was charged with assault and turned himself into NYPD following the incident.
The 30-year old McGregor takes a 21-3 record into UFC 229. His last appearance in the octagon was a second round knockout of Eddie Alvarez. He won't be getting a cakewalk in the first fight of his eight-fight deal – McGregor enters UFC 229 as the underdog in the fight with +125 odds.
Nurmagomedov is 26-0 in his career and currently holds the UFC's lightweight title. He is favored with -155 odds.