Stipe Miocic's knockout win over Daniel Cormier allowed him to regain the UFC heavyweight championship, avenging his July 2018 loss to Cormier in spectacular fashion.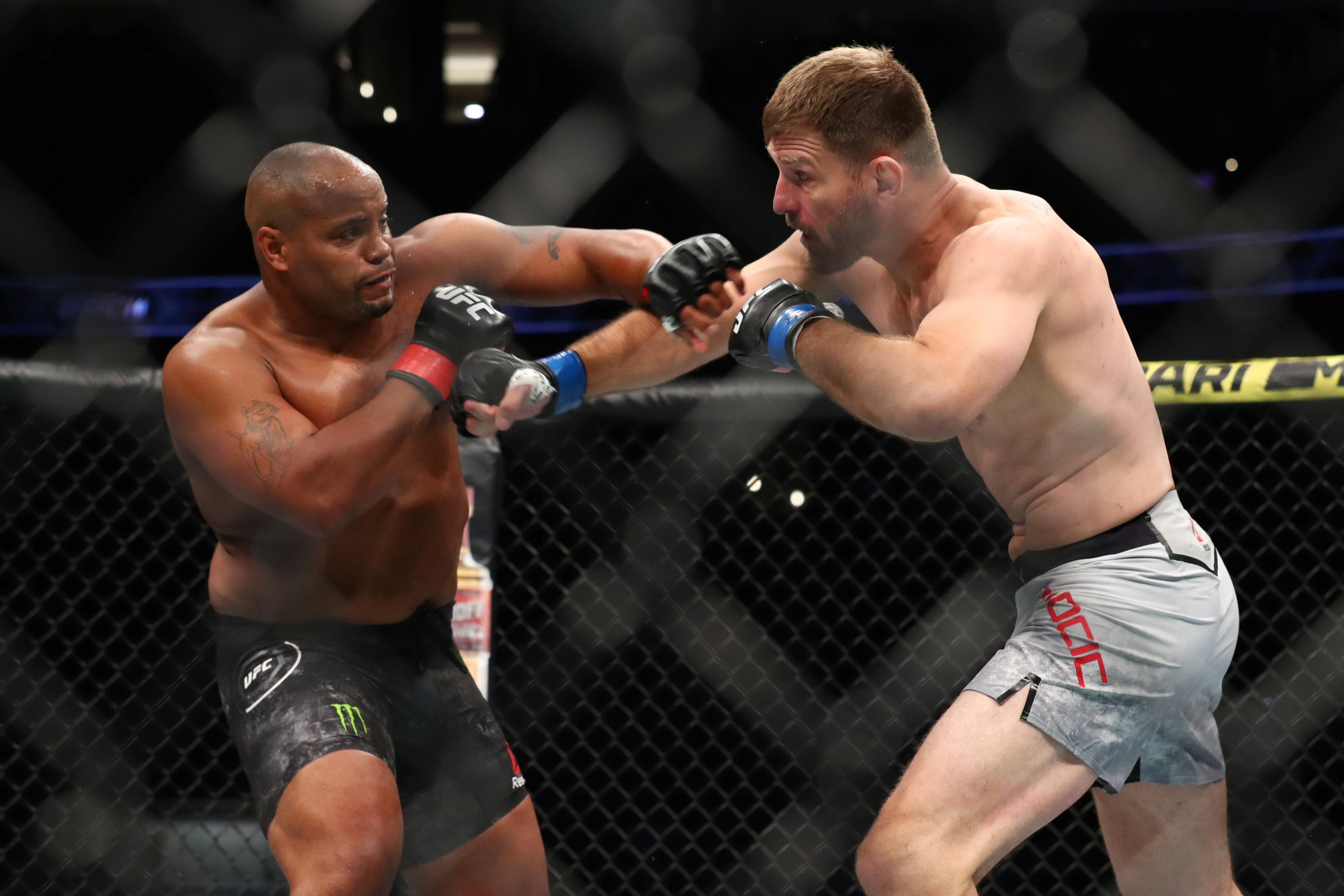 For Miocic (19-3), there are really only two options for his next fight: a title defense, or a potential super fight against light heavyweight champion Jon Jones (25-1). After that, however, there's a lot of uncertainty in the UFC heavyweight division at the moment. Here's a look at what might be on the plate for the top-ranked contenders in the division.
No. 1 Contender: Daniel Cormier (22-2)
So far, Cormier hasn't shown his cards when it comes to his plans for the future. While the former champion would clearly be a major factor in the title picture, he is 40 years old, and he has said that retirement is a real possibility at this point in his life.
"It's been a couple of days and I can't stress the disappointment, I am so sorry to all I have let down," Cormier wrote in an Instagram post after his loss to Miocic. "This has been the most amazing journey, I will decide what I am gonna do now, and as soon as I decide you will all know right away."
If Cormier could get an immediate rematch with Miocic, there's a good chance he'd take it, as he blamed his own strategic mistakes for the loss. But the UFC will likely want to match Miocic with someone else – after all, he has taken on Cormier in his last two fights now – meaning Cormier would have to take a fight with a lesser opponent before getting another shot at a championship.
No. 2 Contender: Francis Ngannou (14-3)
Coming off an emphatic victory over Junior dos Santos in June, Ngannou would appear to be the obvious next opponent for Miocic. While he lost to the heavyweight champion by unanimous decision in January 2018, he has wins over all the other top contenders besides Cormier, making him the obvious next man up – though it's not clear the UFC feels the same way.
"I think I should fight the winner of DC and Stipe, whoever won the fight," Ngannou recently told Ariel Helwani. "[The UFC executives] are not really clear on the answer of me deserving a title shot or me fighting next or not. I don't understand why it's not clear for them. It's a very frustrating situation right now."
No. 3 Contender: Junior dos Santos (21-6)
Given that dos Santos just lost to Ngannou, the Brazilian will likely need to beat at least one or two quality opponents before he could think about a title shot. According to Russian news outlet TASS, that will begin on Nov. 9, when dos Santos takes on No. 6 heavyweight contender Alexander Volkov (30-7) at an event in Moscow. While the UFC has yet to officially announce the fight, it would make sense as a headliner for an event in Russia, and would establish the winner as a potential challenger in 2020.
No. 4 Contender: Curtis Blaydes (11-2)
Of all the leading contenders, Blaydes is the only one with an impending fight, as he'll take on ninth-ranked Shamil Abdurakhimov (20-4) on Sept. 7 as part of the UFC 242 card. Blaydes is still trying to reestablish his credibility as a championship challenger after losing to Ngannou in 45 seconds last year – Ngannou is the only man Blaydes has ever lost to – and a win over Abdurakhimov could set him up for a matchup with another top contender next year. Hopefully, that would be someone other than Ngannou this time around. Blaydes (-300) is favored over Abdurakhimov (+230) in their upcoming bout.