Bantamweight champion T.J. Dillashaw will come down a weight class to challenge Henry Cejudo for the flyweight belt at UFC Fight Night on Saturday night at the Barclays Center in Brooklyn.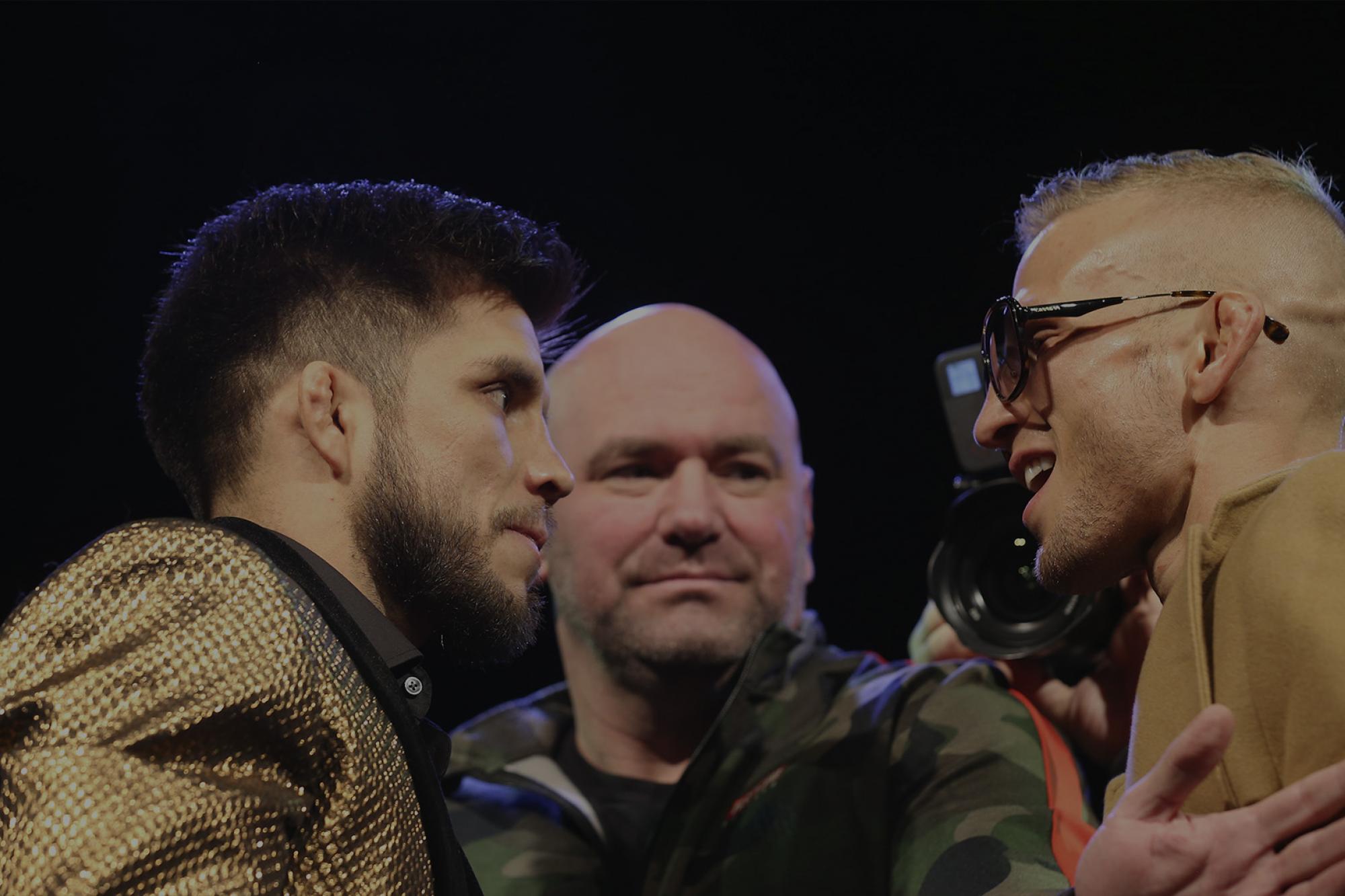 The bout is the main event of the first UFC card to be featured on ESPN+, marking the beginning of a five-year broadcasting contract with ESPN.
Future of Flyweight Division Uncertain
That arrangement is starting out with a bang, as UFC moved the superfight between two division champions from UFC 233 – which has since been cancelled – to the premiere ESPN card instead.
Cejudo (13-2) won the flyweight title by defeating Demetrious Johnson in a controversial split decision last August. Since then, there hasn't been much action in the division, with some even speculating that the UFC might shut it down after Johnson moved to One Championship.
Instead, Dillashaw (16-3) underwent a rough weight cut in order to make it under 125 pounds, where he'll have the opportunity to become only the fourth fighter in UFC history to hold championships in two different divisions at the same time.
Dillashaw Makes Weight Despite Skepticism
Dillashaw weighed in at 124.6 pounds on Friday morning, defying predictions from Ali Abdelaziz – Cejudo's manager – that the bantamweight would miss weight and Joseph Benavidez would step in to fight Cejudo instead.
"I personally don't think he'll make it," Abdelaziz told MMAFighting.com earlier this month. "If he makes it, he's going to be weak, fragile, and he's going to have a long, long night with the champ. He's a good fighter, but he can't fight at the pace Henry's going to fight him at 125."
But despite the fact that some fans have expressed concern about how he looked as he was losing weight in recent weeks, Dillashaw says that he gained strength and power in training as he approached the flyweight limit.
"Doesn't really make sense to me, doesn't make sense to anyone I tell it to either," Dillashaw told the Orange County Register. "But it makes sense to [trainer Sam Calavitta] and I think they're the reasons why I haven't got off the program since being with Sam the past two and a half years. Just stuck to the program and every camp I've gotten stronger."
Clash of Styles Favors Dillashaw
The bout will pit Cejudo – a gold medalist in freestyle wrestling at the 2008 Olympics – against the standup striking game of Dillashaw in a true clash of styles. Dillashaw's background is in wrestling too, which he may have to rely on to keep the fight off the mat, where Cejudo will be expected to have a significant advantage.
Bookmakers are expecting a competitive fight, though they are giving the larger Dillashaw a slight edge. Bovada has Dillashaw listed at -230, while Cejudo is a +180 underdog to defend his flyweight title.
Other fights on the UFC Fight Night card include a heavyweight clash between Greg Hardy (-550) and Allen Crowder (+375), as well as another flyweight bout between No. 2 contender Joseph Benavidez (-240) and No. 8 ranked Dustin Ortiz (+190).