The UFC became the first major sports organization to return to action after the COVID-19 pandemic shut down most leagues in March. Since that time, most competitions have resumed, some even inviting fans while UFC fighters continue to battle in empty arenas.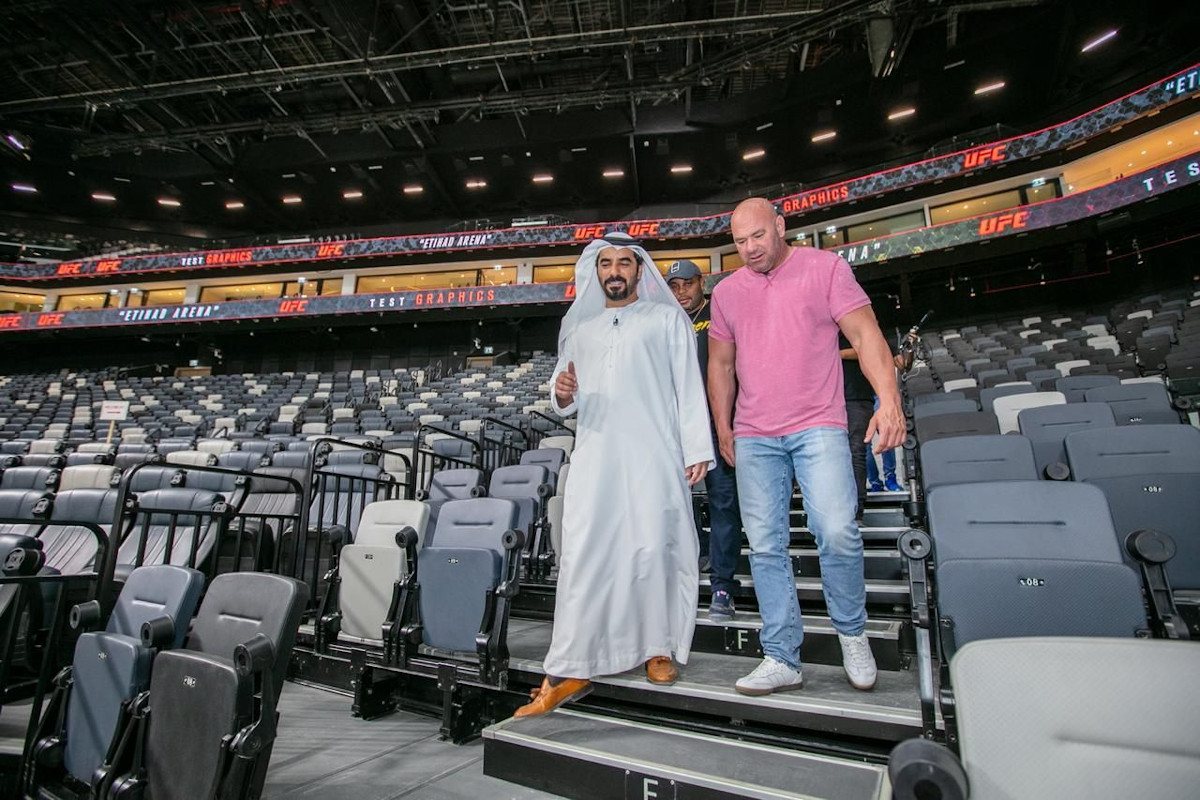 That dynamic will change in January, as the UFC will invite a limited number of fans for its three cards at the Fight Island facility in Abu Dhabi.
Abu Dhabi Allows UFC to Invite Fans
The promotion tried to allow fans into the arena during its last trip to Yas Island in September and October, but couldn't finalize its plans at that time. Now, however, the Abu Dhabi Department of Culture and Tourism has authorized the inclusion of fans at the upcoming events, including UFC 257 on Jan. 23.
Up to 2,000 fans can attend each show. The Eithad Arena can hold up to 18,000 spectators under normal circumstances.
"I'm pumped to start the year with a straight week of great fights – Saturday, Wednesday, and Sunday – for fight fans all over the world," UFC president Dana White said in a statement. "Following two highly successful editions of UFC Fight Island and the recent Formula One Etihad Airways Abu Dhabi Grand Prix, Abu Dhabi has repeatedly demonstrated its ability to host major international events in a safe and secure environment this year."
White Sees Fight in Nurmagomedov's Future
White has also been busy attempting to book multiple superfights for some of his biggest names. The UFC president expects to meet with retired lightweight champion Khabib Nurmagomedov (29-0) during the Abu Dhabi trip to discuss one last fight. The undefeated Nurmagomedov says he's done fighting, but White believes the 32-year-old will get back in the Octagon at some point.
"As a promoter, you always want to see the best guys in the world, but at the same time, when a guy wants to retire, he probably should," White told ESPN. "The difference with a guy like Khabib is, he's been through so much, and losing his dad was a major blow to him. Yet, his dad wanted him to hit 30-0."
Nurmagomedov last fought in October when he defeated Justin Gaethje by technical submission in the second round, only to retire immediately afterwards. White has mused about a potential rematch between Nurmagomedov and Conor McGregor, particularly if McGregor gets past Dustin Poirier at UFC 257.
Jones vs. Adesanya Superfight Faces Hurdles
Meanwhile, White holds less optimism about a potential battle between UFC middleweight champion Israel Adesanya (20-0) and former light heavyweight champion Jon Jones (26-1). Such a fight would almost certainly take place at light heavyweight.
But, Jones has moved up to heavyweight already. Adesanya has an upcoming bout against light heavyweight champion Jan Blachowicz.
"Jon Jones fought at light heavyweight his whole career and Adesanya is moving up to fight Jan for the title," White told ESPN. "But does Jon Jones ever want to go back to light heavyweight again? So that just blows the whole thing out of the water."
Another UFC champion appears set to defend his title for the first time. ESPN reported last week that bantamweight titleholder Petr Yan will take on Aljamain Sterling at UFC 259 on March 6. Yan (15-1) was initially set to defend his crown against Sterling (19-3) in December, but withdrew from the fight due to visa issues.